Back in 2017 my fiancée Kasia and I kept debating if we should get a dog. We researched, we chatted, and we procrastinated. Suddenly in March 2018 we decided to go for it.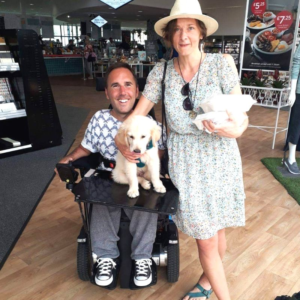 We found Sunny, our cheeky Golden Retriever, from an online breeder. Note, he isn't an assistance dog. After meeting the pack, we chose him, and returned in April to bring him home.
In the early days he slept in a training crate, mastered outside toileting pretty quickly, and was cutely cuddled up on my wheelchair tray table.
Fast forward a year and a bit, and he's way too big to go on my tray. He's currently a slightly naughty teenager, testing our boundaries. So, we've upped his training and instilled tougher rules. You live and you learn.
Despite his adolescent ways, he still brings a lot of fun and joy to our life. Getting a puppy was definitely tougher than my memory of Bella, my childhood Golden Retriever. But that responsibility wasn't as firmly in my court.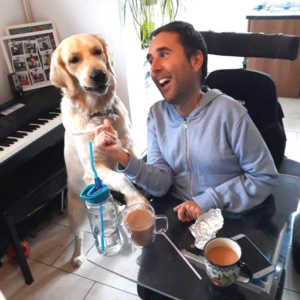 I love how he's learning to interact with me more lately. Like getting on a chair to put his front paws on my tray for a chest rub.
Getting Sunny was the best decision ever. We're currently gearing up for an accessible and dog friendly cottage stay in Norfolk. He's going to love the beach!
If anyone who has SMA has any queries about owning a dog, feel free to message me on my social media channels 🙂
---
First published: 12th September 2019