If you are looking for an exhilarating, fun challenge this year then why not take part in a cycling event and fundraise at the same time?
Please contact the fundraising team on 01789 267520 or email fundraising@smauk.org.uk for information on how you can sign up to an event.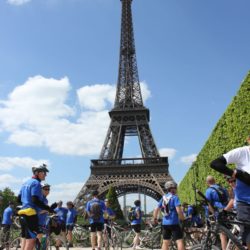 London to Paris Cycle – various dates in 2024
Cycling from London to Paris is one of the great cycle experiences in Europe. Passing through picturesque Kent countryside, you will cross the Channel and continue through the small villages and medieval market towns of Northern France. With long days in the saddle and some strenuous hill-climbs, the sight of the Eiffel Tower, our finishing point, will evoke a real sense of achievement. The last day in Paris allows you to explore the sights and soak up the romantic atmosphere of this majestic city!
There are various fundraising and self funding options available with registration starting from £99. Click on the link below to find out more from our challenge partner Discover Adventure.
Click here to find out more>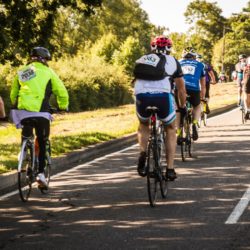 London to Brighton Cycle – 15th September 2024
Join this iconic cycle ride which leaves London and takes you through idyllic country lanes as you ride through Mitcham, picturesque Carshalton, Chipstead, Banstead, Haywards Heath and finally finishing on the colourful and bustling Brighton seafront!
The 55 mile ride has full support along the way including: training guidance, mechanical support and crew, water stop en route and a medal at the finishing line!
Registration is available from just £55 and you can find out more and book by clicking on the link below.
Click here to find out more>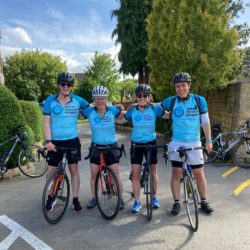 Ride Scorpion 2024
SAVE THE DATE – RIDE SCORPION 2024 WILL BE TAKING PLACE ON 11TH MAY
Thank you to everyone who took part in Ride Scorpion 2023 and helped to raise an amazing total of £25,000! Over 60 riders enjoyed a fantastic day in the sunshine on Saturday 20th May, with teams starting from London, Great Missenden and Bicester. This included four intrepid riders who took on the entire 100-mile ride on 'Boris Bikes', setting off from outside Great Ormond Street Hospital at 4am.
Special thanks to our Corporate supporters Sheffield Howarth & Menzies for entering their teams and to all of the volunteers who hosted and helped out at the much needed Pit Stops on the way.
Click here to find out more>