We are really pleased to have been able to invite Zoe Henderson, who has SMA Type 3, to design an exclusive card for us again this year!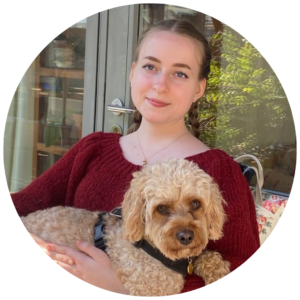 "I'm really excited to share, that at the beginning of June this year, I began a project management/operations internship at Disney in London.
My ambition to apply for this position was one of the main reasons I set up my Etsy business selling my designs. Many first part-time jobs came in the form of pulling pints or stocking shelves – something that my little SMA arms would have been pretty useless at! Starting a businesses was a way around this issue for me, allowing me to gain experiences that were relevant to the internship.
Zoe's Rocking Santa Card
The experience has been a big step outside of my comfort zone, especially as initially I was worried about working full-time, on top of a long London commute. Owing to the good graces of my treatment, I am managing well. Disney is also a fab employer who made all the necessary adjustments to my work environment. This year's Christmas card features a Rocking Santa! I hope you have fun gifting it to friends and family, secure in the knowledge that you will raise money for this fantastic charity."
You can order Rocking Santa, as well the rest of our Christmas range at https://smauk.org.uk/product-category/christmas/