Children (0-12 years) Nursery & School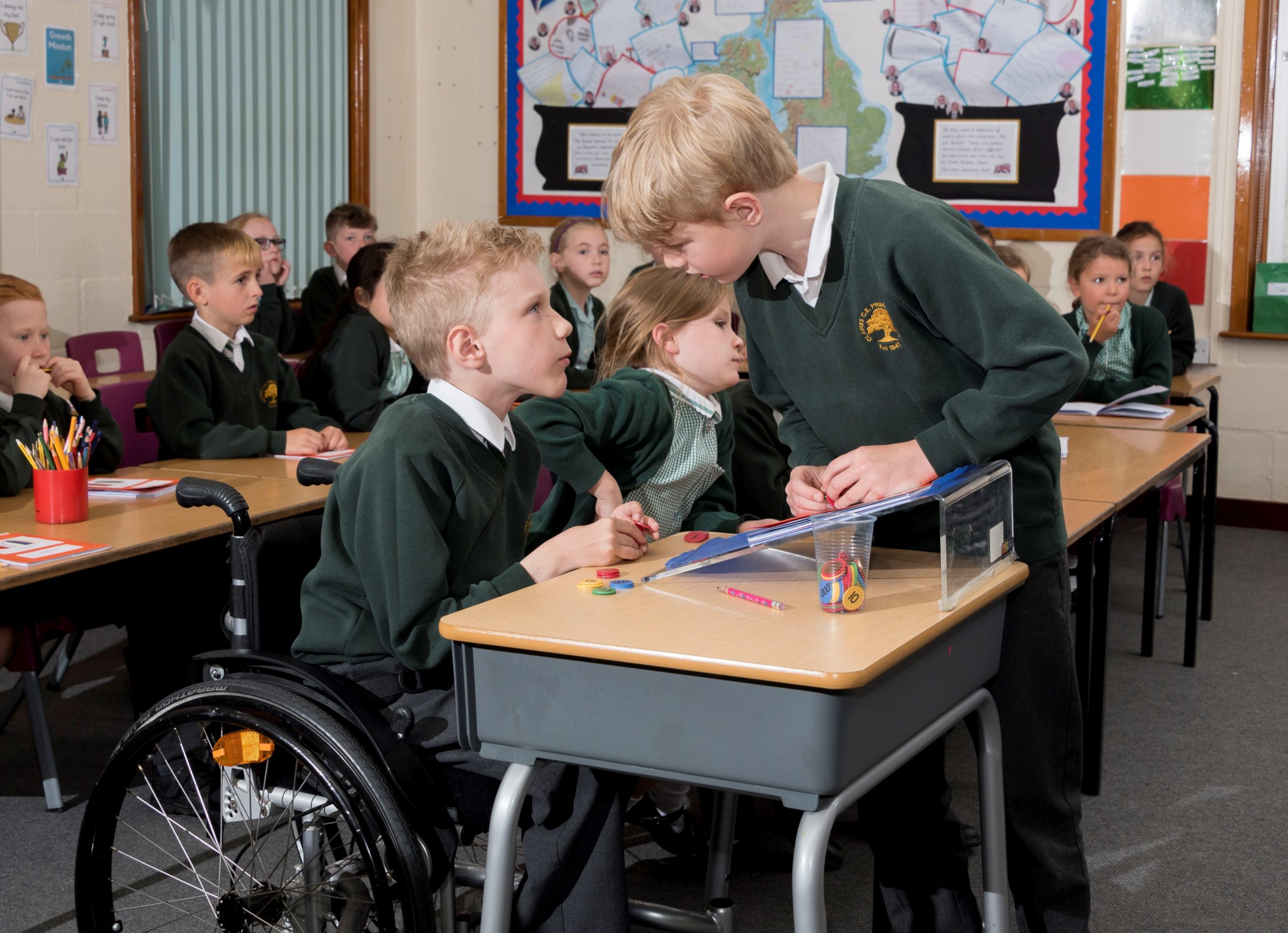 Children (0-12 years) Nursery & School
Last reviewed: August 2022
Many children's SMA will not only impact on their health but also at some point on their ability to access education, and they will have special educational needs (SEN). This section summarises the system, and how support is set up in England. It also covers some more general topics that arise as your child progresses through their nursery and school, which may be helpful wherever you live. It is based on the excellent, more detailed information produced by the charity Contact.
For more detailed information about support in the other countries see:
As your child's SMA will have an impact on their physical abilities and health, this may affect their ability to access learning opportunities in pre-school, nursery and school. They will be entitled to be assessed as a child with 'special educational needs and disabilities' (SEND or SEN for short) and receive the support they need.
This section takes you through what you can expect during their early years and what questions to ask.
---
Free Education & Childcare Age 3-4
All 3-and 4-year-olds in England are entitled to 570 hours of free early education or childcare a year. This is often taken as 15 hours each week for 38 weeks of the year.
Some 3 – 4-year-olds are eligible for 30 hours per week.
Some 2-year-olds are also eligible.
Gov.UK / Find Free Early Education explains the rules about who can provide the childcare, when it starts and when it stops, and what's available in your area.
For information for childcare in:
---
What Early Years Providers Must Do
Early years options can include childminders, day nurseries, pre-schools, holiday playschemes and childcare in your own home. The law refers to these as 'early years settings' or 'providers'.
Mainstream settings must take steps to include and support children with SEN and any medical condition they have.
No provider can refuse to take your child because of their SMA. They must make 'reasonable adjustments' to the way they provide a service. This is to make sure all children are able to access their activities and facilities. Your Local Authority has a duty to make sure that all settings that provide free early education receive additional funding to support children who need extra help. It also has a duty to make sure there are enough early years options for all families in the area who need it and must help you find the right one for your family.
Some providers specialise in support for disabled children and children with special educational needs. If your child's SMA is causing severe health and / or mobility challenges, they may be offered a place in a specialist nursery.
All early years providers must follow the Early Years Foundation Stage (EYFS) framework. This includes having arrangements in place to support children who have medical conditions like SMA.
Early years settings use this framework to continually observe and review how your child is learning. It includes two formal reviews:
one at age two, looking at language and communication and physical, personal, social and emotional development
one at age five, looking at literacy, mathematics, understanding the world and expressive arts and design.
You should be asked to contribute towards these reviews.
If your child is refused a place at an early years setting of your choice, and you believe either the provider or the Local Authority is failing in their duties, you have the right to challenge this decision. For good advice see: Contact / Refused Childcare.
---
Additional Support You Can Expect
Early years settings that receive government funding must have a Special Educational Needs Coordinator or SENCO. This is a teacher who is responsible for making sure all the children with SEN have the support they need.
Your child should also have a named keyworker – who has day-to-day responsibility for your child. This is the person to speak to first if you have any worries or just want to talk about how your child is doing.
You should expect to work with the SENCO and other staff to assess what will be challenging for your child in their early years setting. You will be able to let the staff know what help you have to give your child when and work out with them how your child will be helped similarly. This should all be recorded in a written plan with an agreement as to when you will review the plan to check that it is working or if there need to be any changes. This wouldn't though stop you raising any concerns you might have at any time.
If your child needs more help than the early years setting can normally provide, for example, your child may need a lot of adult support for most or all of the day, they may need an Education, Health and Care (EHC) needs assessment. This is the first step to getting an EHC Plan. It's a legal process carried out by the local authority and quite separate from any other assessments or plans your child may have. It can be requested at any stage during your child's education. Either you or your early years setting can ask for this. You can find more information in: Education, Health & Care Plans – see below.
---
Portage Services
Portage home visitors provide help at home for pre-school children with learning difficulties, physical disabilities or other special needs.
To see if you have portage services in your area, visit the National Portage Association website which has details of all registered portage services and who to contact.
Whether or not they have an Education Health & Care Plan (EHCP) (see below), many children who have SMA will have health needs that need careful management and monitoring. This may be from early on or develop later. It's important anyway that your child's school is aware of your child's diagnosis and the current and possible impact your child's SMA may have – especially what the signs would be that would warn school if your child needed urgent medical attention and what to do in case of any emergency.
Your child should have an individual healthcare plan agreed with you and the health professionals who support your child. When your child starts school, it makes sense that this should also include the school nurse and /or whoever has responsibility for First Aid and health. This plan (sometimes called a Medical Plan by the school) will set out who will give any medication, what to do in an emergency and any other special arrangements that need to be made, for example the need for your child to use an accessible toilet, assistance with any suctioning or non-invasive ventilaion. It's important that the plan is shared with and understood by all staff. See also: Regular and Emergency Care on this page.
The support your child needs to achieve the outcomes you and your child need and want may be met by a Special Education Needs Plan. The school should involve you fully in discussions. They should:
analyse your child's difficulties.
identify the extra support your child needs.
put the support in place.
regularly check how well it's working so that they can change the amount or kind of support if they need to.
give you clear information about the extra help your child is getting and meet with you at least three times a year to review how your child is progressing and what the next steps will be. This should be in addition to the usual parents' evening meetings.
provide you with a report at least once a year on your child's progress.
If needed, the school can ask specialist support services to carry out assessments and provide further advice and support.
It may be that your child needs more support than an SEN Plan can provide in which case you can apply for an Education, Health and Care Plans – see the tab below.
Secondary schools admit children from the ages of 11 through to 16 – Key Stages 3 and 4. If the school has a Sixth form, children may stay there until they are 18 though there are other options from age 16 (see Transition & Planning Ages 13 – 18 on this page).
State secondary school applications – often made on line via the Local Authority – usually need to be made by the end of October in the year a child turns 11.
Moving from Primary to Secondary School is a big event and change for any child, but if you have a child with SMA, the transition can be even more of a challenge as there is even more to think about. 'Start early' is probably the best advice. Talk to your child's teacher and the Special Educational Needs Co-ordinator (SENCO) as they will have a good idea of what schools in the area can offer. Most schools will have open days you can attend the year before your child needs to apply for a place, so you should be able to get the answers to some key questions. If you think your child may become anxious or unsettled, you can do this initial work without them:
Which schools are possible?
Do any of them specialise e.g. in arts or sciences
How would that fit with your child's interests?
Revisit the questions you had when you chose a primary school – see Things to Ask and Look For on this page.
You will then be in a good position to look at a shortlist with your child and have time to make visits, have discussions and make your application. You should have your place confirmed by the beginning of March giving your child's current and new school time to plan a smooth transition.
---
Watch "Transitioning into School Part 2 (Secondary school)" from our Living with SMA podcast, featuring Grace (mum of Sonny who lives with SMA) and our host Ross Lannon (an adult who has SMA) sharing their insights and experiences on the social, emotional, and academic aspects of transitioning to secondary school:
Recorded: June 2023
Explaining SMA
Information About SMA – may be useful when talking to schools.
Talking to Children about SMA – may be a useful section to look at.
SMA UK Publications – Smasheroo is for younger children. There are also two other books from 2016 for children ages 8 – 12 years written before treatments started to be funded by the NHS that are otherwise still factually correct.
---
Organisations and Publications Offering Information, Support and Advice:
ACE Education – Phone: 0300 0115 142 – Advice and information on education issues for children aged 5-16 years old in state education in England.
Contact – Phone: 0808 808 3555 – information and support to families who have a disabled child.
Council for Disabled Children – Phone: 0207 843 1900 – work to influence Government policy and local agencies to put policies into practice, and provide guidance to parents and carers on issues that affect disabled children, including what educational support is available.
Independent Panel for Special Education Advice (IPSEA) – free legally based advice to families who have children with special educational needs, including information and advice on the educational support available.
Information, Advice and Support Services Network (IASS Network) – can help families to find their local IAS Service, who can provide information, advice and support to disabled children, young people, and their family
Contact / Parent Carer Forums – groups run by parents and carers of disabled children from a local area in England. Their aim is to make sure that services in their area meet the needs of disabled children and their families.
SENDIASS – Special Educational Needs and Disabilities Information Advice and Support Service – part of the IASS Network providing free advice and support about education, health and social care for children, young people and their parents
SOSSEN – Phone 0208 538 3731 or 0300 302 3717 – independent helpline for special educational needs as well as providing tips and information sheets for parents.
Gov.UK / Special educational needs and disability: A guide for parents and Carers
Activity Alliance – provide inclusive PE training and resources for educational staff and others across the UK
Centre for Studies on Inclusive Education (CSIE) – information for schools on inclusive education.
SEND Gateway – an online portal offering educational professionals free, easy access to information, resources and training for meeting the needs of children with Special Educational Needs and Disabilities (SEND).