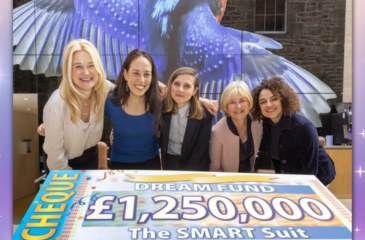 A £1.25million grant from the People's Postcode Lottery has enabled our partnership with Duchenne UK and the Inclusionaries Lab at the University of Liverpool to create a "SMART Suit" for people living with neuromuscular conditions.
SMA UK are proud to be working with a team of diverse and inclusive designers, engineers, child health professionals, product developers and people living with SMA and DMD to develop and bring to market this device that will push the boundaries of current assistive technology for people who have limited upper body movement.
Building on the proof-of-concept prototype (developed by Solid Bioscience), the SMART Suit will use powerful micro electric motor technology for robotic support and light weight, breathable and elastic fabric to create the first SMART Suit designed for and with DMD and SMA users with the potential for benefitting other neuromuscular conditions too.
Our aim is to produce a suit that users can wear discretely under clothes on their torso to help aid daily activities such as eating, getting ready for school and social interactions like taking a call or waving hello to a friend.
Toby Mildon, Trustee of SMA UK:
"As somebody living with SMA and a trustee of SMA UK I am personally very excited about collaborating on the SMART Suit project. Quite rightly, there has been a lot of focus on finding treatments for SMA and the development of genetic drugs… Hopefully, in the future a wearable suit that will help strengthen my upper body muscles so that I can do simple tasks like feeding myself dinner in the evening. Or lifting a pint in the pub!"
This is going to be a challenging but exciting project – we are working towards 3 years to develop a prototype, with a potential overall five-year timescale to take the product to market by 2027.