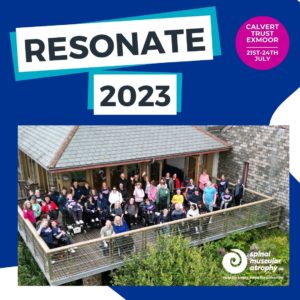 SMA UK were delighted to host a weekend at the Calvert Trust, Exmoor from the 21st-24th July!
The weekend saw twenty one adults living with SMA and their carers make the journey to North Devon for a fun filled weekend of activities that everyone could take part in.
Activities included zip wire, abseil, crate stacking, climbing and archery and, despite seeing more rain on the Saturday than they usually do in a month, no spirts were dampened. Guests were also able to enjoy the indoor swimming pool and hot tub that is onsite
After a long day out making memories and taking part in the sessions that were put on for us by the events team, we had some planned activities for the evenings too. Friday night was very special as lots of new friendships were established and old friends re-connected, the evening was alive with a buzz from everyone talking and enjoying stories from the day and Giles Lomax, SMA UK's new CEO was there to give a welcome speech and talk about future plans for the Charity.
We also had entertainment on Saturday night with everyone enjoying a very special story brought to us by Alice Maynard who lives with SMA Type 2, before a disco and a Quiz night on the Sunday.
It was a really special weekend for all the staff involved and very special thanks must go to Rachel Hall who had volunteered to help us over the weekend and did an amazing job.
"A joy packed weekend with core memories created for the Community", Maxwell Mcknight
It was a very special weekend indeed and some of the goodbyes seemed hard but we have received very positive feed and are looking forward to planning more events like this in the future.