Support From Our Outreach Team
Support From Our Outreach Team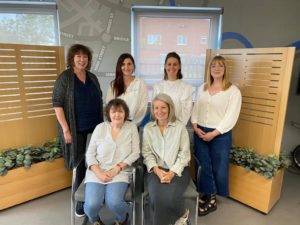 Who we are
We are a small, experienced Support & Outreach Team who offer a UK-wide service for anyone affected by SMA. We offer free, confidential support at any life stage and for any type of SMA, and family member / carer. We are flexible in how we can support you and can be in contact by email, phone, text or virtual meetings (such as on Zoom or Microsoft Teams). We are also able to home visit if you would find it helpful to talk something through in person.
How we can help
We are here to offer emotional support, practical advice, and guidance, and are always here to listen, whether at diagnosis or beyond. Although we don't provide a medical service or medical advice (this must come from your clinical team), we can help by offering guidance, signposting, and practical support. This could be help on any aspect of living with SMA. Our support is guided by you, and we work at your pace.
We are able to listen if you are facing choices or need to make decisions. This might be for example with treatment, equipment, education, care, housing, benefits, etc. We can also support you with applications, or supporting letters that help explain how SMA impacts you.
Although we don't always have all the answers, we do know of many other specialist organisations and services that may be able to help and can signpost you to them.
Please do get in touch if you'd like our support:
Contact us here or phone the office on 01789 267520.
---
Health, Education and Social Care Professionals
We also provide information and support to health, education and social care professionals – you can find further resources here, or please contact the team as above and we'll be pleased to help.