Bereavement and Memories of Babies who had SMA Type 1
Bereavement and Memories of Babies who had SMA Type 1
Our thanks to the families who have shared their very personal thoughts and photos, here, of loved ones who had SMA Type 1.
Please note: some of the information, tips and ideas around looking after babies shared in these experiences is relevant to the time period in which they were written. For the latest information around best practice and standards of care for looking after your baby who has SMA Type 1, please see our Support and Information pages and talk to your clinical team.
Bereavement and Memories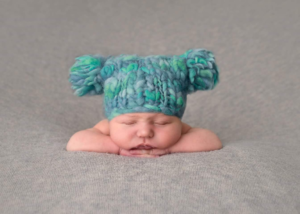 Jack William was born in the early hours of Thursday 25th May 2017, weighing 8lb 2oz, by water birth. He was little brother to Daisy who was almost 3 and he completed our family.
Jack passed all his checks and was deemed to be 'healthy'.
The first two weeks were amazing. We wanted to be at home, the 4 of us with our families so didn't really have any other visitors. Jack was so chilled, we just thought he was a typical lazy little boy and we were lucky!
At 2 weeks old, he completely changed. He started crying non-stop; I took him to A&E. We sat in the waiting room with him crying for hours until we were finally seen and told he was being over overfed. We started managing his feeds better and he improved but was still very unsettled. Nothing made him happy. I was ringing the health visitor constantly; everyone kept saying it must be colic, but he wasn't pulling his legs up. I just knew it wasn't that. The local nursery nurse came over and agreed something was wrong, she didn't know what but something and to go to my GP. We went to the GP who said Jack seemed fine; eyes, ears, throat etc but would refer us to the hospital for a rapid access appointment just to put our mind at ease.
The next day Jack seemed much happier, but the hospital called and said to go up right away. We weren't going to bother as he was ok now but seemed silly to waste an appointment as it had been given so we went along. Jack was lying in a little cot in the assessment unit on the children's ward and a consultant came to see him. She was pulling his limbs up and down and just dropping them, asking if he was always this floppy? She was very concerned and asked other consultants to come and take a look at him. Had he always been this floppy? We didn't know? We hadn't noticed. It was really really hot, he was 2 weeks old…
We desperately searched photos and videos for proof that he hadn't always been floppy but couldn't find any. In hindsight, there had never been any anti-gravity movement.
The consultant told us that she would need to run some tests and that it was almost definitely neuromuscular but never said what she was thinking. It was mentioned they wanted to rule out Spinal Muscular Atrophy, a genetic condition that is fatal for many babies before the age of two. We were certain it couldn't be that. Jack was breathing and feeding on his own. Surely if he had the most severe form of this he wouldn't be doing these things?
This was, for me, the worst moment of it all. Knowing something was wrong but not knowing what.
We were referred for physio. We hoped that, at best, he just needed extra help to build his muscles up and whilst he may be behind his peers, he would be ok. I was googling constantly trying to find any answers that I could.
Frantically googling 'hypotonia new born baby', I found a story written by a Mum in 2008. Her little boy Lucas was fine at birth then became floppy. He was diagnosed with SMA Type 1 at 8 weeks and passed away almost exactly 2 months later. I read this story and realised that everything she said was the same for us. Jack lacked the Moro reflex (startle) and had exaggerated breathing. Jack was Lucas but 9 years later. He had SMA Type 1. I knew it! I didn't need the official results.
I sent the story to my husband Chris and our Mums; I told them this is what he had, and he was going to die. They all said 'Sarah stop winding yourself up, you are coming up with the worst-case scenario. Just wait for the results!!'. But I knew. I just sunk further into hell, by myself; everyone around me was being so positive. Chris was our calm in the storm. He never ever waivered. So composed and so strong throughout. I couldn't hold it together at all and was just creating further concern for everyone around me. I couldn't snap out of it.
Two torturous weeks had passed since Jack had his blood tests.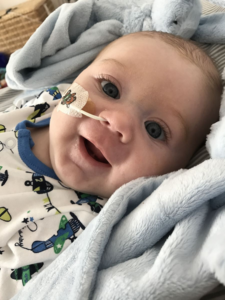 On Sunday 2nd July, Jack smiled for the first time.
I'd been out for a few hours that day but when I got home Chris said that Jack had a super high temperature of 41. As he was being investigated for a neuromuscular condition we didn't want to take any risks so back to A&E we went. Again, by the time we got there his temperature had come down with nurofen so we spoke about just going home but they called us in. Triage did all the usual checks; his temperature was ok but as we had told them he had a temperature of 40+ they had to do blood tests. We were moved into the resus room then taken up to the children's ward for bloods. Only one of us was able to stay so Chris stayed because I was in no fit state to look after myself let alone our baby boy. He called me at 1.45am to tell me that Jack had septicaemia and then again at 2.30 to say he had meningitis and had had a lumbar puncture to confirm this.
I was relieved!! This is why he was floppy! It must be!! But no, it was all the wrong way around. There was no link to show it was all related it was just horrendous bad luck!!
Jack stayed in hospital for a week and was allowed home for the last few days where community nurses came to give him his antibiotics.
On 12th July, it had been 4 long weeks since the initial tests and we knew the results were due. It was also the last day Jack needed antibiotics, so we were asked to go in for him to have his cannula removed. Once this was done we were asked to walk around to the assessment unit. Chris was carrying Jack, I followed along with our Mums. There were too many people in the room for it to be good news. All the nurses were looking at us sadly as we walked by. We sat down, and the consultant said he had tested positive for Spinal Muscular Atrophy Type 1.
And just like that our lives fell apart. It wasn't a surprise.
I knew what this meant. My baby was going to die and had a time limit of approximately 4 months. He was almost 2 months already.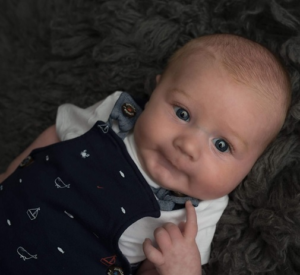 We were told there was nothing they could do, and we would be referred to Great Ormond Street Hospital.
We were seen at GOSH 6 days later; on our daughter Daisy's 3rd birthday.
We had a palliative care plan put in place. We had a DNR put in place. We had the Palliative Care Team from GOSH, our local palliative care specialist nurse who visited regularly, and the local community nurses on call. There were 7 weeks between diagnosis and Jack passing away and I can honestly say that the care we received really was incredible. Great Ormond Street and our local palliative care nurse had seen SMA before. They knew what to expect, they knew the condition. There were no questions they couldn't answer, and we really cannot thank them enough. In an extremely unlucky situation, we were lucky enough to be referred to one of the best children's hospitals in the world.
I seemed to get it together after diagnosis. I knew what was going to happen, that Jack wouldn't be in our future and we now needed to make every second count. I made lots of friends online who had been through the same. Just talking to them helped. It still does. They had survived this. Jack and I also met up with a lovely lady, Carly, who had been through the same with her little boy, Reggie, 4 years earlier to the same condition. She became my rock.
Thankfully Jack remained well, breathing and feeding by himself until 12 weeks. We were able to take him swimming, to the zoo, the sea life centre, have him christened etc.
At 12 weeks, Jack lost his swallow so was given an NG tube for feeds. Over that week he was fairly unsettled to a point that we were now giving him small doses of morphine. We knew that his swallow going was the start of the end. We expected him to get a chest infection and decline from there. We initially wanted to be at home for the end but changed our minds about going to the children's hospice for end of life care and decided that when the time was coming we would go there to be together as a family.
On Sunday 27th August, our friends and family did a big sponsored walk to raise money for The SMA Trust. I wasn't going to go, I didn't want to see anyone. Chris did the whole walk with Daisy and our family and friends. Me, Mum and Jack met them towards the end and went to the local pub for a while after. It was actually a really lovely day. Everyone got to see Jack and have a cuddle / photo etc. I was so glad I took him down.
We got home that night put him to bed as usual, still wearing his #TeamJack baby grow. He slept right through, beside me. In the morning when he woke, I picked him up, gave him a cuddle then propped him up on my pillows to sort out his feed. He was quite unsettled, so I woke Chris and said can you just hold him whilst I sort this.
When I was done he passed Jack to me and said, 'Sarah is he breathing?' He wasn't.
He was blue. He had gone. Just like that.
I won't pretend that life after losing Jack is easy, it isn't. Chris and I switched roles. Chris hit rock bottom and struggled to cope with the loss of Jack and the guilt of being unable to save him in those final moments. I had prepared myself for this outcome before we lost Jack and had become the calm in the storm to support my family. Again, GOSH provided great support for Chris, who received counselling which has really helped him.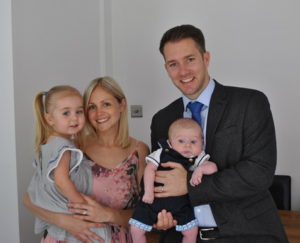 Writing this today, I want anyone else going through this to know that we are ok. I still have my bad days that hit me out of nowhere, but life has to go on and we live our lives with Jack in our hearts every day. Not a moment goes by where I don't think of Jack, but we have to move forward and live our lives like Jack would want us to. We have raised close to £50k for charity in Jack's memory and I get a great sense of purpose from being able to try to offer advice and support to other parents going through the same situation and have made so many good friends from doing so.
We had 13 weeks and 3 days with our beautiful boy and although it was short, he was worth every single second!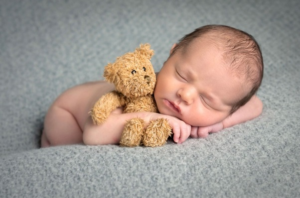 Teddy was born on the 16th May 2018, weighing 8lbs 1oz. He was born by Caesarean section as I had one previously with my eldest daughter Neave.
The moment I saw him I felt the luckiest Mummy on the planet, he was so perfect from head to his tiny little toes. I breastfed for 2 weeks and he took to it like a duck to water but exhaustion got the better of me and I decided to start bottle feeding. Teddy loved his food and was gaining weight, I was in awe of him, everything was perfect my little family was complete.
Teddy passed all his checks when born and was discharged from the midwifery team at 2 weeks old. I noticed when Teddy got to 5 weeks that he had lost head control, he was no longer lifting his head and would cry and looked uncomfortable when I tried tummy time.
The health visitor came to do his 6-week check and didn't seem concerned, she told me to persevere with tummy time and try different positions to help him build his head control; I took her advice on board and continued to try. A week later I noticed that Teddy was very floppy, he no longer moved his arms and legs. I took him to the local weighing clinic to speak to a health visitor to get their opinion; as soon as I saw the other babies there I immediately knew that there was something wrong – they were all kicking their legs and reaching out for toys. The health visitor advised I take Teddy to A&E. I was in a state of panic, I called Teddy's Dad (Liam) explained and he met me there. We were both beside ourselves with worry. They did a range of tests on Teddy; bloods, MRI, everything was coming back normal which showed there was no immediate infection. Teddy was admitted for observation, they explained that one of the blood tests was for genetics and that it could take up to 2-3 weeks for the result. We had no idea what they were testing for until the following day, a day that will forever haunt me. The consultant sat us down and told us that they think Teddy has SMA, what is that? I had never heard of it, will he be able to walk, move? Is there a cure, treatment that could help him? She then went on to explain that it is a life limiting illness and that Teddy had the most severe type (type 1) and that they rarely lived past 12 months. I couldn't believe what I was hearing, my baby was going to die. I looked at him fast asleep, so innocent, so angelic and my heart broke. How was I meant to go on knowing my time was so limited with him?
That night I barely slept, googling frantically trying to find treatment, a cure, a way to help my baby, with no luck.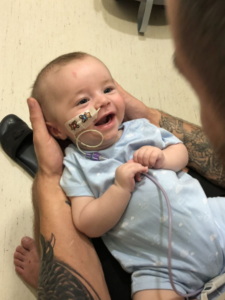 The following day we were discharged home. How could we go home back to all the happy memories having just find out such life changing news? We were completely broken. Barely able to function.
We were told that we would get a call in a couple of weeks with the results of the genetic test. Deep down I knew it was SMA, I did all the research, read other families stories. He had so many similarities, a weak cry, tummy breathing, constipation, always turned his head to a preferred side. Two long weeks went by and I got the call off the consultant, the test came back positive. Teddy had SMA, it wasn't a shock, I knew, I just felt numb.
We made as many memories as we possibly could from this point, we went to the beach, Sea Life centre, got him christened and took loads photos and videos. Cherished every second with him.
As the weeks passed Teddy's feeding reduced significantly, he was 10 weeks old and only drinking 1-2oz every few hours. We decided to take him to A&E, he was admitted, and the following day had his NG tube fitted. I was gutted I couldn't feed my baby anymore, something every mother should do and that was being taken away from me.
Everything seemed to get worse from that point, he struggled with his breathing, so they had to give oxygen to help support him. He couldn't tolerate anything orally, so everything was passed down his NG tube. I completely lost control and confidence in looking after him as did Liam, so we stayed in the hospital with Teddy for 4 weeks. We were taught how to manage his feeds and oxygen. After Teddy had stabilised and with the support from the hospital staff and community nurses we felt confident to go home. We had daily visits from the nurses which helped reassure we were doing a good job and that Teddy was well. We managed to adapt to our new life and kept strong for Teddy, we didn't want him seeing us upset crying, so we painted on our brave face daily. His smiles got me through every day, it was so rewarding, he began cooing, we were so lucky to hear his beautiful voice, he was becoming his own little person with likes and dislikes.
The community consultant would come out weekly and check there was no deterioration. The weeks passed, and everything was so positive. One Friday she came to see Teddy and explained that his breathing was worse from the previous visit but reassured us that she wasn't too concerned.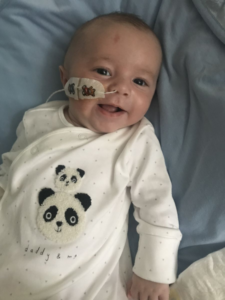 The following day we took him back to hospital as his saturations were low and we couldn't stabilise them with increased oxygen. We were admitted, he had a chest infection. They immediately started him on antibiotics, a few days passed he was getting worse. He was working harder to breathe and the smiles and cooing gradually became less. He was on constant oxygen and couldn't tolerate any feed. The consultant told us that Teddy only had a few days left as his left lung had completely collapsed.
We were moved to the local hospice, and in the early hours on the 25th of September at 18 weeks old Teddy fell asleep peacefully beside his Mummy and Daddy. We stayed the following 2 nights with him before they took him to the funeral home. We visited the day before the funeral and I said my final goodbyes.
When Teddy passed away I felt a sense of relief, he was no longer in pain and suffering and was free from SMA. I have been grieving since the day he was diagnosed but nothing can prepare you for the loss of your child. We are so lucky to have had him as our son and he has given us some amazing memories that we will cherish forever. He has left an irreplaceable void in our hearts and is forever missed.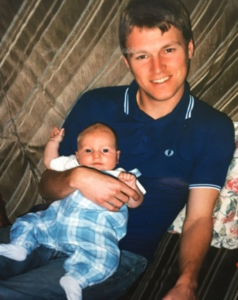 The 8th January 1997 was the happiest day of my life. My wife, Sam, had just given birth to my son Joseph. I was ecstatic and it was the moment I had wished for, for as long as I could remember. The feeling of holding your child for the first time is not one you can replicate.
Sam and Joseph stayed in the hospital overnight and after phoning round friends and family I went home to an empty house and the late evening football highlights.
I awoke the following day as a proud father and couldn't wait to get back to the hospital to hold my son once more.
There was a stream of visitors to Sam's bedside during the day, mainly from relatives, who were delighted to meet Joseph. My daughter Grace, Sam's child by a different relationship, got to meet her brother for the first time. Our family felt complete.
Checks were carried out on Joseph and we were discharged from the hospital just as snow started to fall outside. The Who were playing The Kids Are Alright on the radio and life felt good.
Over the next few weeks we fell into routine of life with a newborn baby in the house. Although it was very hard work it was all worthwhile because of the joy he gave to us and both of our families.
When Joseph was nearly seven weeks old Sam took him for his six week check at the doctors. I was unable to attend as I had to go to work and left for work that morning assuming everything would be fine. That was until I received a call later in the day from Sam saying that the doctor had asked, "if he had always been this floppy?" and that she was going to refer Joseph for further tests.
From this moment I think we both thought that there was something seriously wrong but whatever it was we were determined that Joseph would be fine.
A few days later we received our referral and headed off to the hospital. The hospital were not expecting us and after much hanging around we finally saw a consultant. Heart checks were carried out on Joseph but as no beds were available we were sent home to await another referral. This time to attend a different hospital.
Here we saw a paediatrician who asked us a whole ream of questions and arranged for tests to be carried out on Joseph over the following couple of days. One of the questions she asked was if myself and Sam were related. I remember us laughing when we said we were married. Little did we know that her reason for this line of questioning was relating to genetics and what she believed was wrong with our little Joe.
We were well cared for and when all tests were completed we waited to be discharged. We were told that either our doctor or the hospital would be in touch but they could not tell us what, or if, there was something wrong with our son. As we left we were handed a letter and we were asked if we could drop it off at the doctors surgery.
As soon as we were in the car Sam tore open the envelope and her eyes scrolled down the page until she saw the diagnosis – "Werdnig Hoffmann Disease." Not something either of us had ever heard of and we headed straight to the library (no internet in those days) to find out more.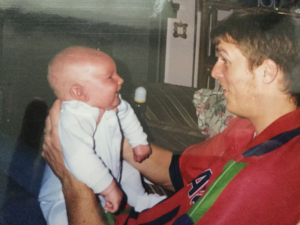 Sam found a medical dictionary and starting leafing through for the W's until we found what we were looking for while Joseph sat innocently in his car seat. What stood out was the text that said infants were unlikely to live past the age of two. I think my cry of pain must have been heard all around our town but if anyone shushed me in the library I didn't hear them as I made my way for the exit where I collapsed onto the pavement telling Joseph that this was not going to happen to him. Incredibly Sam waited patiently to photocopy the page from the journal so we had the information we needed.
We headed for home with me in complete denial. Sam couldn't even walk into the house and crawled on her hands and knees in absolute hysterics. Once inside we held each other tight and sobbed and sobbed with Joseph looking up at us. We then had to tell our parents and Grace what we had found out which was also hard seeing our mums and dads and daughter in such pain.
Our doctor called and we arranged to go and see her the following day. She told us about Werdnig Hoffmann disease, also known as Spinal Muscular Atrophy, and that the diagnosis was correct but it was hard to say if Joseph would live for months or years.
We tried to live life as normally as possible for ourselves and Grace. That's if normal includes regular visits to the doctors/hospital, using a suction machine to clear the mucus from the back of Joseph's throat and planning his funeral with the undertakers.
It was so unfair. Here was our beautiful baby boy with a gorgeous smile who was going to be taken from us so soon. One of his biggest smiles was when he first tasted chocolate – a fondness he inherited from both his parents.
Over the following weeks his condition worsened and he was finally admitted to hospital where we stayed for a week. Watching your child fighting for his life as his oxygen levels drop is the hardest thing I've ever had to witness but I will be forever proud of the way he fought right to the bitter end. The nurses cared for him and made him as comfortable as possible but now it was only a matter of time.
After six days of being by his bedside Joseph seemed to settle a little – probably tired after his exertions of the previous few days – and the nurses encouraged us to spend some time out of the hospital. We went and had a drink with Sam's dad but before we could even finish our first glass we were both desperate to get back to Joseph's bedside.
The following morning we received the fateful news as the doctors told us that there was nothing more that could be done for our son. Tubes and monitors were detached and Joseph was given to us to hold for the last time. Our friends came in momentarily and the words, "safe journey fella" were uttered – it makes me cry every time I think of it. Joseph sat in Sam's lap with me holding and stroking his hand while he slowly slipped away. He was incredibly brave throughout his whole life.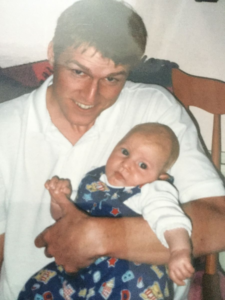 I then held Joseph for a long time. I didn't want to let him go. The nurses who had been so kind offered to do prints of his hands and feet which now acts as another treasured memory of him.
Eventually we had to leave the hospital which was so incredibly hard to leave our son behind. We both saw a butterfly float past and to this day I think of Joseph every time I see one. We then went to my in laws to see Grace and many more tears were shed as other friends and family were told the sad news. In between bouts of crying and needing to be with Sam I watched Brentford lose the play off final at Wembley on TV. The 25th May 1997 really was a terrible day.
Later that afternoon we headed home and I dismantled Joseph's cot. I think we were still in a state of shock and much crying was done over the days leading up to the funeral.
On the day the church was packed with friends and family plus the usual morning congregation. At the very front sat an old lady. My family thought she was part of Sam's family and Sam's family thought the opposite. It turned out she was just a lady that liked to sit at the front of the church – something insignificant but it seemed to lift the mood a little. If there is one thing I regret in life it is that I didn't carry Joseph's coffin into the church. I was given the opportunity but I just didn't think I could manage it. I wish I had shown the same courage as my son in his short life and done this last act for him.
I miss my son very much and think about him every day. My heart broke the day I found out he was going to die but with the help of Sam, my children Grace, Maya and Dan and my two grandchildren they have helped mend it.
I love you Joe. Forever in my heart.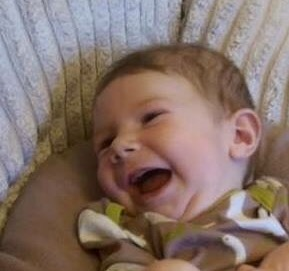 I remember reading these stories after we received Finlay's diagnosis, desperately wanting to find out 1) what was likely to happen, 2) how on earth we might cope and 3) that I might find some sign that Finlay would have a peaceful and manageable death and that it would in some sense 'be ok'. Although every case is different, somehow we did cope (and continue to cope) and thankfully Finlay really did have a peaceful, intimate and beautiful death.
Finny (our first child) was born on 6th February 2015. I had done a hypnobirthing course and the birth was progressing nicely. There was meconium in the water so my planned water birth went out the window but Finlay arrived just before 4am. Sadly he was very poorly at birth. He had inhaled a great deal of meconium and we had to be ambulanced to a more specialist hospital. We were told it was unlikely he would make it. It was torturous. Our little legend proved everyone wrong though and after two weeks in intensive care we came home following brain scans which suggested that Finny was fine and may come out of this 'unscathed'. We were absolutely delighted and beyond proud of our little fighter.
Finny's movements were pretty limited but we and the health professionals thought he was just taking time to recover from his traumatic start. Then following some blood tests on May 15th 2015 we were given the diagnosis. It was the worst day of my life. I've never been more shocked or devastated. I felt like someone had shot me. If you are reading this, maybe you are a parent or grandparent who has had this happen too. As you will know, nothing can prepare you for something like this.
My first question was about life expectancy and my second about whether or not Finlay would suffer. Finlay lived until he was nearly 8 months and I can honestly say that I don't think he suffered. He was perhaps a bit uncomfortable (and tired) towards the end but we became so good at meeting his needs and we could use medication when needed to keep him comfortable. I think he just felt loved and safe and like he was exactly where he should be.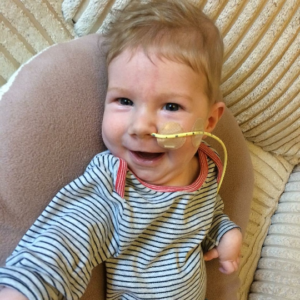 In terms of his care, at the time of diagnosis he was pretty well. He was exclusively breast fed and still putting on weight etc. He was a smiley little dream boat 🙂 he loved bath-time, snuggles, music, listening to mummy play piano and daddy play guitar, being outside in the garden, and getting visits from his grandparents and friends. He even met his great-grandma. He would laugh and chat away and he gave us joy and love like we had never known before. The memories of these times are part of us now forevermore, etched deeply in our hearts, minds and souls.
Finny was still doing well but when he was 5 months he started struggling to put weight on. He was feeding a lot bless him but it was hard work for him. He burnt a lot of calories feeding and breathing and couldn't get the sustenance he needed. Had he taken a bottle we may have managed without tube feeding a while longer but he just wasn't interested unless it was mummy's nipple :). We had the nasogastric tube inserted and started feeding him high energy formula and this really helped. He was putting on more weight. It had the added bonus that we could put medicine down it. He struggled swallowing his meds so this was a real relief. One of my main fears was that Finny would want to breast feed but might choke and I would no longer be able to let him on. Thankfully this didn't happen. Finny breast fed alongside being tube fed up until the day before he died. Sometimes I think he just went on for a little snuggle, and wouldn't get much milk but it was heavenly and such a relief that it still worked well.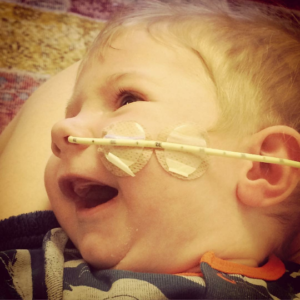 Finlay gradually became more poorly. Because we saw him every day we didn't notice at the time, it was just Finny and he was glorious. His breathing became more laboured though and he was just sleeping more and more. We started suctioning any secretions from his cheeks but he didn't seem to mind this really. We became so used to his care. We would give him tummy time (only in our arms) and pat his little back gently to provide some chest physio to help with secretions etc.
When he was 7 months at the start of September he definitely was a bit different. He still smiled and had fun but he was obviously tired. Thankfully it was only really the last week of his life that was a bit tougher and I'm so glad he declined rapidly so that his quality of life remained on the whole extremely high. A week before Finlay died we took him to hospital as he was just not himself. They gave him some oxygen and he picked up for that last week. We came home again where we wanted to be. Some people understandably feel safer in a hospice or hospital but for us it was really important to be at home.
The hospice staff were amazing though and on the last couple of days came to our house to see Finlay and agreed with us that it was time for some morphine to make our boy as calm and comfortable as possible. We honestly weren't sure until this point whether or not Finny was just poorly for some other reason (reflux etc.) but I think deep down we knew it was his condition.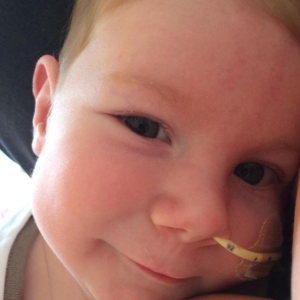 For those last couple of days Finny only felt safe and comfortable in our arms so me and daddy took it in turns to hold him whilst the other one attempted some rest. We had support from our parents too and our community nurses were just amazing. My peer support worker was also such a great support (and continues to be).
It sounds crazy, but right at the end it was nothing like I anticipated. We were calm and it was so intimate and beautiful. We sang to our baby, told him we loved him and promised him we wouldn't give up and that we would try to make our lives as beautiful as possible in his honour. His breathing started to slow down and eventually he took his last breath.
It's the saddest thing ever to lose the most precious thing in your life. But we tried so hard to focus on Finlay's experience rather than our own. He had a short but amazing life. He only ever knew love and safety. We felt so looked after by our local hospice for the period after Finny died until the funeral.
When Finny was alive, I honestly didn't think I could survive his death, I didn't think my body would carry on working without him. I felt like my heart might stop beating when his did. I can't believe it but we are coping. I anticipated that it would be awful, all the time. It's really not. The grief comes in waves. Although I wish more than anything that Finlay was still with us, I am so grateful for those 8 months we had with him. I'm so grateful for all that he taught us. We will remember him as the happiest most joyful baby. We feel utterly privileged to be his parents.
29/01/2015 – 11/08/2015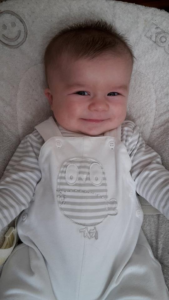 On 29th January 2015 at 00.04am after a short, but quite painful labour, our second son Máté Árpád was born. It was such a relief that the pain was over and we were just overwhelmed with joy. While I have an older son Bence, before Máté I had had one miscarriage and it was almost exactly a year to the day since that baby would have been born. However when the midwife put Máté in my arms, I had a strange feeling, because his whole posture was so floppy that I felt he was going to slip out of my arms. I thought at the time that maybe that was because I'd had my first baby quite a while ago (two and a half years earlier). On the same day we were released from hospital and went to pick up our older son Bence from our friends who had been gladly looking after him while I was in labour and giving birth to Máté. His reaction was only "Oh wow a baby" and we went home.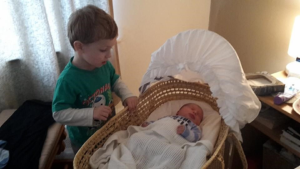 After 3 weeks Máté had his first cold and we thought that's alright, even though Bence had his first one when he was two and a half months, because every baby is different. Máté was a calm baby and slept a lot but if he was hungry he had a voice and he ate a lot. He put on plenty of weight but he didn't really move. After a few weeks, when our wonderful health visitor came, I mentioned that Máté was still not making any effort to lift his head up and that he was making noises when he was eating. Our health visitor wasn't satisfied with the head control, but she told us to wait a bit and we would check his development at the next appointment. She also referred us to a tongue-tie clinic just in case. When we went there we were told that Máté's tongue was tied and they would need to operate to release it. It was an absolutely horrible feeling for me when he was taken away. After a few minutes the nurses brought him back to me and he was so upset and red from crying, that it made me cry as well. As soon as I breastfed him he calmed down immediately.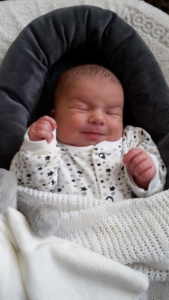 In March we had our first check up with the GP, when Máté was around ten weeks. We mentioned to her that Máté had a cold which didn't seem to have gone away because his breathing was continually noisy. She was satisfied with his development even though Máté in the meantime wasn't moving, apart from a little bit of arm and leg movement. She said that he was a bit behind in development, but it was nothing serious and she'd see him in six weeks' time. One week later our lovely health visitor came in the afternoon and noticed his noisy breathing straightaway. She didn't like that at all and advised us very strongly to go straight to A&E. She told us to also mention his poor head control which hadn't changed since the last visit.
Máté had to stay at the hospital overnight for examinations. The next day the long hours of waiting continued. Blood and urine samples were taken. I asked about Máté's breathing and the doctors examined him with a stethoscope but did not do a chest x-ray. Later on he had a head X-ray as well, the results of which were negative. And that was it, we could go home.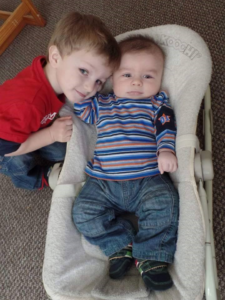 In May Máté had another head-ultrasound which was also negative. But all the time Máté was constantly breathing noisily. The days and weeks passed and despite a wonderful melt your heart smile from Máté his movement just didn't develop whatsoever, and the noisy breathing remained. When our lovely health visitor came again, we mentioned that we were planning to go home to Slovakia and to Hungary (where my husband comes from) for five weeks to see our loved ones and to have Máté`s christening. We were worried about how to carry him because he still couldn't hold his head properly. She advised us to use a stroller instead of a baby carrier and also asked us to get our Consultant's opinion about it as he was dealing with Máté's case. One week before we left the UK Máté had his first physiotherapy session and a check-up with our consultant. On that same day a blood sample was taken for chromosome testing and also a urine test. He agreed that we should use a stroller and we could fly home.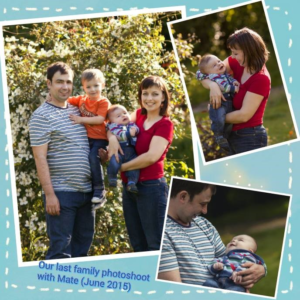 On 15th June I flew home with our two sons, because Daddy doesn't get that much holiday off, so we went two and a half weeks earlier. It wasn't very easy with two kids, but thank God there were people who helped me out. Bence was excited about his first flight and as soon as the plane levelled out he'd fallen asleep. Not like our precious other one, Máté. He was quietly crying all the way through. I didn't know what to do with him. I breast fed, changed his nappy, but nothing seemed to help. With hindsight it was probably the air pressure which made him unwell up in the air. In Hungary at Budapest Airport my brother-in-law was waiting for us and we went back home to Slovakia where I come from. My whole family were together and they welcomed Máté and were overjoyed. Máté still didn't show any sign of proper movement, even though we had been doing exercises. On one occasion while I was talking with my mum, we agreed that I'd take Máté to our local GP who I know quite well, just to get some advice about his movement and breathing.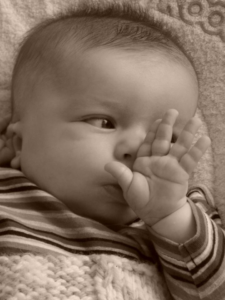 The GP gave us some cough medicine, because she noticed that he had a bit of a cold. She also asked us to come back on the following Monday for a check-up. At the weekend Máté wasn't very well, because he had a temperature and was also teething. Daddy finally arrived by car some two and a half weeks after us. That night Máté just couldn't sleep and wasn't eating at all. He was just crying quietly and continually. After arriving at the Slovakian GP the next day, she told us to go to hospital straightaway. When we arrived and took Máté out of the car we noticed that sticky stuff was coming from Máté's nose and mouth. It was scary and we rushed into the hospital. After waiting for a while, the nurse asked us to put Máté on the table so the doctor could examine him. At that exact moment Máté had gone grey-purple and stopped breathing! Everybody was rushing about and Máté was taken away. He was intubated and at the same time secretions were sucked out many times. The doctor said that they had stabilised Máté, but he was in a really critical condition and would have to be transferred to intensive care in a bigger hospital. We went there in the emergency ambulance with the siren on all the way.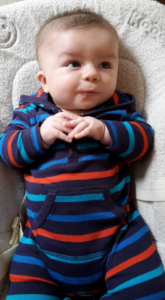 After arriving at hospital Máté was put on an oxygen mask. On the next day the doctors asked me to feed him, but Máté didn't want to eat at all. So after that I had to express breastmilk and it was given to him through a tube. The consultant told me that Máté had double pneumonia and that one lung wasn't working and the other one was full of secretions. That afternoon Máté had to be put on a ventilator because he was so exhausted trying to breathe with an oxygen mask. The doctor attempted to take Máté off the ventilator, but without success and we were told that he just cannot breathe for longer than twenty eight hours without the machine.
After all this we knew that we were not going anywhere from that hospital, so he was christened there. After two weeks, the doctor said that they had done what had to be done, but they cannot do any more as genetic and other further tests would have to be done in the UK because Máté is a British citizen.
Oh that was a very big issue! Where to go? Who to ask? But with God's help we managed. The EHIC and travel insurance covered everything and a private medical plane took us home.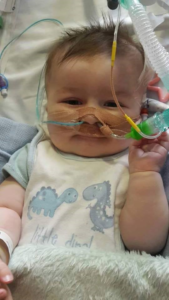 When we arrived at the hospital they started to change all the tubes and everything on Máté, it was heart breaking to see…all the injections and needles and everything. I couldn't hear Máté`s voice because of the tube, but it was enough to watch his face with tears pouring down and on mine too. I just couldn't do anything to ease his pain. I was just holding his hand and gave all the leading to God.
The following week his blood sample was sent for a genetic examination. It would normally have taken at least six weeks, but because Máté's condition was so bad the results were hurried through by the doctors.
Máté was continuing to breathe with the support of a ventilator and he was in pain after the regular suctions, but despite that he gave us plenty of beautiful and heart-warming smiles and stared at us intently, as if he was reading our minds.
In the week when the results arrived we were called to talk with the main Neurologist. They explained that the genetic results showed that Máté had SMA (Spinal Muscular Atrophy), Type 1 which is the worst group and we were told that he had just weeks left! That was an absolute disaster for us and we couldn`t understand how we had got to this point?
During this time we lived in a Ronald McDonald's charity house for free and we couldn't be more grateful, because it was just opposite the hospital. I was continually taking breastmilk across and we visited Máté. During the time in hospital I met two other Hungarian mums who gave us great support as well. Also thank God, my husband was allowed time off work because of the difficult situation, so we were together for the whole time. Our other son Bence wasn't really aware of what was going on. He liked to visit his brother, but he didn't like the hospital and its restrictions as he couldn't run around.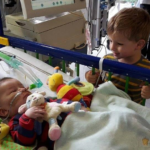 Our little Máté carried on smiling and staring at us with his beautiful eyes when we talked or sang to him. His hair always stuck up no matter what we did and that made him even cuter. He also loved bath time and to snuggle up in his blanket. He was just so beautiful, but he was in pain especially when time for suction came. And the suctions got more and more frequent, closer to the end.
Máté got an infection and we were given options for his care. After two days we decided on ventilation with a mask but we wanted to wait a week because there were more friends who wanted to see him and say a final goodbye. That was hard!
These days and weeks weren't without tears and heartache as we realised we were going to lose someone very special. But we got as much strength as we needed for the day from God.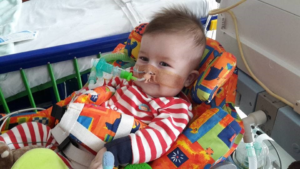 The unwanted Monday had come. In the morning we took Bence to say a final goodbye to Máté, his precious brother, and took him back to McDonald's house, where our dear friends had been waiting for him with their kids. They had looked after him while we were at hospital during the final days.
In the afternoon the change over from tube ventilation onto a mask with support connected to ventilation took place.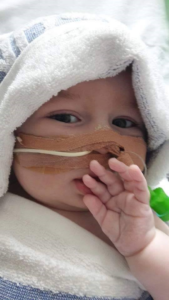 During the second day we were asked when we were going to take the mask off, but we just couldn't or maybe didn't want to decide. On Tuesday afternoon I prayed with my husband loudly and we asked God if he wanted to take Máté, then take him, but left it to God, not us, to decide when Máté had had enough of his short, but precious life.
Later on our prayer was answered. When I expressed milk, suddenly I noticed the oxygen level had started to drop and after that the heart rate fell rapidly as well. I lay next to Máté, and with my husband we spent the last few minutes together. It was heart-breaking. In the midst of crying I couldn`t really talk, I just said Psalm 23 (from the Bible). When we saw there was no way back, we asked the nurse in the last few seconds to take the mask off so we could see him, his beautiful and peaceful face. He left us in his sleep on 11th August 2015 at 16.40.
Our sweetheart Máté's life was short, but made a huge impact on our and on other people's lives. His loving memory will always stay with us forever.
27th February 2014 – 22nd July 2014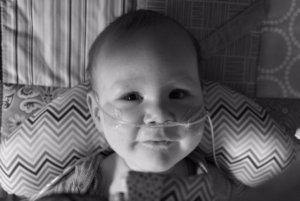 Our beautiful boy – Theo William – was born on the 27th February 2014; 9lbs of pure joy. After three unexplained miscarriages he was a much longed for child. I had a water birth, which was one of the most incredible experiences of my life. I remember so clearly the moment he was born; meeting him for the first time, although it felt like he'd been part of me forever. Those first few weeks were a blur of feeding and changing, bathing and cuddles, the usual first-time parent worries, and not much sleep! We loved every moment, and were totally overwhelmed with love for him. Theo was such a happy little guy, feeding like a trooper and so content.
At a routine appointment, when Theo was 5 weeks old, a health visitor mentioned that he seemed a bit floppy. She was worried about his muscle tone and wanted him to be seen by a specialist at hospital. I was uneasy, but Theo was happy and gaining weight – he hadn't missed any milestones yet – nothing in the world could have prepared me for what would follow. The next day I took him to hospital. The first doctor who examined him tested all his reflexes, and he had none. I was immediately worried – he had passed all his newborn medical checks with flying colours, so something had changed. She wouldn't venture a diagnosis apart from saying it was 'significant'. Even at this point, it hadn't entered my mind that Theo might die. They called my husband – a doctor himself – who was working in another hospital, so he could be there for a meeting with the consultant. She took bloods from Theo (something I think most mothers would find traumatic to watch), and though the diagnosis would need to be confirmed once the results were back from the lab, they suspected Theo had SMA Type 1. I had never heard of the disease, and had so many questions. It was a massive shock when we were told that most babies with this condition do not live to see their first birthday. It felt impossible to reconcile this death sentence with the happy smiling baby in my arms.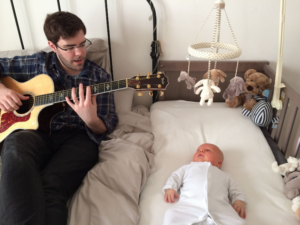 We spent the next few days in hospital, meeting various doctors and health professionals who continued to assess him and offered support and information. Friends came to visit, and my parents drove up to be with us, sharing in our shock and devastation at the news. Learning more about the disease from doctors and reading stories of other families online (on the SMA Support UK Website), was helpful but overwhelming. That he was going to die and there was nothing we could do to change that, was absolute agony. The doctors couldn't say how long we would have with him – days, weeks or months. We were told that as his muscles got weaker he would struggle to swallow, to feed, to breathe. Though we were assured he could be made comfortable with morphine when the time came, I was terrified that he would suffer. We were told that at some point he would need an NG tube, when feeding became too difficult for him. The idea that he wouldn't be able to breastfeed, either for fear that he'd aspirate, or because he became too weak, was desperately difficult for me to come to terms with. Breastfeeding is so bonding, and was such a comfort to him, I couldn't bear the thought of that being taken away from us.
During our two night stay at hospital, Theo's breathing had become more rapid, and when we were allowed to go home it was with an emergency care resuscitation plan. We had talked with the doctors about different scenarios and knew that we wanted Theo to spend his final days with us, surrounded by the comforts of home. On the advice of Theo's doctor, my husband took time off from work in order to spend whatever time we had left, caring for him full time. We took Theo home, devastated, but desperate to savour every moment that we had with our beautiful boy.
Though Theo's movement was so limited by SMA, there were many activities and toys that he could enjoy. He loved music; he had a little mobile over his cot and a musical play mat that brought him so much joy. He liked it when I sang to him or his Dad played guitar, joining in with gurgled noises. Though he couldn't reach for toys or objects, he loved playing with helium balloons. We found that if we tied the string to his wrist he was able to lift his arm a little to move it – he did this with such concentration for a little baby! My husband built Theo his own sensory room with lights and bubbles and mirrors, so many fascinating things to look at – and a screen above his cot, so we could project YouTube clips of Sesame Street songs for him to watch.
He loved his daily baby massage sessions, and always enjoyed the bubbles at bath time too. I think the massage must have been soothing to his muscles and the water supported him in such a way that he could move a bit more than usual. We found the positions that were most comfortable for him so that he could enjoy watching what was happening around him. Best of all, he loved to be snuggled up for a feed or a nap in my arms. From a very young age he was so communicative – with his eyes, noises and smiles. There were so many things he wasn't able to do physically, but he was so incredibly loving and he knew that he was entirely adored by us. I barely left his side for more than a few minutes.
We were supported by an amazing team from the hospital's childrens' community team. In the early days, Theo's doctor would stop by every week or so to see how things were going. His nurse, who came to love and know him so well, was always available to talk through our worries and drop by with the medications that we needed. His physiotherapist showed us how to use a suction machine and we had tanks of oxygen delivered, ready for when it was needed. But Theo was still so happy, it was so painful sharing our home with all this equipment; horrible reminders of what the future would hold.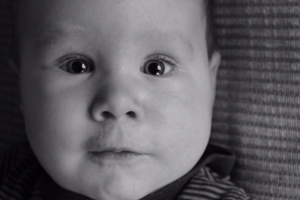 At one point, we were encouraged to go and visit a hospice for a couple days. I imagine it is different for everyone, but we really felt it wasn't for us, and left feeling entirely sure that we wanted Theo to spend his final days at home where he was most content, with us caring for him. We were glad to have gone though as we were able to use the hydrotherapy pool and a magical sensory room, as well as time with a music therapist and a specialist masseuse. We were able to return to the hospice most weeks for an afternoon visiting the pool and using the amazing facilities.
We wanted to make as many precious memories as possible. Theo was Dedicated in front of our church family, and we made trips to visit family and friends while he was still well enough to travel. Every month, on his birthday date, we had birthday parties with cake and Prosecco to celebrate his life and our love for him. Through all of this, we knew that Theo would be susceptible to catching colds and that he might not survive a chest infection, so were really careful as we wanted to protect him from as much suffering as possible.
As the weeks progressed, Theo started having problems with his secretions, as swallowing was becoming more difficult for him. He was put on a small dose of hyoscine (in the form of a patch) to help manage this. As his difficulties became gradually more profound, the dosage was increased. At night, he would wake often – sometimes every hour – in discomfort. We would change his position which seemed to help, and he started having a very small dose of morphine before bed to help him feel more comfortable. I found giving him morphine especially difficult that first time. We weren't at the end yet, but his decline was so gradual, him needing these medicines was a concrete sign that things were deteriorating.
His feeding habits changed too. Unlike other babies with SMA, who apparently tend to feed for short amounts of time, Theo obviously took great pleasure in his food, it just took him longer to get a full tummy so he would often feed for an hour or longer at a time. Where he had been up on the 90th percentile on charts, his weight began to plateau. Theo started to have 'blue episodes' too, where he couldn't breathe and needed urgent suctioning. It was unbearable witnessing him in such distress, but love enables you to do things that you couldn't imagine being able to face. He was so brave and so stoic, and was always quick to settle and smile again after an episode.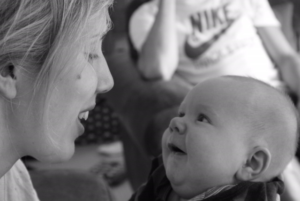 In the last few weeks of his life, going out for our daily walks to the park or popping into town to meet friends for lunch, became too difficult. Theo wasn't comfortable lying flat on his back in the pram, and had grown too big and become too floppy to be in the sling. He was needing to be suctioned more and more frequently, and though the equipment was transportable, he was happiest and most comfortable at home. His doctor and nurse visited more frequently, sometimes very late at night or early in the morning. By this point he was needing morphine throughout the day and night, and the dosage kept being upped in order to stay on top of his discomfort.
In the end, he only needed extra oxygen and an NG tube for the last week of his life. I had been pumping extra milk in preparation, but was dreading the feeding tube. It was a relief that he was still able to latch on for comfort, but we would give him extra milk through the tube at the same time as a breastfeed, to ensure that he was hydrated and had a full tummy. The tube also enabled us to give his medications much more easily. It was only the last day of his life that he didn't have a feed from me, but by this point he was so sleepy from the morphine that I know he didn't miss it.
In those final days, we knew that the end was near. His breathing had become more and more laboured, one of his lungs had collapsed and he was on a lot of morphine. That last evening he became really lucid for a few moments – looking at us and smiling, trying to talk to us with his little sounds. He fell asleep, and we stayed awake all night, taking turns holding him in our bed, singing to him and telling him that we loved him thousands of times. He died in his sleep, cradled in my arms the next morning.
His doctor had forewarned us that often people are surprised to find the first few weeks after a death are somehow manageable and after the funeral, when everybody else gets back to their normal lives, the full force of grief hits you. It's not that we weren't desperately sad immediately, but looking back, we were still in shock and there was so much to organise and plan. There are so many choices after someone dies, and it is perhaps an area society isn't very comfortable talking about. We chose not to have undertakers as we wanted to do everything ourselves. We were able to take Theo's body to the hospice where they had special cold rooms, where we continued to care for him over the next few days. We put him in his casket, which was hand-crafted by a carpenter friend, and closed the lid ourselves. No parent should have to do this, but we wanted to do these things ourselves. Before, I might have thought some of these choices were strange, but it seemed entirely natural and wholly appropriate for us, and helped us to say goodbye to him more gradually.
Theo was buried across the road from my parent's home, where I grew up, with just a few of our closest family. A few days later we had a big memorial service, with beautiful readings, tributes and songs. It was achingly sad, but an incredible testament to his life and the love that he inspired.
There is not a moment when I don't miss him, or a cell in my body that doesn't feel the loss. Theo was the most brave and tenacious, sensitive and focused, happy little man. From my favourite line, of my favourite of his books, Theo, 'You are loved, You are loved, You are loved.' (Nancy Tilman, Where ever you are, my love will find you).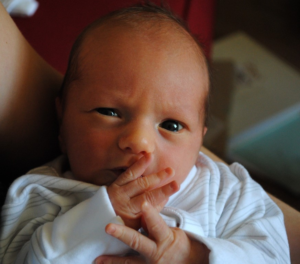 My first son Isaac was born on 21st October 2009. Both Jay and myself were overwhelmed by the love we felt for our perfect little boy who instantly became our world. We were your average first time parents learning day by day and enjoying every moment. It wasn't until Isaac had his 6 week check with the health visitor that anything out of the ordinary was picked up. I was advised to take him to the doctors due to 'poor muscle tone' which I did and was advised to take Isaac to hospital if I felt it necessary. We obviously listened to the advice and took him to hospital where he was admitted and the hospital staff immediately began running tests. The next morning our world as we knew it changed forever. We were told the devastating news that the Consultant suspected Isaac had SMA type 1 and, due to the severity of the condition, it was unlikely he would live to see his first birthday. On hearing this news our hearts broke in two. I sobbed uncontrollably and felt instantly numb inside.
The following day we returned home, only for Isaac to be admitted again a few days later with bronchiolitis. Unfortunately Isaac had to be intubated and transferred to Addenbrookes Hospital. Against all the odds and total disbelief of the medical staff Isaac was discharged on Christmas Eve and, as a family, we went to the local children's hospice for end of life care. Again Isaac refused to give up and after spending a week in the hospice learning how to care for Isaac we all went home on New Year's Eve. We were able to spend the most precious few months at home with our beautiful boy before he passed away on the 12th March 2010. SMA is so cruel. It took away our chance to watch Isaac grow and enjoy a lifetime of happiness and experiences. Throughout all of his short life Isaac continued to smile and provide us with precious happy memories that we can treasure forever.
We have been extremely fortunate to be able to have a second little boy, Theo, who does not have SMA Type 1. Theo is aware of Isaac and we will continue to make sure Isaac is always an important part of our family life.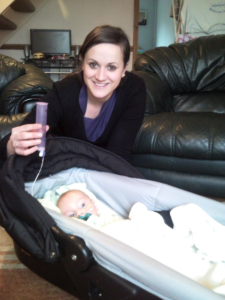 SMA Support UK is an invaluable resource for those who are affected by SMA in any way, regardless of the type and severity. For us they provided information to allow us to understand the condition and supported us in the most difficult time of our lives. One of the Outreach Workers came by train to meet the three of us. She sat and listened to our concerns and gave us tips and suggestions on how to care for Isaac as his muscles became weaker and his breathing became more laboured. This advice was gathered from other families who had been in the same position and was first hand experience, which was invaluable. SMA Support UK also sent us a box of sensory toys to enjoy with Isaac. Isaac loved the 'Space paper' and anything that lit up and made a noise.
Recently three friends and I decided to hold a family fun day in order to raise funds for SMA Support UK. A Village Affair was so much fun to organise and the local community really supported us on the day. We wrote hundreds of letters to local and national companies asking for help with prizes and the response was fantastic. We also had food outlets, craft stalls, bouncy castles, games and live music. We raised an amazing £3000 in total. The cake stall, silent auction and raffle were our biggest earners! My husband and his friends have also held the annual Isaacs 5-a-side indoor football tournament recently and raised an additional £286 which has also been donated to SMA Support UK.
We have already begun planning the next event which we hope will be bigger and better, in memory of our beautiful Isaac.
Memories of Zac
On 4th December 2013 our little miracle was born, Zachary Alex. After two miscarriages and Zac being a threatened miscarriage, we thought all our prayers had been answered the day Zac arrived. Little did we know what was to come.
Sadly on 22nd July 2014 our little fighter took his last breath aged just 7 months, surrounded by his Mummy and Daddy. Zac gave us so much happiness and has left a deep hole in our hearts. We did our best for him in an impossible situation with the support of many family and friends. Our little boy is now Running in Paradise (RIP) free of pain. We will never forget his eyes that spoke a thousand words, his lovely placid temperament or his gorgeous smile. He was such a brave and determined little boy who will be forever loved xxxx
---
Zac's Story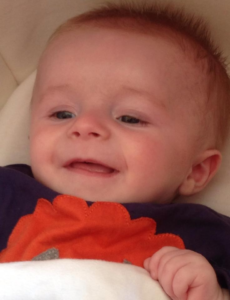 On 4th December 2013 our little miracle was born, Zachary Alex. After two miscarriages and Zac being a threatened miscarriage, we thought all our prayers had been answered the day Zac arrived. Little did we know what was to come.
At first all appeared to be normal, although looking back, feeding Zac was always problematic. At the time we just thought Zac was a slow feeder and put it down to Zac having a tongue tie which was later clipped. Gradually the problem with feeding became more pronounced, Zac did not seem to feed like other babies. Together with feeding issues, we noticed that Zac did not move his legs very much, always had his head turned to one side, suffered with constipation, hated tummy time and struggled to lift his hands above his head. This was reported to the GP at 10 weeks and we were told to go back in 4 weeks time.
During those 4 weeks waiting to go back to see the GP we became increasingly worried. The day we returned to the GP, all hell broke loose. The GP took another look at Zac, we explained that the situation was the same and whilst Zac was putting weight on he was dropping several centile lines. The GP asked us to leave the room whilst he made a phone call to Broomfield Hospital and before we knew it a letter was being typed for us to take to the hospital immediately. A Neuromuscular Paediatric Consultant examined Zac and asked various questions. One of the things he asked was whether there were any concerns about Zac's movement whilst in the womb. The Consultant said that one of the possible reasons for Zac's lack of movement and feeding issues was Spinal Muscular Atrophy (SMA) and a blood test would be necessary to confirm this one way or another.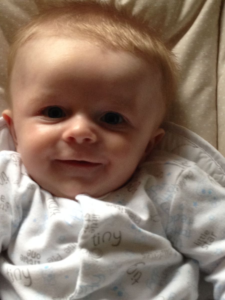 The day of the results came approximately two weeks after the blood test was taken (in April 2014) and our lives changed forever. The diagnosis of SMA was confirmed; Zac had Type 1 SMA (for us the worst possible outcome). An appointment was arranged for a couple of weeks later with a Consultant at Great Ormond Street who was a specialist in the field of SMA. He dealt a further blow; Zac was on the severe spectrum of Type 1 which meant he had a life expectancy of 7 – 8 months. At the time Zac appeared to be relatively well despite having a lack of movement and all breathing being through his tummy. We thought that there had been some kind of mistake.
We were quickly introduced to the Community Nurse team at Broomfield Hospital who came round weekly to assess how Zac was getting on. It was also suggested that we think about visiting Little Havens Children's Hospice for support with respite, although we would stay with Zac at the Hospice. Visiting the Hospice was a big step; this was not the place where anyone wanted to go. However, it was surprisingly nice – very homely, friendly staff, great facilities including a sensory room, ball pool, garden, swimming pool and sauna. The worst part was being shown round what they called the 'Woodland Suite' the room where Zac would lay after he had passed away, something we would never be ready for. Zac did however have some amazing experiences at the Hospice and it enabled us to be supported at the same time. We stayed with Zac at the Hospice a couple of times before staying again for Zac's end of life care.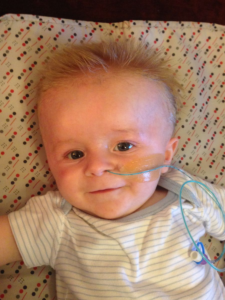 The Community Nurse team supported us with various things including Zac's feeding. Feeding was becoming a real issue, we had to massage Zac's feet, sing to him and constantly take breaks to get him to take the bottle. Over the May bank holiday it took just over an hour to feed Zac 1.5 oz of milk. Enough was enough, Zac was really struggling and so after the bank holiday, he had the feeding tube put down. This in itself was a heartbreaking moment, no more cuddles whilst feeding and everyone visually being able to see that Zac was a 'sick baby' from the appearance of the tube. We found getting to grips with the feeding tube was no easy task for us, but we got used to using the special paper strips to test Zac's stomach acid before every feed. This was to check the tube had not moved and to make sure the milk was not passing down the tube too fast. At this point we started to become more like nurses than parents.
Quickly other symptoms started to appear, Zac was extremely clammy to the extent that he needed to be changed throughout the day and a lot of the time could only wear his nappy as he was so sweaty. Zac was put on medication to help with this and there was a great improvement. Next came the sickness, Zac started being sick on the first feed of the day but gradually this increased to sickness with every feed. It was not just small amounts coming up but what appeared to be whole bottles. More medication was introduced to help with this but it was difficult to control and therefore hard to leave the house. As Zac's muscles were getting weaker it became harder for him to be sick. Many changes had to be made to his milk to try and get things under control none of which were very successful and eventually dioralyte was mixed in with the milk and that was how things stayed.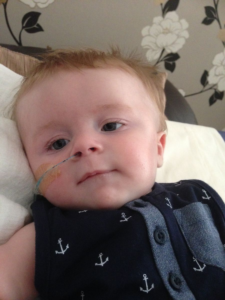 Zac would always be quite happy sitting in his rocker but suddenly he was no longer able to. He needed to lie flat as it was too difficult for him to breathe sitting up. We never wanted to be one of those parents who let their child watch television all day but inevitably this was what started to happen. Zac was not able to hold toys because of the muscle weakness so we engaged him with various sensory toys, as this was the only other thing he could do. We truly feel that Zac found all of this difficult as he always appeared to be an intelligent little boy who needed stimulation.
We were provided with a suction machine for Zac as he was unable to control the levels of saliva in his mouth as a result of the swallowing weakness. For such a little body, Zac had to cope with so much.
In between the devastation of watching our baby boy's health deteriorate, we were offered genetic testing which confirmed that we were both carriers of the faulty gene resulting in Zac's SMA. Knowing that your genes made Zac the way he was is a very hard thing to live with.
And so the end came… Zac started to turn blue when he had a build up of saliva which he could not clear. We took Zac to the Hospital and he was admitted for further investigation. Zac had to be started on oxygen. We were in Hospital for a total of one and a half weeks followed by the Hospice for a further two and a half weeks. Zac now needed regular morphine and sometimes a relaxant drug which was massaged into his cheek. We were told that Zac had reached the end of life stage. The last month was a sheer roller coaster, one day Zac would seem in lots of discomfort, then he would plateau for a few days and further deterioration occurred.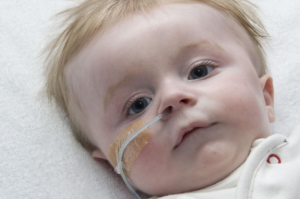 Sadly on 22nd July 2014 our little fighter took his last breath aged just 7 months, surrounded by his Mummy and Daddy. Zac gave us so much happiness and has left a deep hole in our hearts. We did our best for him in an impossible situation with the support of many family and friends. Our little boy is now Running in Paradise (RIP) free of pain. We will never forget his eyes that spoke a thousand words, his lovely placid temperament or his gorgeous smile. He was such a brave and determined little boy who will be forever loved xxxx
Joshua's Story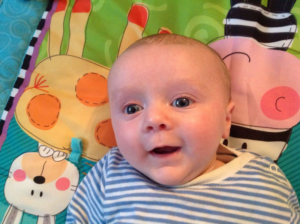 On 31/10/12, after 3 days of labour, our beautiful baby boy, Joshua Robert Stamford was born by C-section. Yes, it was Halloween! I can remember a nurse in the labour suite, joking about the Halloween themed birthday parties he would have!
I was exhausted but elated. The hospital were very pro breast feeding, which, like most new mums, I found hard. Joshua wouldn't latch on and when he did he'd sleep more or less straight away. Still, I persevered as I was determined to be 'mother earth'. Finally, we came home. Joshua was our first baby and we were so proud. I can remember, we popped to Tescos when he was about 2 weeks old and I swear, I was standing a foot taller. I loved people stopping me to ask his name, how old he was etc. Both my husband (Lee) and I, couldn't be more happy, although sleep deprived!
As the weeks went on, I had a feeling something wasn't right. Joshua lost more than average of his birth weight, so we introduced combined feeding. His weight slowly improved and I moved solely to bottles as I was paranoid he wasn't getting enough from me. That made me feel quite inadequate, but I tried to convince myself it was the right thing (of course it was).
Lee and I attended NCT classes and had (and still have), a fantastic group of friends through this. When we met up, I noticed Joshua wasn't moving his legs as much and they looked very 'frog like'. He also favoured the right side of his head. At his six week check, I mentioned my concerns to the GP. He agreed his muscle tone was a little low, but to continue tummy time and if it didn't improve, to go back. He said it was normal for babies to favour one side of their head, so I tried not to worry. Tummy time was horrible. Joshua cried and didn't move, so against advice, I started to do this less and less. It became so stressful. Feeding was still slow, although I started to accept, this was just him.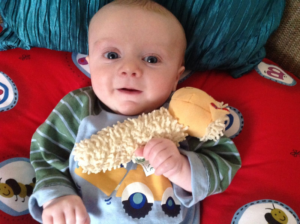 I went back to the GP, as I was still worried about his legs. Joshua had also developed, what sounded like mucus on his chest. He didn't cough it up and was never sick, (which I put down to him being a good baby). So, I mentioned this too. We were given saline for his nose and referred for a scan of his hips as it was thought his hips were out of alignment. There was nothing wrong with his hips. By now, I was really concerned. His head, legs, lack of movement, feeding taking ages, sounding like he couldn't clear his chest, not liking or lifting his head during tummy time. Comparing him to the other NCT babies, he just wasn't developing in the same way.
So, back to the doctors and a referral to a paediatrician. He was about three and a half months now. We received a copy of the referral from our GP which mentioned all his symptoms and confirming, no muscular dystrophy in the family. That sent alarm bells ringing although I was convinced Joshua just needed physio. I tried to put my concerns to the back of my mind and enjoyed his smiles, gurgling chats, singing and playing.
Finally an appointment with the paediatrician on 28th Feb 2013. She examined Joshua thoroughly, looked in his mouth, held him, checked his reflexes, and asked lots of questions. Whilst Lee was getting Joshua dressed, after the examination, I sat down. She went quiet, put her hand on my knee and said "mum, I'm very concerned about your baby". I'll never forget that sinking feeling. This wasn't just his muscle tone, it was serious. She organised for blood samples to be couriered to St Thomas' and asked us to wait for a while and she'd call us back in. We couldn't believe this was happening to us. This wasn't in the plan, not how it was meant to be. We were so frightened.
The paediatrician then told us, she thought it may be SMA. What on earth was that? she didn't tell us much but asked if we had any questions. Well, yes of course we did! There's a cure, right? what's the treatment?, when can it start?, will he be disabled?, he's not going to die, is he? Her answers were our worst nightmare. She kept asking us about his breathing at night and if we were concerned to get an ambulance. I hadn't been concerned, but I was now! Joshua was my first and I assumed the way Joshua's chest looked was normal. How can you process this and just go home, we just didn't understand.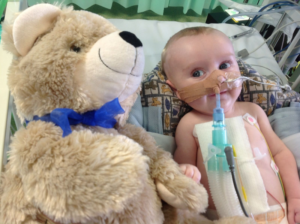 Things happened quickly after this. I became so paranoid about his breathing that we were at our local hospital the next night. The hospital didn't seem concerned. That week the appointment came through for the Evelina and the 24 hours before, Joshua seemed worse, he was unhappy, feeding slower than ever. When we got to the Evelina, he went downhill quickly. He was sick (which he never was), had a temperature and his breathing became laboured. Within 4 hours we were in PICU on a ventilator. What the hell was happening? We'd only come for a consultation. Good job we did though. It's as if Joshua knew and had been holding out. He finally couldn't manage anymore.
Joshua had caught bronchiolitis. The following day, his blood tests were in and we were told Joshua had type 1 SMA. We couldn't process this. We'd had no time with him. He was already so poorly. He had physio 2-3 times a day, to clear his mucus and suction. He was so brave though. He seemed to smile his way through, even beaming at the nurse who gave him a suppository! The doctors tried Joshua on BiPAP, but he'd already been on the ventilator for two weeks and his muscles had been weakened by the virus and the fact that the ventilator had been doing all the work for him. You could tell he was unhappy on BiPAP and was not recovering, so we decided he should go back onto the ventilator, for us to make the hardest decisions of our lives, something no parent should have to do, choosing where and when to spend our last days with our beautiful blue eyed boy.
The doctors, nurses and physios were exceptional. We decided Demelza Children's Hospice, in our home county was the right thing for us. We chose when and even asked if our favourite nurse could come and she did. In the meantime the staff arranged for us to have a private room with Joshua. We sang songs (I was always singing, badly to him! and he responded), we had time with our parents and closest friends. We had him Christened and staff helped us to take him to the London Aquarium. We had three specialist nurses, breathing and suction equipment, but it was worth it. It was Easter and the nurses got the paints out so we made Easter cards with Joshua, for the grandparents, an Easter bonnet and we took as many photos and videos we could.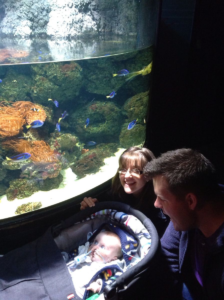 The trip to Demelza was horrible but we were so pleased we did it. After the ventilator was taken out, we weren't expecting him to still be with us the following morning, but he was! He opened his eyes and greeted us with one of his beautiful smiles. For the next 24 hours we were able to spend quality time with Joshua, at Demelza, using their sensory room, music room, had his hands and footprints cast in clay, walked around the beautiful gardens and had professional photos taken with him. We didn't want it to end.
Early the following morning, after a night of Lee and I taking it in turns to hold him and watch over him, Joshua opened his beautiful blue eyes for the last time and then fell peacefully asleep, on 4th April 2013.
We are so grateful Joshua came into our lives. His time was short but he was surrounded by love all the time. He touched the hearts of everyone he came into contact with.
The last 16 months or so, have been so tough and life feels empty without him. We would desperately love another baby but there seems so much to consider now. I'm sure with the support of our family, friends, Demelza and SMA Support UK, we'll get there. I'm sure Joshua will be guiding us in his special way too.
We hope that with awareness of the condition comes funds and with funds comes research and with research, comes a cure. No one should have to suffer from this devastating illness.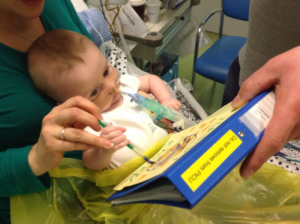 We love you, Joshua, more than words can say,
We miss you more than the longest of days,
Treasured and precious memories always.
We love you to the Moon and back,
Big hugs and kisses from
Mummy and Daddy xxxxxxxxxx
---
Joshua – our beautiful boy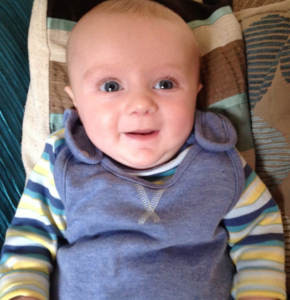 10 tiny fingers and 10 tiny toes,
Big blue eyes and a little button nose,
A smile so bright, it shone like the sun,
Warm tender hugs and so much fun.
Expressing your feelings with your perfect face,
It's no wonder we all wanted you in our embrace,
Singing and chatting the whole day through,
Loving you was so easy to do.
Reading you stories and holding you tight,
Singing lullabies and kissing you goodnight,
Smelling you sweet and clean from your bath,
Singing the Joshy washy song and hearing your laugh.
Joshua, Josh Chops, Poppet Chops and Pickle Pot,
Some of these names we called you a lot,
But Joshua Robert was simple and the best,
It far outweighed all of the rest.
You were loved so much right from the start,
And will always be cherished deep in our heart,
Our love for you will continue forever,
And the beautiful memories we will always treasure.
---
Missing you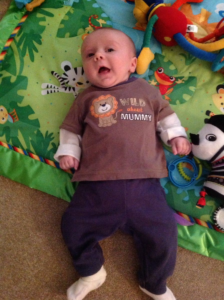 Wish you were here to cuddle and kiss,
Those cheeks and neck and tooties I miss,
Enjoying days out and seeing friends,
Not once did I think those moments would end.
Sharing stories about feeding and developing,
Worrying 'am I good enough', took up lots of thinking,
I wanted all the best for you,
To learn and love and grow up too.
You would have been such a handsome lad,
So gentle and kind, happy not sad,
So inquisitive, clever,
But wicked never.
How I wonder what life would be,
If only you'd have stayed and then you'd see,
All the love we had left to give,
But my darling, it wasn't to be.
You were chosen,
Chosen to be free,
Free from suffering, pain and strife,
If only you could have had a different life.
I know one day, I'll hold you again,
To kiss and cuddle but until then,
Be with us in spirit, each and everyday,
We love you Joshua, forever, always.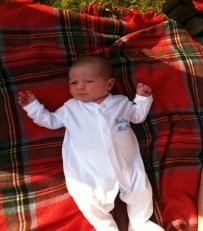 Our second son, Mark, was born on the 15th June 2011. He was beautiful, big brown eyes and a full head of dark hair. From the moment people saw him they all commented on how gorgeous he was. A little brother to Nathan who was 2 years and 4 months. My husband, Kevin, and I had planned a family close together so they would be close as brothers and be friends as well as brothers.
Mark was a tough baby, he demanded a lot of our time, he always gave big smiles to his mummy and daddy. Nathan was a great big brother he stepped aside from early on knowing that Mark demanded a lot of our time. Mark was reaching his milestones, reaching out for toys and started to roll onto his side. Then it stopped.
Mark could hold his head up but for short periods of time, he stopped rolling onto his side, didn't move his legs and would lift his arms from the elbow down. I took him to the health visitor when he was 4 and a half months old and we were told not to worry but to see if his movement developed and come back in one month. One month passed and Mark had not improved so the health visitor put a referral in to the paediatrician and we waited on the appointment.
The appointment came through for the 13th January 2012. We had a lovely Christmas with our family, Mark had a constant rattling sound in his chest that just would not move, I had been to the doctor twice with him who tried to prescribe a decongestant which the pharmacy would not give me as Mark was too young. Through Christmas and new year Mark did not sleep well, this was not unusual for him but he had got worse, he was not even sleeping for a full hour during the night.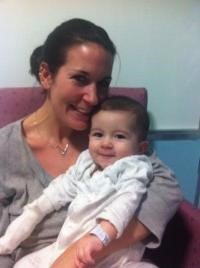 On Tuesday the 10th January 2012 Mark's breathing started to become laboured. My husband came home from work and we decided to take him to Yorkhill sick children's hospital in Glasgow. Mark was admitted to hospital with his infection and they were also going to look into his 'floppiness'. The emergency room doctor asked us if we were related, to us that was a strange question, but no we are not. The paediatrician came to see Mark and referred him to the neurosciences unit in the hospital, two days later on the 12th January 2012 the neuromuscular consultant came to see us and gave us the devastating news that Mark had Spinal Muscular Atrophy Type 1.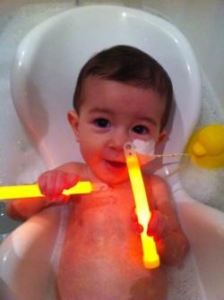 We were devastated. How could this happen to our gorgeous son? Mark had made it to 7 months without anyone knowing what was wrong with him, he was so strong, such a little fighter. We explained to Nathan that Mark was sick, that his muscles did not work and he needed Nathan to help him play with toys and sing him songs. Twinkle Twinkle was his favourite.
After the diagnosis we were in and out of the hospital another four times with one infection after the other. On his fourth hospital visit Mark got an NG tube to help him take fluids and his milk. We were discharged to Robin House, the children's hospice in Balloch, he was so sick, we thought he wasn't going to make it during our stay there. He had lost so much weight from being unwell and from not eating. Mark started to pick up while we were at Robin House and when we left there after 5 days we felt confident feeding Mark with the NG tube as well as daily chest physio to assist coughing to move secretions.
We enjoyed using the hydrotherapy pool at Robin House, we could all go in as a family and Mark could move his arms easier in the water. Mark also really enjoyed bath time at home. He would have a couple of glow sticks in his hands, we would set up the disco ball and switch the lights off, he loved it. Nathan would go in with him and squirt water at Mark and us with all his toys, it was a really fun time.
We brought the bipap home and Mark would take his naps on it and a few hours during the night, although when he was well he would not tolerate the bipap at all.
On leaving Robin House we decided to only have our immediate family visit. Mark was too unwell to be passed round guests all the time and it was important for us, Nathan, our parents and brothers and sisters to have the time with Mark. It was the best decision for us.
Once home, we gradually increased his feeds and he was well. We made every second count with Mark, we had so much fun, we took him to baby sensory classes that he absolutely loved, we took him on holiday to Crieff Hydro with the grannies and granddads, he came to the park with his big brother and much more. Mark had a smile for his mummy, daddy and big brother everyday. He hated to be apart from my husband and I, if we left the room he would cry, if someone else held him he would keep his eyes on us to make sure we were not going anywhere.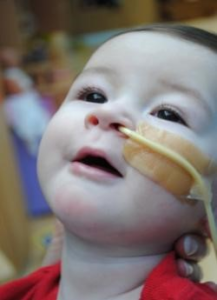 We got Mark's hand and foot casts made, fingerprint jewellery and lots of hand and foot painting. We took photos and videos every day. Mark's favourite toys were balloons. He would shout into them with his daddy and we would play catch (with some assistance of course). We would fill some with helium and wrap them round his wrist which he loved to wriggle out of and watch them float to the ceiling.
Although Mark had been diagnosed with this devastating illness we smiled every day with him, we laughed every day with him, he laughed with his brother playing dinosaurs, it felt like a happy bubble in an all too awful reality.
We took Mark to Crieff Hydro in Perth with our family. Mark took unwell while we were there and was hooked up to his oxygen and on his bipap. This time it was different, his breathing was slow, it had never happened before.
We came home after our break was over and Mark started to get better, but he was weaker, he was growing so fast and another infection had weakened him. Nonetheless daddy and the boys made mother's day fabulous, they got me beautiful gifts and we played together.
The following week, for a change in Scotland, we had a sunny spell so Kevin said 'lets have a barbeque' it was set for Sunday. The immediate family came over, the sun was out and there was lots of food. Mark was laughing at his brother and his cousin splashing with water in a bucket and getting lots of hugs from his grannies. I was singing 'horsey horsey' to him and he was smiling away.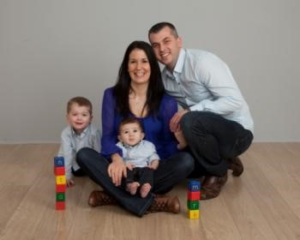 Mark's uncle took him for a cuddle and I went for something to eat, about 15 minutes later he came over because Mark had gone pale. We knew.
Mark passed away at 17.15 on Sunday the 25th March 2012, in his mum and dads arms, after a wonderful day with our family.
It is so unbelievably sad. Our baby of 9 months old was gone. No more of those special cuddles. All the preparing in the world could not prepare us for this feeling of emptiness, loss and pain.
We kept Mark in the house for the week leading up to the funeral. Nathan saw him in his little coffin and we would watch Nathans dinosaurs DVD in our room together as a family. Nathan said he would be a superhero and fly mummy and daddy into the sky to go get Mark back. Nathan was going to go in his rocket and carry him back because his muscles didn't work so he would need to carry him.
Nathan came to the funeral mass and sat with his cousin at the back. It was a beautiful service, we carried Mark in his coffin until the final moments we had to let him go. Kevin said a few words about Mark, it felt really special and so fitting for our special baby.
The following day we went to Marks grave and Nathan let a big blue balloon go for Mark and we watched it float high into the sky where Mark could catch it in heaven.
We are so glad we had Mark. He has enriched our lives, he has made us treasure every moment, every smile, every laugh,
every cry.
Sadly missed, always remembered.
Kevin, Kerys and Nathan McPhee.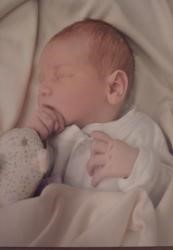 Elliot was born on the 7th December 2011 weighing 7lbs 5oz and was our perfect little boy.
It was not noticed anything was wrong with Elliot until Sunday 15th January 2012 when he was rushed into A & E. Initially it was thought Elliot had a respiratory virus yet the Paediatric Consultant had then noticed Elliot was quite a floppy baby. Various respiratory tests were undertaken but these all came back negative and the Consultant began conversations with the specialist Neurological Consultant in Alder Hey Children's Hospital, Liverpool. Within a few days we were transferred to the High Dependency Unit (HDU) at Alder Hey Children's Hospital.
The next morning following our transfer, the Consultant examined Elliot and gave us his initial diagnosis that Elliot had Spinal Muscular Atrophy (SMA) Type 1. The results of the blood tests had to be confirmed and he explained his initial diagnosis of which he was 85-95% certain was correct. Due to the emotion we only asked for a brief explanation of the diagnosis. It is here where our world rapidly fell apart and we were told the brief details of Spinal Muscular Atrophy (SMA) Type 1 and that at present there is no cure, no treatment and Elliot is not going to survive. To be told your son is likely to have a condition that has no cure or treatment and will not survive has no words to describe how we felt. It is hard to believe at first, especially as we had never heard of SMA which is a rare condition. This was rapidly followed with distraught and unimaginable loss in our hearts.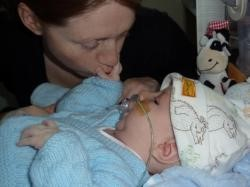 We could not have asked or wished for more support from the Staff on the HDU ward in Alder Hey Children's Hospital, where we were moved with Elliot into a more private cubical so we could have a more treasured time with Elliot, however long he had left with us, which was unpredictable.
The next three days awaiting the blood test results were long and we willed Elliot to show the doctors how wrong they were, there was still hope at this point. When the results came in late that Friday, we then again went through the ordeal that Elliot will not survive, only this time it was confirmed and very real.
Between the two of us we decided rather than be upset and distraught we would make whatever remaining time Elliot has left with us as enjoyable as possible for him. It is in Alder Hey that Elliot's brave character really showed with his alert manner where he wanted to see everything that was going on. His bold blue eyes would follow us wherever we moved, especially when we began singing a number of nursery rhymes, of which it soon became clear from his facial expressions which were his favourite.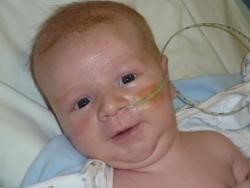 We would move his legs and arms in time to our singing and Elliot clearly enjoyed the nursery rhymes of Row Row Row Your Boat, Grand Old Duke of York, Incy Wincy Spider and Twinkle Twinkle Little Star. It is from Elliot's love of these rhymes and maybe from us trying to sing them that he developed a fan club with the nurses on the ward, where we later learned that they would be requesting to look after Elliot days in advance.
During his first week and a half in Alder Hey, Elliot had a CPAP machine to assist his breathing and he would suspiciously watch the nurses when they were tending to him with his pressure relief every four hours. It is the times when he was off this equipment where he began to smile at his mummy and daddy, particularly when it was bath time.
Elliot absolutely loved his bath times, where his whole face would light up as he entered the water, enjoying every minute even when he was covered in bubbles and his mummy was scrubbing his face with his flannel. It was during times like these where the three of us could block out where we were and enjoy bath time with no monitoring or breathing equipment to get in the way. We will always remember his beaming smiles and when he started to copy daddy's mouth movements, especially when he would poke his tongue out.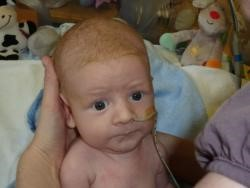 The staff on the HDU ward in Alder Hey understood the situation we were placed in and dealt with us very well, ensuring we were given as much special time with Elliot as we could have asked for during his stay. During our two and half week stay in HDU at Alder Hey, Elliot was lucky to be allocated the same nurses, leading him to be more trusting when they were tending to him and they would go out of their way to ensure we could conduct numerous activities with him, that you would often do with a child as they are growing up. Such as painting, where paints were sourced from within the hospital and we were able to produce hand and foot prints with Elliot, of which he clearly enjoyed feeling the paint and its texture as a print was made.
Once Elliot was taken off the CPAP machine he became much more relaxed with his surroundings and we were able to spend many an hour cuddling Elliot in a way he has always enjoyed from birth that was not possible when he was on the breathing equipment.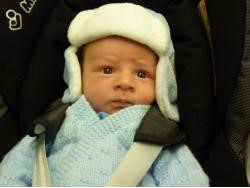 A care plan was produced while in Alder Hey which would see us transfer to Claire House Children's Hospice which acts as an excellent transition from hospital to home where there is a requirement to provide constant care and this was aimed at building our confidence to then go home with Elliot and live with his condition as there was no more that could be done for him in hospital.
We moved to Claire House Children's Hospice on the Wirral where Elliot quickly adapted to his new bedroom very quickly where we had new comfortable surroundings exactly as if he was at home. With his alert and inquisitive mind there were many things we could undertake here as we were not confined to a hospital bed space. There are a number of facilities at Claire House to make any child's time there to be as special as possible whether they are there for end of life care or just respite. Here Elliot loved the light sensory room where there is a vast array of different lights and moving colourful items such as bubble lights. These really got his attention and he would spend time with his head cuddled against daddy's shoulder looking over his back at the lights as they moved around.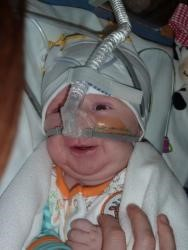 Reading his stories, singing nursery rhymes and tucking him up in bed in a place that felt like home after the ordeal of the previous two and a half weeks in hospital is such a special memory, we are grateful we were given this opportunity. Our confidence had grown tremendously during our short time in Claire House, with our sights firmly set on going home with Elliot in the future.
The staff in Claire House Children's Hospice which is fully funded by charity were clearly dedicated to make our stay as comfortable as possible, allowing us to spend all our time with Elliot and not worry about the day to day activity that goes on in our lives outside the hospice. Elliot was clearly comfortable in Claire House and we treasure our memories of his last days there prior to suddenly passing away on 4th February 2012 with both of us at his side holding onto our hands in the way he loved to do so.
Even after Elliot had passed away Claire House continued to support us with Elliot remaining in a special room until he was taken for his funeral. This room makes it all the more a special place knowing Elliot spent the days after passing away close to us as we stayed on at the hospice before leaving to go home and he was collected for his funeral from a room that is designed for children in a child's environment.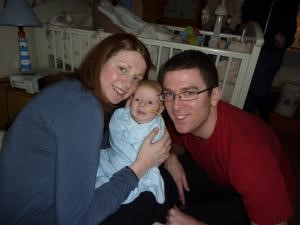 No words can describe the loss we feel and we have been left with an irreplaceable void in our hearts forever. We are so glad of the time we had with our little boy and will treasure all our special memories we had together.
'Elliot we love you our brave little boy, we just wish we had longer together, we will never forget you, watch over your mummy and daddy you're our twinkle little star xxx.'
Harrison was born on the 1st June 2012, son of Adam and Stacey, and baby brother of Hayden aged 2 and a half.
He made our family complete with his beautiful smiles and glowing eyes. He was perfect in every way. At 6 weeks suspicions arrived when the health visitor picked up on his poor body tone and sent us for blood tests. At 10 weeks it was confirmed that he had SMA!!! What was SMA???? Our world was rocked, shattered, destroyed. We as a family lived everyday as our last and despite his illness, Harrison was always happy and glowing. He was a true little inspiration and touched so many peoples' hearts. He had sooo much love around him. At just 18 weeks Harrison passed away on the 9th October 2014. In his short life he took us on a journey, a journey of strength and love, he gave us what we needed to carry on as a family. A day doesn't go by when we don't think of him, always in our hearts, now and always xxx
---
Sonnet for Harrison
Hope, a time of passing once gone, we all remember one so strong
Admiration, not from tears but for one taken of so little years, no time for play or giggling laughs, as only his memory was born to last
Remember the time he held so tight, as mother's song was a sign of night; father's voice oh so clear to tuck you in and whisper do not fear, so in this time of eternal rest, please remember we tried our best
Righteous path we choose for you, no suit, no apron or polished shoes; but as important all the same, as we ask for awareness in your name
Inspire us looking for truth and answer for your limited youth
Sadness not of sorrowed song but why God thought you not belong, when tears and clouds, and the mountains pass I realised your important task
Obstacles you faced never last, as the angels guide you on this valued task
Night has come and now is clear, we miss you so and oh so dear; so listen once to mother's song and father's voice…son be strong
Written by Warren Bailey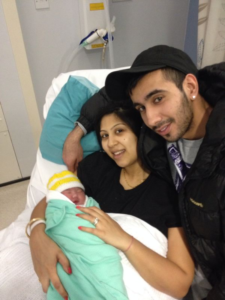 On the 10th of February our beautiful daughter was born. An eventful birth in the back of her aunty Monica's car and sharing a birthday with her 2 aunties, we knew this little girl was going to be special. A baby sister for Jaden and a blessed daughter for us. Life seemed so perfect.
The midwives came over to do their usual checks and Aneya was passed as a perfectly healthy baby. After a couple of weeks we all started to notice that Aneya's movements were very minimal, moving only her hands and feet. We raised our concerns to the midwife but she put it down to laziness or Aneya just being very content. Now that I think about it even when I was carrying Aneya her movements were very little, but I just put it down to me being on the go all the time and not relaxing to feel her properly.
Three weeks after her arrival I took Aneya to the baby clinic for a general weighing and check-up. She was gaining weight well, feeding well, seemed so alert so I didn't think I had anything to worry about.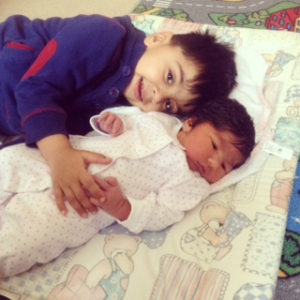 The midwife noticed that Aneya had a raised temperature and was very 'floppy'. We were then referred to the children's assessment unit and because of her high temperature she was admitted to the children's ward. They ran various blood tests, MRI scan, ultrasounds and an eye test to try and work out what was the cause of her floppiness. Aneya was put on 3 types of antibiotics to help bring her temperature down, which was caused by viral meningitis. The doctors hoped after she had fought the virus she would become more active. We were kept in for a whole week and her floppiness didn't improve.
At this point we started to worry and even researched floppy babies, but SMA never came up as a suggestion. After being at home for a week we then went back to the hospital for more test results.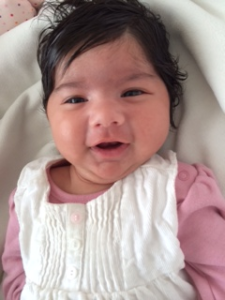 At the age of 5 and a half weeks Aneya was diagnosed with SMA type 1. It was there and then our world came crashing down. To be told that there was no cure and that our daughter was very severe, giving her a maximum life expectancy of 6 months, was heartbreaking.
After that day we spent as much time with her as we could, constantly being paranoid that we could put her down one night and she may not be breathing the next morning. After her diagnosis we were given 10 blessed days with our princess. A lot shorter than we thought but we are thankful that she suffered no pain or discomfort right up until the end. She was so strong and put up a real fight but God decided she was too precious for this world. At the age of 7 weeks our daughter took her last breaths with her mummy and daddy by her side.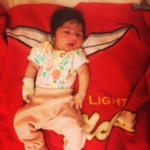 Aneya will always be our beautiful Angel and we truly believe that she is in a better place. Sweet Dreams.. x
10/2/14 – 31/3/14
"An angel, in the book of life wrote down our daughter's birth. Then whispered as he closed the book "too beautiful for earth".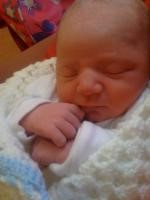 On the 30th April 2013 we were so happy, our family was complete when our 3rd son Oscar Harry White was born, a healthy 7lb 8oz. We instantly fell in love with him. We took him home to meet the other 2 boys and muddled our way through the next couple of hectic days!
When Oscar was 5 weeks old we noticed he was struggling with his breathing like he'd caught a cold, so we took him to the doctor, who said he thought he was just a bit snuffly and gave us nasal drops. The next day he appeared to be worse so we took him back to the same GP. He immediately phoned for an ambulance and gave him oxygen. We got to hospital and they told us they would need to intubate and ventilate him straight away (such a horrible sight to see our son on a ventilator).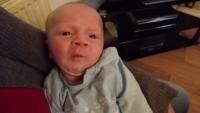 We were transferred to Leeds General Infirmary and advised Oscar's lungs had collapsed and he had Bronchiolitis. They removed the tube after 48 hours but he really struggled so had to put him back onto the ventilator. They then moved us back to Sheffield Children's Hospital.
When he started recovering, his SATS kept dropping and he was having 'blue' episodes but no-one seemed concerned about this. They then noticed he was rather 'floppy' which we thought was just because of him being ventilated and all the drugs they had given him. We could see he was weak and all the doctors that examined him kept referring to him as being 'hypotonic'. They also kept telling us he had no reflexes, which was so confusing to us as we knew he had passed all the new-born baby checks.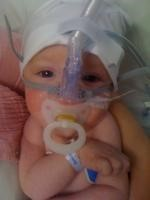 He had several tests done and all came back negative which was such a relief and all that we were waiting for now was a genetic test. After Oscar had been in hospital for 3 weeks he seemed to really pick up and was moving his legs slightly and giving out lots of lovely smiles! We were told we could go home and they would contact us if anything came back from genetics. They phoned us the next day. The results were back.
We knew the results were going to be bad. We were preparing ourselves that Oscar had Hypotonia or Cerebral Palsy so he would be disabled for the rest of his life. It would be life changing for us all but we'd get through it. Nothing could have prepared us for the words that came out of the doctors mouth 'your son has Spinal Muscular Atrophy (SMA) Type 1, which is the severest, there's no cure and no treatment, he's got a short life expectancy, go away and enjoy the rest of your time with him'.
We drove home in a state of shock and disbelief. After reading on the internet 'Progressive disease, life expectancy max 2 years but more like they would die before their 1st birthday', we started grieving for the inevitable. Every person we told was like making it more real that this was happening.
Two days after diagnosis Oscar struggled to breathe and again was put on a ventilator. In our hearts we knew what was coming and that this time we wouldn't be taking him home. The doctors spoke with us about taking Oscar off the ventilator. They tried him on the Bipap machine but our little baby was exhausted. At that point we had to do what no parent should do. We had to let him go.
We held him close, giving him cuddles, singing to him and constantly kissing his beautiful face until he was ready. He was called back to heaven at 9am on 3rd July aged 9 weeks 1 day.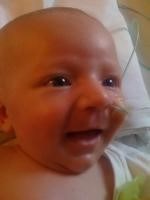 To have been here for such a short time and go through what he did, fighting every step of the way, we know we have to be as brave as he was. It's difficult every day watching our other two boys play and know that he is missing from our circle.
Our sweet baby boy we love you millions, Mummy, Daddy, Jack Jack and Archie Parchie xx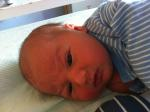 On the 7th April 2012 my life changed. We had been for our 12 week scan for our second child. We already have a beautiful daughter, Maisie Rose, who was 3 years old at the time. At the 20 week scan we found out this time what we were having; we were over the moon as it was a boy.
On the 20th September 2012, at 36 weeks, we had our boy Edward James Luckett, weighing 7lb 2oz. He was perfect. We had to stay in for 3 days but got to come home on the Sunday. Everything was fine -­ Edward was a very sleepy baby and got a lot of ear infections but was still a happy baby.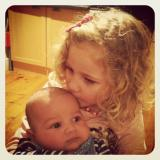 I started to worry that Teddy did not move much. I asked friends and family but everyone reassured me he was just a lazy baby. After a few weeks I asked my health visitor and she also reassured me that he was fine and to come back at 10 months if Teddy was not sitting or rolling over. But I still wasn't happy so made an appointment with my GP, who straight away referred us to the children's hospital. After a few days I got a phone call from the hospital. At this point I was still thinking he had low muscle tone and all would be okay. We had an appointment for the next week.
When we got to the hospital we went in a room with two doctors who looked Teddy over and asked a lot of questions. One question I remember was "could we be related" me and my husband? We looked at each other and said no. As soon as we came out of the appointment I said to my husband, "What a strange question" and he said, "They are just asking" but I said, "No, I think they know what is wrong". We had a blood test done and were asked to come back a week later for a meeting.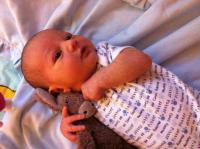 After a week we had a meeting but only to say that we needed to come back tomorrow for a meeting and be prepared, that it may not be good news. On Tuesday the 23rd of April 2013 we got the heartbreaking news that my beautiful baby boy had a life shortening illness know as Spinal Muscular Atrophy type 1. I found the Jennifer Trust a great way to find info about it, as I had never heard about it before.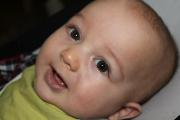 But my baby boy was doing so well. He was floppy but very happy, he loved watching his sister and was eating very well and making sounds. We had long chats about what we would do and never hid it from his sister. I found it hard talking about it because he was doing so well. We always said we would do what's best for him and not us. We made the hardest decision only to put him on the ventilator once and if he needed it and we didn't want him to have a tracheostomy, only because they both come with risks that will just add to the pain.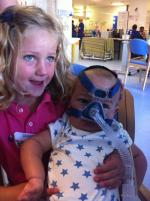 On the 11th July 2013 my life as I know it ended. We rushed Teddy to A&E after being to the doctors twice that week. As soon as we got to hospital he seemed to go really downhill fast and was rushed out of A&E and in to HDU and within minutes was on a ventilator in intensive care, his lungs had failed and the machine was breathing for him. He was sedated and the machine was bleeping and alarming.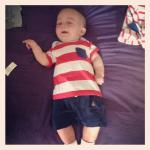 Just 3 days later, on the 14th July 2013, the doctors said they would take him off the ventilator and try him on a non-invasive mask. He was not up for it and within minutes was back on the ventilator. 11 more days went by and on the 25th July his big sister came into the hospital to say goodbye just 8 days after her 5th birthday. We have always told her the truth and we just said, "We need to get him off the ventilator and on to a non-invasive mask but if it doesn't work he will go to heaven" and she replied, "I don't want him to die".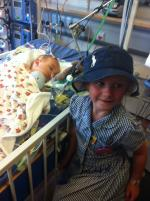 At 10:30 that morning we put him in a full face mask and it worked. The next few hours were hell but he did it and was doing well. On Monday the 29th July we moved out of ICU and on to HDU and Teddy was off the full face mask and on a nasal mask. He was doing well and was having time off it and was breathing alone.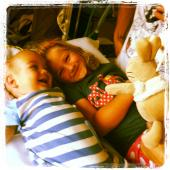 On Saturday the 11th August 2013 my little Teddy was not happy. He had had a bad night and was not doing well, no time off the mask. By Saturday afternoon his breathing was laboured, he was hot and crying in pain. A few days went by and he was no better, he had stopped having breaks off the mask and wasn't happy. I just looked at my husband and said, "He's not happy, I can't do this to him". He had gone really downhill and it wasn't fair on my poor baby boy anymore. Sadly, on the 14th August 2013, my gorgeous baby boy lost his fight with SMA in his mummy's arms with his family around him – 5 weeks and 6 days before his 1st birthday. No words can describe the loss we feel. The pain will never go away but we are so glad of the time we had with our baby boy.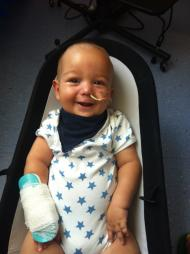 Mummy's prince
Daddy's boy
Maisie's teddington
RIP Edward James Luckett
20/9/12 ❤️ 14/8/13
My sunshine on a cloudy day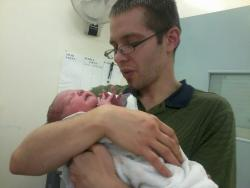 Zoe was born on the 7th December 2012 in Kettering, UK. After an easy pregnancy with a very rapid 2 hours birth she came into our lives. My family loved her.
She was 7 weeks old when we started to realise that something was not right. She did not move her arms and legs as she could do before. The doctors started to test her, but everything came back negative.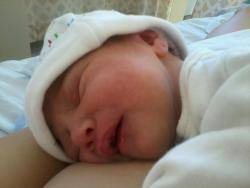 On 4th April 2013 she started to struggle, after having her vaccination. Immediately she was sent to Hospital and by that time her results came back: SMA Type 1. She was taken to Leicester, and she never came home again. She passed on 17th April 2013, at the age of 4 months and 10 days.
If we had not already had our four and a half year old girl, we would have totally broken. But we decided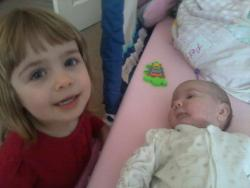 immediately to help others in every way we can help.
Originally we are from Hungary. So I want to help people there, too. I write books now.
I hope the cure will be soon available.
Zoe Lovasz 7/12/12-17/04/13
---
The letter below was read by the priest at Zoe's funeral.
Hello Mum, Hello Dad, My Sis and everyone here,
My name is Zoe. This means life.
On Earth in this life I received 4 months to live. 4 really happy months, full of smile, cuddles and love.
You are crying, but I am in a very good place. A place where I belong.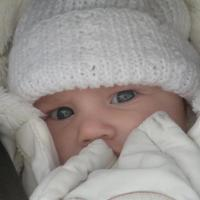 Where I can play with my grams and grandads, and also can play with my other little sister or brother whom you don't know.
Can you see? You even did not meet but we are together. I am not alone! I am in peace!
Sometimes when I look at you, I see you cry. Why? I feel good now, I have no pain, and everything here is so, so beautiful. Nothing hurts. Nothing …
Please, only say goodbye for my body today. You all know, that my soul will always be together with you. Look at my photos, and look at my sister ! I am in her. And even if you look in the mirror, I am there.
I was Zoe Vivo Lovasz. I give and I will give purpose for my parents even in pain.
And remember all. One day we all meet up there
Until that day I send my kisses for you from Heaven, Zoe
---
This song, 'Gone too Soon' by Michael Jackson, was sung at Zoe's funeral.
"Like A Comet
Blazing 'Cross The Evening Sky
Gone Too Soon
Like A Rainbow
Fading In The Twinkling Of An Eye
Gone Too Soon
Shiny And Sparkly
And Splendidly Bright
Here One Day
Gone One Night
Like The Loss Of Sunlight
On A Cloudy Afternoon
Gone Too Soon
Like A Castle
Built Upon A Sandy Beach
Gone Too Soon
Like A Perfect Flower
That Is Just Beyond Your Reach
Gone Too Soon
Born To Amuse, To Inspire, To Delight
Here One Day
Gone One Night
Like A Sunset
Dying With The Rising Of The Moon
Gone Too Soon
Gone Too Soon "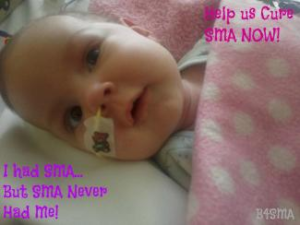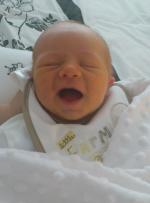 Looking back on the whole situation, from birth we noticed our son's head taken to a 'favourite' side, although being first time parents aged 26 and 22 years and not knowing anything about SMA, we never thought anything of it and thought Harley must just like to lie like that. He was quite floppy and didn't really move his arms and legs much but again we thought new-born babies were like this. Also his wrists/lower arms were turning in from around 10 weeks, but it wasn't until he seemed to 'forget' how to suck his bottle and barely had any milk for a full day that I made an emergency appointment with our local doctor the day after Boxing Day. I just knew something wasn't right, but did not expect what was coming, as on a few occasions including his 6 week check-up I had visited the GP to be told "he was fine"!
After about an hour, with the GP completing every test that she could do within the surgery, she made an emergency referral for Harley to be seen at the RVI at Newcastle the next day. Our son Harley was diagnosed with Spinal Muscular Atrophy Type 1, on 29th December 2011 aged 12 weeks. We were devastated! We stayed on Ward 1 for 10 days for the nurses to monitor Harley through the day and overnight and for us to learn how to tube feed and care for our son. On Ward 1 all the nurses fell in love with him and he was known as the ward flirt!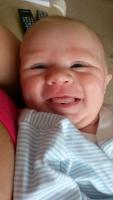 Shortly after New Year, as parents, we both decided to let the nurses put a nasal tube in place for anytime we may need it, although, Harley being the little monkey he was, he started drinking his bottles again, so never used it for the first few days! We then just used it to top him up when he couldn't manage all his milk until he was entirely tube fed, using a pump.
After the bank holiday, we attended a meeting at the Centre for Life and met with Louise Hastings and Professor V. Straub, who explained in detail more about Harley's rare genetic condition. This is where we were told to take each day as it came and to make the most of the memories we made each day.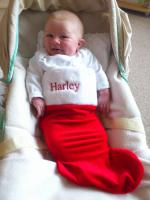 In himself he never showed any signs of illness, if anything he just got louder and even more cheeky and chatty. Even when he was poorly, he still smiled, he was a little soldier, battling on. He knew exactly what he was doing and how to get attention. There was one day the children's district nurse Emma Goldsmith came to see him and she kneeled down beside him and said "Hello", then carried on talking to myself and my mother-in-law and he was literally shouting at her to get her attention and when she stopped and looked at him, he just gave a massive smile, ear to ear! For a second time Emma carried on talking and the same happened again, he was shouting at her until she stopped and looked at him! And again, he just smiled but I knew he wanted something. So I told her to get his little hand and just hold it…now he was happy and she was allowed to talk. He had a thing for blondes! Total ladies' man! And he was just about 18 weeks! We were told SMA babies were intelligent and by God he was.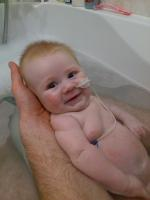 He talked with his bright, blue eyes and we just knew everything he wanted. His bath times were tremendous! He loved them. We loved them. His little legs came alive and his arms lifted to make splashes, and we could see he thought it was funny. More often than not he used to sit and look at himself in his reflection on the chrome bath handles and chrome towel stand! We had bath flashing lights, musical flashing ducks and bubbles machines. But what he liked most was his daddy swirling him up and down the bath and his mammy washing his face with the sponge (which he just used to try and lick), and washing his tickly feet!
Harley sadly fell asleep on 29th March 2012 at age ONLY 25 weeks and 3 days after fighting 3 chest infections. He was the happiest little boy and we will love him forever! The help and support that we received from The Jennifer Trust's website, healthcare and friends was amazing and has meant so much to all of our family. He is known and remembered by everyone by his cheeky face, massive smiles and strawberry blonde fluffy hair!
As much as being Harley's carer was hard work, very demanding and time consuming, he was the easiest little boy to care for. Even the community nurses and physio talked of how much visiting Harley wasn't like working, but a joy to see! Harley was fully cared for at home and didn't need to be admitted back to hospital. We only had to attend one outpatient appointment at the RVI Newcastle. The requirement for Oxygen was only needed for a few weeks.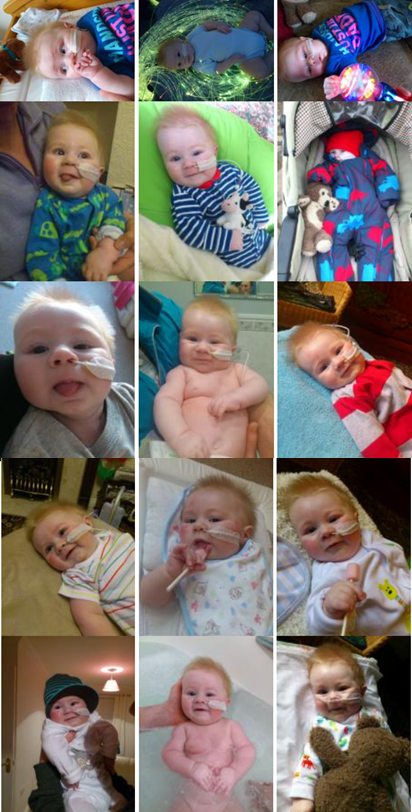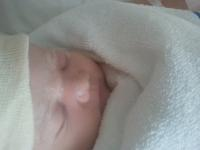 On the 2nd November 2011 at 10.12am we were blessed by the arrival of our beautiful baby girl Sophia. A baby sister for Mai and a beautiful daughter for us. Life was simply perfect!
Just a few days before Sophia's 6 week baby check up we noticed her hand didn't seem to sit right and her thumb seemed really flexible but we weren't over concerned and decided to wait a couple days and ask about it at her baby check up.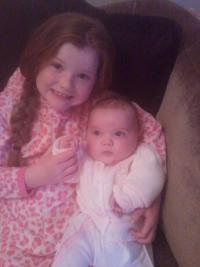 I took Sophia to her 6 week check up and mentioned this to the doctor, it was here it became apparent that her legs seemed too floppy and her posture seemed really relaxed. The doctor didn't seem too alarmed at this point but decided to refer us to a paediatrician for a second opinion. After seeing the paediatrician Sophia had to undergo various tests and hospital visits and at just 9 weeks old Sophia was diagnosed with the severest form of SMA – Type 1.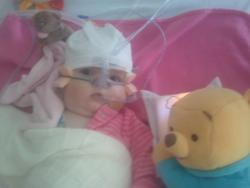 From this moment on our world was turned upside down. We were given the heart breaking news that there was no cure for this condition and only supportive treatment would be available, the doctor also explained that Sophia would have a shortened life expectancy and told us it was unlikely she would even see her first birthday. We both felt completely numb, we were speechless, we could not and did not want to believe what we had just been told. We went home and researched SMA on the Internet and couldn't believe what we were reading. Our perfect little girl was going to die and there was nothing we could do to stop this. We hadn't even heard of this condition and to say it's the number one genetic killer of babies under the age of 2 then there seems very little awareness out there. Bearing in mind 1 in 40 of us are carriers of this gene.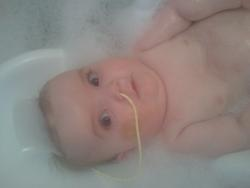 After many sleepless nights and days filled with worry and upset we realised we had no other choice but to make every day count as time was even more precious than ever before. We had to make the most of every second of every minute of every day and that's exactly what we did.
As the days and weeks went by it became more and more apparent just how much Sophia began to struggle with her condition. She wasn't able to move her own legs, she had very limited movement in her arms and lifting her own head was impossible. At thirteen weeks old Sophia's feeds became impossible as her ability to swallow had deteriorated and she was admitted in to hospital for a week. In this time Sophia was fitted with a naso-gastric tube and we were given training in tube feeding. We were also given suction equipment, oxygen and various medicines to use at home as she was unable to clear her own secretions which often resulted in Sophia losing her colour due to the lack of oxygen. We knew this was the start of worse to come with this condition and every day was fast becoming a continuous battle for Soph.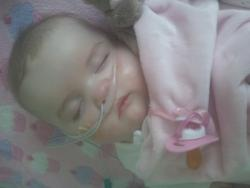 Despite Sophia's daily battles with SMA she always had the biggest smile for everyone. She had the kindest, biggest blue eyes and the cheekiest of grins that could melt the stoniest of hearts, she truly was the most content and happiest of babies. Sophia loved to play with her bright coloured helium balloons and would let you lay and massage her legs for hours on end. Bath time was Sophia's favourite time of day, she was our very own little water baby, she would lay in the bath and exercise her legs. Our beautiful baby girl had the heart of a lion and didn't know the meaning of the word giving in.
Just before Sophia reached her 5 month milestone she was admitted to hospital with a chest infection the news we all dreaded and didn't want to hear. She was taken to HDU and her health deteriorated at an alarming rate to the extent that we were taken to one side and given the news that there was nothing clinically more to give. By this point Sophia had suffered from a collapsed lung, she had pneumonia, needed a blood transfusion to increase oxygen levels and was kept on a bipap ventilator to keep her breathing. These were some of our darkest hours and not knowing whether or not our baby girl was going to make it through the night was heart-breaking.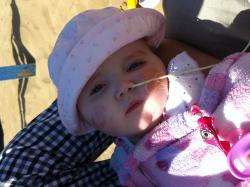 We were asked to contact family members for them to come and say their goodbyes. We all remained by her bedside and held her hand tightly. The hours slowly went by and there were small signs of improvement and stability. We all hoped and prayed she would pull through and eventually night became day and she began to show strong signs of improvement. Each hour that went by made us more and more hopeful, the hours turned to days and after 2 weeks in hospital and Sophia in a stable condition it meant that we could finally take our baby home, something we thought would never happen. We have never been so proud and she was so rightfully named 'Super Soph'.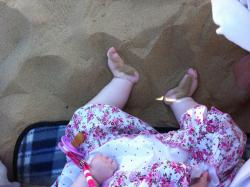 Sophia remained our 'Super Soph' for a further 7 weeks and in this time we managed to fulfil as much as possible on our wish list including a beautiful Christening Day, swimming in the jacuzzi, sensory rooms and many more.
At the top of the list was a trip to the seaside and on Soph's last weekend we made it to the coast. On the Saturday before Sophia passed we were undecided as to whether or not we should go as she'd been unwell the night before but after getting the go ahead from Bluebell Wood we decided to go. Sophia didn't seem her usual self but she still managed a smile and we made it to the beach, with sand between Soph's toes and Mai building sandcastles it was safe to say we were all happy. A day that we will treasure forever.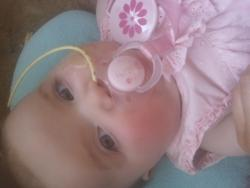 Sophia's last full day was Sunday 27th May and we decided to go to watch her Auntie and friends run the Sheffield half marathon and then we all got together afterwards for a family BBQ. The sun was shining and Soph had cuddles with everyone. It was a perfect family afternoon, unbeknown to us this would be Soph's last.
In the early hours of the following morning Sophia was unsettled and we knew something wasn't right. Sophia began to struggle with long episodes of sleep apnea so much so we rang Bluebell Wood and asked if we could bring her in for them to check her over. Sophia just didn't seem to wake properly and for a bright, alert baby we knew this wasn't right. We never thought for one minute these would be our last hours together.
Monday 28th May 2012 at 10am will be forever etched in our hearts and minds as this was when Sophia decided to say goodbye. It was a beautiful sunny day with clear blue skies. We arrived at Bluebell Wood and the nurses explained that there was every chance Sophia may not recover from an episode of sleep apnea. Shortly after we were told this Sophia passed away in our arms.
Our brave little girl had put up the biggest and bravest fight and as her parents we couldn't be more proud.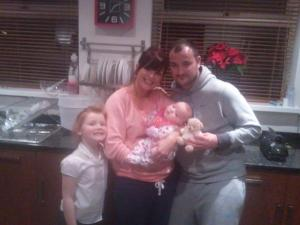 We are eternally grateful for the extra 7 weeks she gave us, Sophia filled our lives with so much love and happiness, she meant the world to us and will forever be our baby girl.
Sophia was, is and always will be our brave little fighter who taught us what love is and what life is all about.
Sleep tight bobbinogs, we love you baby girl xxxxxx
---
In memory of Sophia Waller 02.11.2011 – 28.05.2012
A big THANK YOU goes to all the staff at Bluebell Wood Childrens Hospice and to our amazing family and friends for their continuous love and support throughout. Without them many things wouldn't have been possible.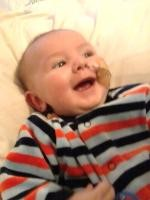 On the 25th September 2011 a very special baby boy was born – Theo Junior Berry, weighing in at a healthy 6lb 12oz, he was just perfect. He had the biggest brightest eyes which would melt your heart instantly. Third son to Kylie and Adam, he had two older brothers Jayjay 8 and Harley 2 who thought he was quite simply the best.
Theo loved having kisses and cuddles and loved people singing to him – he especially loved 'Wind the Bobbin Up'. However, at a routine weigh in with the health visitor, she asked if we had any concerns. We just mentioned his legs weren't very strong and he didn't seem to hold his head very well. She advised us to go to our G.P. if we were worried , which we did and what we thought would [1593] be routine turned into our worst nightmare. After a series of tests we were called to the Manchester Children's Hospital and given the heartbreaking news that our little man had SMA Type 1 and had just weeks to live.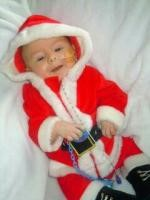 Totally devastated we decided that, whatever happened, we would make every day count and that is exactly what we did. We had a wonderful Xmas and Theo dressed as one of Santa's helpers on Xmas Eve, he had the cutest Santa outfit on Xmas Day and on Boxing Day dressed in his Bolton Wanderers Football kit.
Just after Xmas we were introduced to Derian House Children's Hospice. With the help of the dedicated staff there Theo enjoyed swimming in the hydro pool, he enjoyed the lights ,music and bubbles in the sensory room, and even did some lovely art work leaving us his hands and feet on canvas.
Sadly on the 30th January 2012 Theo gained his angel wings and slipped away peacefully in his mummy's arms. Theo spent his final week resting in the sunflower room at Derian House where all the family spent as much time as we wanted with him, kissing him, cuddling him and talking to him.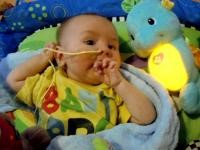 Although we only had 18 weeks with Theo he made a massive impact on everyone who met him. He inspired everyone and his infectious smile will live on. He put up an amazing fight and we are thankful for the time we had.
Goodnight, God Bless Theo till we meet again x x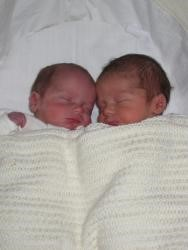 When our beautiful Tom was born in April, along with his twin Alex, we were overjoyed. Although he had been diagnosed with a lung condition called a sequestration during pregnancy and we had been told that he may not survive to birth he was a healthy wee baby who would need surgery before 12 months to remove a little part of his lung but other than that perfect.
The poor wee soul developed an abdominal hernia at 9 weeks but this was repaired with surgery. It was around this time that he started to have difficulty feeding. For the next 8 weeks he was in real pain every time he tried to eat and was obviously hungry. But when he was diagnosed with reflux and when prescribed omeprazole this problem disappeared and he became our happy wee boy again. However, we were very aware as the two boys lay on the play mat together that Tom was not moving anywhere near as much as his brother and when Alex could hold his head up, Tom still could not.
Initially, at 7 months Tom was diagnosed with muscular myopathy. We were told that our gorgeous wee boy would be unlikely ever to walk. This was devastating news but we started to get our head around it and had a lovely Christmas with the family. After another visit to the Neonatal clinic there were questions raised about whether the diagnosis was correct as he appeared to be deteriorating which we had noticed too.
In January he was diagnosed with SMA Type 1. After this there was a rapid deterioration which involved nasogastric feeding and constant suctioning as he could no longer swallow. In spite of this Tom was still a smiley happy boy. Simple things gave him pleasure. He loved interaction with members of the family, he would smile hugely when he saw his twin brother being bounced and he loved to see the reaction on other people's faces when he made his helium balloon bob up and down. He also used to like licking a spoonful of chocolate ice cream, enjoying the sensation and the taste.
The boys' birthday in April was a strange day, as we celebrated we knew this would probably be Tom's only birthday. After an incident in May when Tom was very difficult to wake, he started to need oxygen a lot of the time and had to start pump feeding as he could not cope with any more than 20mls of feed an hour. By the beginning of June he was on fairly constant oxygen and morphine.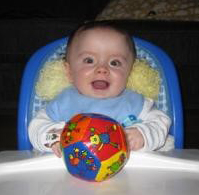 Tom died, on the 10th of June, very peacefully in his sleep after going to bed as normal and getting a story in his bed beside his brother. We take comfort in the fact that our little boy who loved his routine and familiar surroundings slipped away with no discomfort in his sleep. He was the most beautiful, happy, selfless, stoical child I have ever known and we will always miss him.
---
Little Snowdrop (Author Unknown)
The world may never notice
If a snowdrop doesn't bloom
Or even pause to wonder
If the petals fall too soon
But every life that ever forms
Or ever comes to be,
Touches the world in some small way
For all eternity
The little one we long for
Was swiftly here and gone
But the love that was then planted
Is a light that still shines on
And though our arms are empty
Our hearts know what to do
Every beating of our hearts
Says that we love you
Poems for Michael:
---
Heaven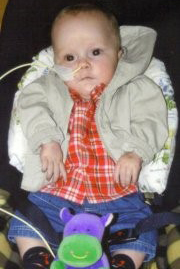 Have you ever sat and wondered, What is the reason why?
And whether there's a heaven, To go to when we die.
The story of the good and bad, Whether it's to heaven or to hell, I wonder was this made up,
Just a story that they tell.
They say that heaven is in the clouds, Way up in the sky,
But how do people know this,
If you can only go there when you die.
I hope there is a heaven, And the story they tell is true,
Cause we will then be with, The people we once knew.
I wish we could talk to the angels, In heaven on the phone,
So then people who lost loved ones, Wouldn't feel so all alone.
---
When?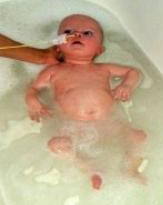 It's been so hard to carry on,
Now I'm on my own.
I never get to talk to you,
Not even on the phone.
I dream of the day we'll meet again,
The day when we are one,
And even though I miss you loads,
I try to forget you're gone.
Cause if I look forward
For the day I die,
I won't sit around and wonder
What was the reason why?
I need my baby boy back,
It hurts that he's not here,
And to never see his smiling face,
Would be my greatest fear.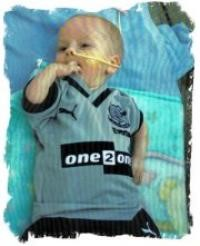 I don't think I can carry on.
I miss him more each day,
I never will forget the day,
The day he went away.
I should have tried it's all my fault,
I should never have let him go.
He might have needed one more chance,
But now I'll never know.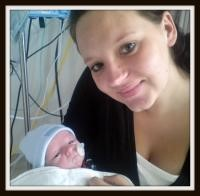 Alfie Edward Leach-Brown was born on the 20th July 2011 and we were told within 24 hours that there was something wrong with our baby, our world shattered there and then in front of us and there was nothing we could do to help him. We were told that Alfie had the worse case of SMA, Type 0-1, which is very rare, and we would only have a few weeks with our first born child.
Many thoughts and questions ran through our heads, "Have they got it wrong? This can't be real, can it? Why us?" No mother thinks that after carrying her child for 9 months, she will only get a short time with her baby, let alone plan a funeral.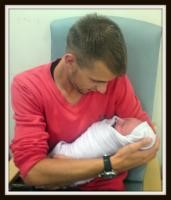 Alfie was in hospital for 4 long weeks, the longest weeks I ever had to go through, then he was allowed to come home and make memories with us, other than the four walls in NICU. We had 2 weeks and 4 days at home with our baby and they were the best 2 weeks and 4 days of our lives. We will be forever thankful for the time we had with Alfie, and every day is a struggle, but our Alfie was so strong till the very end that we can only repay him by being strong ourselves. We know he would want us to be.
Alfie fell asleep on the 4th September 2011, and even though he did die that day, he will live on forever though his family. For a small person he had the biggest heart and a smile that made the saddest days that much easier. We like to think that Alfie is with the Angels and plays with butterflies and paints us rainbows from time to time. Every single one of his family will love and miss him every second of everyday. He was our little fighter and because of that reason we will fight for a cure for SMA because no baby should be born dying.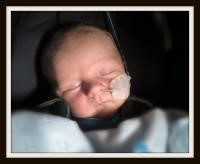 We all love you Alfie, to the moon, the stars!
Love Mummy, Daddy, Nana Sam, Grandad Tex, Granma Sally, Grandad Colin, Uncle Ashely, Tez and Darren, Aunty Emma, and Many Many more! xxx
---
A butterfly lights beside us like a sunbeam..
And for a brief moment its glory and beauty belongs to our world..
But then it flies again..
And though we wish it could have stayed..
We feel lucky to have seen it..
Beautiful words for my beautiful son!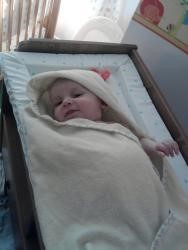 The minute I found out I was pregnant, Arthur became the centre of mine and John's world and when I gave birth to him it felt like he completed everything we were. He lay in his cot watching what was going on around him, even on day one he had the most intense and knowing stare.
When we brought him home we would spend hours watching his every move – it took both of us to change his nappy, bath him and change him because neither of us wanted to miss a thing. He was such a beautiful and contented little boy and even though sleeping became a thing of the past, me and John loved being mummy and daddy.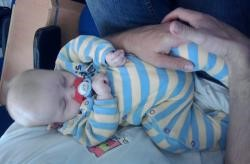 When we took him to his 6 week appointment we were told there was a problem. We couldn't believe it was happening and when it was confirmed he had Spinal Muscular Atrophy, it felt like our world had ended – in fact the world we had lived in had changed forever.
Telling people was the hardest thing. Every time we told someone, there was no way of taking it back and it made it more real. We promised each other that we would make every day special for Arthur and just pray to God we did.
We took him on holiday and he loved all the attention, my dad pumping his legs and my mum kissing him and telling him how beautiful he was. He went in the pool and a Jacuzzi, and even went down the slide with a bit of help from daddy. It was hard to come home and face the reality of what was to come.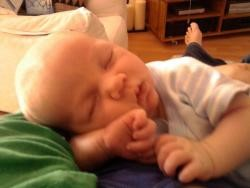 We moved back up North to be close to family, so Arthur could be surrounded by people who loved him. As he got poorly, more people became involved in his care and this is when we realised how many amazing people there are in this world. The Iquolis team, the care team at Martin House and Arthur's physio Lisa, and OT Claire made it possible for Arthur to live his short little life to the fullest. We can never thank them enough for everything they did. Although I do think they were very lucky to have met Arthur too, as his beautiful smile was enough to make anyone's day.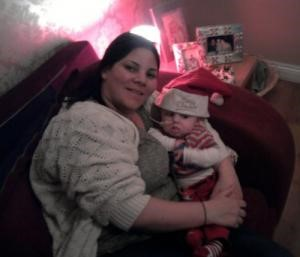 We also want to thank our families and friends for everything they have done for us and Arthur. How they have been strong for us when we haven't been able to. For their kind words and the beautiful cards we have received. For the washing, the hoovering, the cooking, the lifts here and there, the cuddles to try to take away some of the pain, and just being there when Arthur and John and me needed you. Arthur loved you all so much and you made his life a million times better as I'm sure he did yours.
We will miss Arthur so much, playing on his drum, splashing in his bath, watching us even when he slept just to make sure we were always close. Mummy and Daddy love you so much Arthur and hope you really are now playing football with your new mates x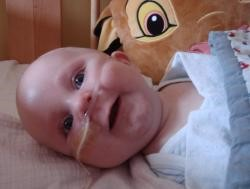 At birth Charlie seemed to be a perfectly healthy baby but at his 6 week check it became apparent something was wasn't right. The local hospital couldn't find anything wrong and eventually we were sent to GOSH where they diagnosed Charlie with SMA Type 1. We had not even heard of it yet alone knew we were carriers, and so we were given information, told about JTSMA and our local Children's Hospice.
At first we were reluctant; so our baby couldn't move, but he was interactive and beautiful, and we refused to accept there was nothing we could do. However the time came when Charlie's condition rapidly declined and he was rushed to hospital and resuscitated. Charlie now needed constant around the clock clinical care so we took the decision to use our local Keech Children's Hospice. Their facilities allowed us to stay together as a family, we felt supported and safe. It was a happy place, about the quality of time left and we met other families in the same position.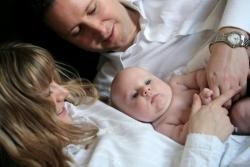 We have lovely memories we shall treasure forever. Charlie was the joy in our lives and we would have done anything and given everything for a different outcome – but it wasn't to be. We went through the worst, traumatic time trying to find out what was wrong with our son, but we feel proud that we nursed Charlie right up until he died in our arms at just under 6 months old, and blessed to have been his parents if only for a short time.
"THE BUTTERFLY COUNTS NOT MONTHS, BUT MOMENTS AND HAS TIME ENOUGH".
Mark Whitfield:
Thousands of miles you travelled,
To share with your family your smiles.
You will always be in our hearts, dreams and prayers,
God bless you our brave little child.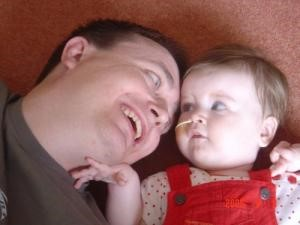 Jane Smith, Leo's mother: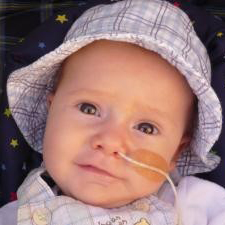 We try to avoid counting the cost
Of everything we have now lost,
But focus instead on all that we gain
From a few months of pleasure mixed in with the pain
Of knowing you would not be with us for long,
Oh how we hoped we had it so wrong
As we waited each day for you lifting your head,
Never imagining by now you'd be dead.
We're grateful for memories you've left with us:
The park, the beach, the ride on the bus.
You even enjoyed a trip on a boat
But the best was the bath where your limbs could float.
Your room, never used, where you watched the lights,
The hours in our bed throughout the long nights,
Your face peering out during trips in your sling
Your eyes as your brother started to sing.
Smiling at meals from your bouncy chair,
Your fingers, your toes, your fluffy black hair.
The party at grandma's where you met everyone
Hoping relationships had just begun.
Your smiles on your mat as we helped you to kick,
Those last precious moments taking milk from a stick.
At the beginning and end in a pale blue sleepsuit,
Even in death looking so cute.
We will never know how much you knew
About all the things you would never do.
Yet knowing you'd only be with us a while
Meant we treasured each and every smile,
Saving the best for your much loved big brother
And privately sharing your struggles with mother.
We tried all we could to make life full of joy
Our beautiful, precious, innocent boy.
We know that at moments we'll shed a tear
When often we wish that you were here,
And think of the things you would have been
Which will forever remain unseen.
You knew that it was time to go,
We're just so thankful it was not slow.
We'd like to have you back but can't,
Though we're comforted knowing you're with your great aunt.
We just pray that you're in a happy place,
An angel bringing a smile to God's face.
You were a gift we might not have had
And for that we will always be glad.
Although at the moment we're so full of sorrow
Knowing you won't be with us tomorrow,
We know that in time, God's love so sublime
Will heal every heart that you touched.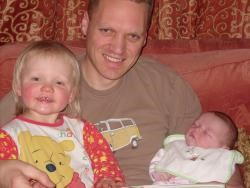 Eve was born nearly 2 weeks late weighing a very healthy 10lb! She was our 3rd child, little sister to Maria and Grace. Eve was beautiful, with auburn hair, and like so many SMA babies, she had huge blue eyes and the loveliest of smiles. Right from the word go she seemed happy and content. She was bottle fed and was put on solids which all seemed to go well.
At about 6 months, we decided to take Eve to her health visitor in York. We were concerned that she was floppy and unable to hold her head up. We had put it down to the fact she was baby number 3 and maybe just a slow developer with perhaps a need for some physiotherapy.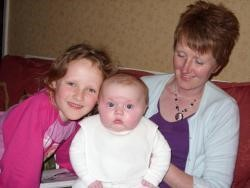 We were quickly passed on to Eve's GP who referred her to a consultant, whom we got to see in a matter of days. At this time we had no idea of what lay ahead of us, or what we were to be told. The consultant said he was 90% sure that Eve had SMA, but blood tests were the only way to be sure. These were taken the same day, and were told the results could take up to 2 weeks. Even at this stage, we had no idea of the seriousness of what was being said, as we knew nothing of this condition. But when the consultant told us that it was unlikely Eve would reach her 2nd birthday, if his diagnosis was true, our world completely fell apart. This is when we started grieving. Nothing can prepare you for the devastation.
We were due to go on holiday to my mum's in Scotland a few days later, and decided still to go, knowing that we may have to return to York to find out the blood test results. We were told by the consultant that babies with SMA had very weak immune systems and that a simple cold could be potentially very serious. Two days after we arrived at my mum's, Eve developed a cough and cold. She had a very unsettled night and the following morning, all of a sudden started to struggle with her breathing, and lost all her colour. We called an ambulance and Eve spent the next 10 days in Dundee's Ninewells hospital with a collapsed lung and pneumonia.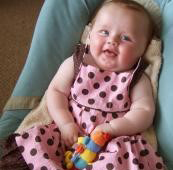 The doctors and physios did their very best for her, but we had to make the decision to let her go. After a night of watching and waiting by her bedside, the next day we took her for a lovely walk in the hospital grounds. She was so peaceful, with the morphine helping. That evening we decided to go back to my mum's for some sleep. Eve must have waited for us to get some rest. She died at 08:30 the next morning.
I did go through some awful guilt over not being with her when she died, but I know I couldn't have coped without anymore sleep. A few people have told us that babies have to go when they are 'ready' and Eve was obviously ready then.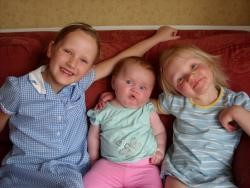 Eve died just 2 weeks after we saw the consultant in York. Although it seems very quick, we are so grateful that we had her 'healthy' for nearly 7 months. She was loved so much by her mummy and daddy and big sisters who just thought the world of her.
Eve has left a lasting impact on so many people, everyone remembers her beautiful smile and eyes that told so much. We will always carry sadness in our hearts, but there is a lot of joy there too. We feel very privileged to have known her. Eve was sent to us as a gift.
Seán James Browne-Keating
Sunrise 2nd March 2008 – Sunset 26th November 2008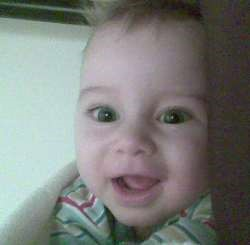 You were and will always be
My biggest achievement of this world,
I love you my little man,
Sleep tight and look after us all,
We'll walk together again one day,
Now that we have walked once together,
We'll never walk alone,
xxxxxxxxxxxxxxxxx
---
The Journey of life for my treasure, the path we travelled together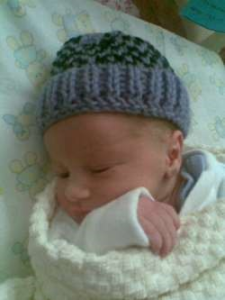 We had just moved into our new home, and everything in life seemed like an adventure. We were in love, we had a beautiful new home and on the 16th July I found out I was pregnant (but I knew before I even went to the doctor). 3 months beforehand I had had a miscarriage at 12 weeks and all I had wanted was a baby to love and adore and to make our perfect life complete. So when I found out that I was expecting again I was absolutely thrilled and so was my partner. I had morning sickness all day and every day, but I thought that was the sign of a healthy baby as I had had no sickness in my previous pregnancy. I sheltered away from world as such because I was protective of my growing baby. Any ache or pain and I was at the doctors. I imagined a boy or a girl, and who would they look like. It was a hard pregnancy with many urinary tract infections along with bad skin and backpain. I worked overtime as our new house had a fine hefty mortgage. At 35 weeks I went into hospital with swollen legs and feet and they told me that I had 5 pluses of protein in my urine and I would need to be induced as I had a bad case of pre-eclampsia. Even though the doctors were worried, I was so excited that I was going to see my baby.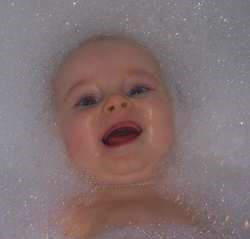 We had chosen Sophie for a girl and Seán for a boy. It was going to be the first grandchild on both sides so the excitement was tremendous for the new arrival. I was only 20 so as you can imagine I was terrified about becoming a first time mum but so excited that I was bringing a baby into the world, and I knew that the love that I would feel would be of sheer honour and joy for what God had given me. At 1.05am on Mother's Day, 2nd March, my little boy came into the world weighing 5 pounds 3 ounces with a big head of black hair (I had never suffered with heart burn so that was a shock). I can remember how tired I was but so happy that my baby was here. He was immediately taken to the neonatal unit as he was 4 weeks premature, and they say babies stop growing when the mother has severe pre-eclampsia. When they wheeled me into the neonatal unit to see him I remember the joy I had felt that it said "male of Joanne Browne". I couldn't believe that something so tiny and wonderful had been given to me, and that I had been given this perfect baby. Celebrations went on for days, but that first night in hospital I was so scared of him. Looking back now I grew up so fast myself.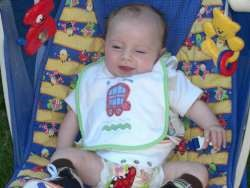 Seán was perfect, but after 3 days he developed jaundice and was taken back to the neonatal unit. I was devastated as you can imagine, although exhausted because I was a new mum. He started developing sleep apnoea, but they did all the examinations possible and treated him with antibiotics for a cold. I had to leave the hospital without Seán and it broke my heart. I lay weeping for him at night after we had to leave the hospital but after 5 days they said all the tests were clear and we were allowed to take him home. I was as proud and happy as you can imagine. I changed him and bathed him at home, and my life was perfect. I adored being his mum, but for some reason, deep down in my heart, I felt something was wrong.
As Seán had been premature he had many check-ups and the doctors were always very happy with his weight, feeding and general progress and once they were happy I had no reason to question them. I lived blissfully happily for 6 months and Seán slept in bed every night with me and his Dad. I absolutely ruined him, and he knew that every time he winged I would give in to him. After his Dad would leave for work while I was on maternity leave I found that he was as much my friend as my son, and my life before was a distant memory. I loved being his Mum and having him rely on me 100%. He was spoilt wherever he went as he was the first great grandchild on both sides – his father was an only child and I only have one brother, and great grandparents were alive.
Seán drank ounces of milk and ate bowls of porridge, potatoes, sunshine orange and whatever you gave him. His only problem was that he was floppy. I didn't realise how floppy he actually was until I returned to work after my maternity leave. A few of my work colleagues had had babies around the same time as I had Seán, One of my colleagues, Claire, came in with her little boy and he was literally thumping her in the face; I was still supporting Seán's head. It was then I knew that something was drastically wrong. I went to my local G.P. who had seen Seán on various occasions before and she agreed that his progress was slow. I asked her to arrange a private appointment for Seán which she replied would follow in 10 weeks. I knew deep in my heart that something was wrong – I spent sleepless nights watching him sleeping.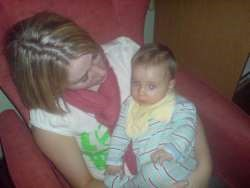 My father was involved in a local sports club and he said he was almost positive that the wife of the physio there worked as a doctor on the paediatric ward of our local hospital. At this stage I just wanted Seán to be seen – I had self diagnosed him as having low muscle tone (hypotonia) – I even met a mum whose daughter had poor muscle tone, and worse case scenario I thought he may not walk and that wasn't even worth thinking about. The physio's wife Deirdre was in fact a paediatrician and she called me back and agreed to see Seán. I met her in her husband's surgery and I knew then that something was wrong. The following day she arranged a appointment at the Cork University Hospital with the main neurologist. I went home and prayed that everything would be okay. I gazed at him as he slept. At this stage when he woke in the mornings and I was still asleep he would stroke my face until I woke, and the minute I opened my eyes he would laugh, laugh so happily.
That Monday my best friend Michelle accompanied me to his appointment. Seán's Dad had work and my parents were on their 25th wedding anniversary holiday in Lanzarote. As I walked into the hospital that Monday, 6th October, I cried uncontrollably that Seán may have to stay in over night for tests and the thought of him having to stay in hospital was unbearable. I met the neurologist's understudy, Adrian, and he asked me questions about Seán's lack of leg movement, and asked whether he kicked a lot when I carried him, and could there be any chance Seán's Dad and I could be related. I answered the questions whilst laughing at the idea of them thinking we were related. The neurologist came in and looked at him. Dr Olivia O'Mahony, a fantastic, brilliant doctor, looked at me with this lost and empty look on her face, and replied that Seán was a very, very weak little man, and asked what time my partner would finish work as she needed him to come up straight away to talk to us together. They then brought me down to a nerve and muscle specialist.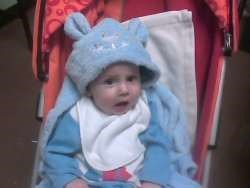 I knew that my worst case scenario of Seán never walking was nothing to what they were going to tell me. I watched as Seán lay on my legs as they poked and prodded him. Seán's Dad arrived and after maybe 10 minutes of waiting Olivia came back and told us that she was 95% positive that Seán had Werdnig Hoffman disease, otherwise known as S.M.A and she was fairly sure it was Type 1. I said S.M.A is a formula milk, and she said yes, but it's also a genetic terminal illness. I asked her straight away what the life span was and she replied that the most would be 18 months. I remember as she spoke the tears felt like fire on my face and I watched as Seán slept peacefully in the cot surrounded by the new Winnie the Poohs I had bought him as a 'I'm sorry' present for him having to go into hospital. The neurologist had her hand on my shoulder, saying it was not my fault, that it was just unfortunate we both had the S.M.A gene, and that they would make Seán very comfortable when the time came. That night I remember clearly, after all our family left the hospital, I started grieving for my baby as he lay well, smiling and cooing in my arms. He slept and I drowned him in my tears. I vowed I would tell the world for all my days how wonderful he was and how truly grateful I was to have him.
We left the hospital the day after his diagnosis, and continued with our lives as if that day had been a nightmare. My parents flew home from Lanzarote. We were told that a sniffle to Seán, although never sick, could be fatal. I even went back to work, and we continued living in a bubble. I bathed Seán every night and changed his outfits numerous times a day, and I would watch him sleep every night and turn my pillow upside down as the tears would seep through. I smelt him and smelt him until I had his smell fresh every time. We took Seán to the hospital on day visits and they were very happy with him and said that the next 10 weeks would tell a lot and we would need to have the equipment, suction etc ready for our home. The doctors organised for Seán to be in for 3 nights in hospital so they could show us how to suction, and put in the tube for when the time came, even though he was very well. He got injections to boost his immune system. I met a girl from Cork, Susan, who I am now very good friends with. Her baby Owen had died a few years beforehand at 5 months from Type 1 S.M.A, but there was no one else in Cork who I knew of.
I asked my friend Elaine to get Seán a "big boys" outfit on a trip to New York, unbeknown to anyone. I was preparing and nights while I watched Seán sleeping I prepared for the day , or night, he would be taken, and where he would be buried, and how I would plan the mass and honour him.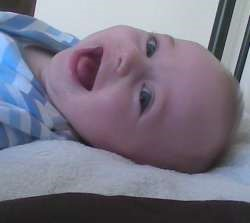 7 weeks after he was diagnosed, I went to work for a few hours, as my Mum used to mind Seán while I worked. I rang to ask her how he was and she said she thought I was best off taking him to the doctor. We tiptoed around Seán's condition and decided that talking to one another about what was going to happen to our handsome man was too painful to imagine. My parents are only 47. My mother had been made redundant from her job after 27 years the Friday before Seán was born, so they were thrilled and proud to be grand parents. So that Tuesday I came out of work and the minute I saw him in his Iggle Piggle Night Garden tracksuit with his tired little face, my little boy who was so happy for 9 months, looking tired and fed up, I brought him to the hospital straight away with those tears of fire falling from my eyes. I could feel the pain and agony of my little boy's path hitting as a reality. He was breathing so heavily and all I wanted to do was give up my own life to make him well. It was confirmed that he had a chest infection and would start antibiotics immediately. The doctors were happy he was improving and that night he even had some sunshine orange and juice. His Dad left the hospital and said he would be up in the morning.
Seán wouldn't settle and was absolutely exhausted. His nurse Christine said if he had some sleep he would be okay. At 12 a.m. she decided to tube feed him for the first time an ounce of milk to settle him. He aspirated after the feed. The doctor ran down and took him away as his heart rate was dropping. Seán looked so uncomfortable and I couldn't make it right. I prayed to God to help him – I begged and pleaded. They revived him and said if he slept he would be fine. Later he aspirated again and this resulted in a collapsed lung. Seán just lay there with this 'just let me go Mum' look on his face and was breathing very heavily. His neurologist arrived and I asked her what we should do. She replied that she thought it best to give him morphine and if he was ready to go he would. He lay in the resuscitation room, and I smelled him head to toe. I had lived seven weeks of the nightmare. I went out into the hall of the hospital and knelt and prayed to God to take him and to save him from any more pain. I went back in and told Seán that if he was ready to go, then he should. My family arrived and the doctors gave Seán the morphine. He sweated from the morphine and the nurse sat him in my arms and I rocked him in my arms as he left the world. He passed into heaven at 9.05 a.m. and whilst I rocked him I imagined how he would have looked on his first birthday, communion confirmation and as a man. I remembered the day he was born and I told him that we would walk together again. I bathed him, put his Johnsons on him and dressed him in the outfit from New York. I slept with him for his final 2 nights, and I buried him with my father's parents. On the day of his funeral I did what I had promised him – I stood up and told the church how thankful I was to have had him in my life.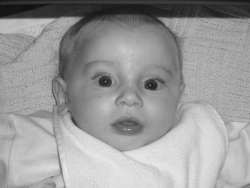 I would live my life again and again to have those 9 months with Seán each time. I believe all babies choose who their mothers are. I don't think it's God's work that babies like Seán with S.M.A are taken. I believe that they have to be born and they choose us to be their mothers.
I am so grateful that Seán never suffered and during his 9 months he was so happy and healthy and I was always him mum and not his nurse. I was saved so much heartache – I never had to watch Seán in pain and have all the equipment and suction. All my memories of him are happy ones. I know Seán is, and always will be, with me.
I want to thank Hilary Adams from the Jennifer Trust for her help and support. I want to thank all the parents who have helped me and continue to do so during this journey of loss, heartache, and pain, and my family – my mother Catherine, my father John and my brother Graeme, my grandmother, aunts and uncles, for being my rock, along with my fantastic friends, and work colleagues. But above all I want to thank my little boy Seán for showing me the true meaning of love and for filling my life and soul with happiness.
Belle Colchester-Hall had Type 1 SMA and sadly died on 29/12/2008 aged 6 months and 3 weeks
---
Poem By Belle's Mummy: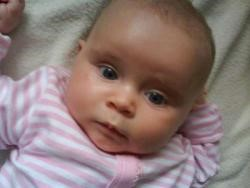 One sunny June morning
She came into our lives
Without a scream or a cry
Just a whimper that brought tears to our eyes.
Our beautiful girl
At last she was here
All fingers and toes
Nothing now to fear
But nobody knows…
There is only one thing I want to say to
My beautiful Belle, my sweetheart
I didn't know…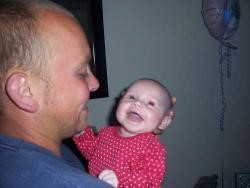 Your beautiful smile that melted my heart
Your croaky giggle that brightened my day
I didn't know…
You brought sunshine into everyone's lives
Without even knowing it my beautiful
Precious little girl
They didn't know…
We know each other so well even in this short time
Every look we give each other, every movement,
Every touch…Belle, my darling
I didn't know…
Our morning kisses, our lunchtime hugs,
Our cuddly sleeps, our everything,
My beautiful darling baby girl
I didn't know…
Then that day came my darling Belle
The hospital visit…
We knew my precious angel, we knew….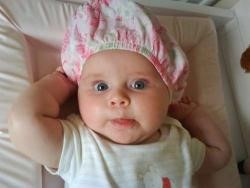 Christmas has been and gone
Your presents lay under the tree, many a tree
But you have taught us that none of this matters
Just your beautiful happy face
Huge blue eyes and foot long eyelashes
Being together my darling with the ones we love
That's what we know, that's what we should all know…
You have given the ones closest to you
Their very own personal message
Taught them each a lesson,
They thank you for that my beautiful baby girl
Now they know…
---
Poem By Belle's Big Brother Oliver
This is a poem about my sister Belle: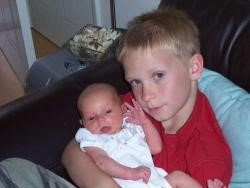 With a cheeky smile that goes a mile
Belle always made us laugh.
The favourite time of our day was when she had a bath.
She splashed around and giggled lots and left us all in fits,
And everyone who knows her all love her to bits.
She always loved her yoghurt,
Her favourite was fromage frais.
She fluttered her eyes and poked her tongue out
She always made our day.
Belle's mum and dad who cared for her,
With all the love in their heart,
Along with me will miss her lots now that we're apart.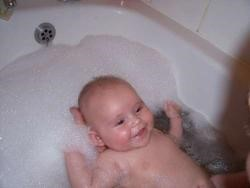 But we don't need to worry as she's resting peacefully.
My lovely baby sister is watching over me.
Grampy stick is with her so I know that she's ok,
And all our thoughts are with her,
Today and everyday.
Louise's Tribute to Georgia
My beautiful niece, Georgia.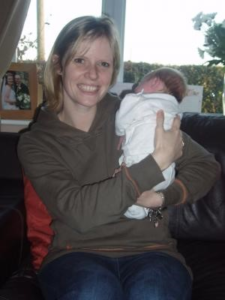 Words are few, thoughts are deep, memories of you Georgia, are of the most brave and beautiful baby I will treasure forever. Words cannot justify the enormity of love I felt for you, neither does it justify what a star and treasure you were to so so many people.
Life is not fair, for you Georgia, did not deserve what was dealt.
My explanation for this is that only the best go first.
So many memories I have of you, so many happy times. My favourite memory of you was when you smiled at me, your beaming smile and dazzling eyes that told me so many stories. I would walk a million miles to see that smile and those amazing eyes again. I see you when I close my eyes – you are with me. This memory I will treasure and feel blessed to have to comfort me, in times of sadness and emptiness I feel for my family.
Life now, is not the same, there is a missing link in our family that will never rejoin, for a special spirit that brought such joy, happiness and fulfillment to everyones lives has gone.
My wonderful bright angel Georgia – a contented, brave, wonderful little girl, who is hugely loved, missed and remembered lovingly every day.
All my love
Aunty Louise. XXX
---
Lucy's Tribute to Georgia
Lucy's Tribute to her beautiful, amazing, brave baby, Georgia Ann Wright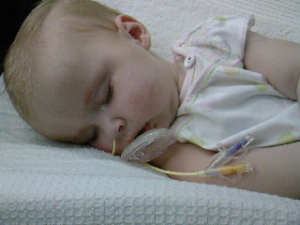 Born on 3rd January 2008 and died on 22nd August 2008 from SMA Type 1 aged just 7 ½ months old.
This was read out by Lucy at Georgia's funeral
I'm going to talk about my beautiful daughter who was the most amazing, special baby anyone could have ever had. I was truly blessed. Georgie had hair like spun gold, gorgeous big twinkling blue eyes that said a thousand words and an exquisite, captivating smile.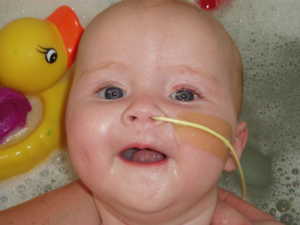 Georgia adored her big sister Olivia (3), and loved to watch her play and dance. She would giggle through her dummy while watching her favourite television programme – Micky Mouse Playhouse Disney. Minnie Mouse seemed to always be her favourite. Her eyes would twinkle and her face would beam with that amazing smile she had, when Minnie Mouse came on. My Georgie Ann was wonderful and a true fighter to her very end. I can't think of any words good enough to describe my adorable Georgie.
My world fell apart on 28th May 2008 when I was told that Georgia had Spinal Muscular Atrophy Type 1, however, an incredible journey began. To see my delightful stunning baby cope with all the horrendous tests she endured were beyond anyone's comprehension, Georgia never cried when tests were carried out. One moment sticks out the most, when electric currents were sent through her body she even smiled at me through her tiny mask while giving her first nebuliser. My baby was like no other baby – although her body was so weak, Georgie's mind, soul and spirit were so strong and determined. Georgia had such strength of character which reflected in her favourite colour – red.
Every night we went to bed not knowing if our Georgia would be with us in the morning, but she always was. Georgie had such incredible courage and determination to self-correct her breathing and carry on.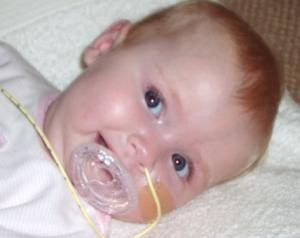 Georgie has left a place on earth that no one could ever replace. With every part of Georgia she has made this world a better place. Georgie was completely unique and a true fighter in every way.
Georgia had courage and pure happiness that beamed and gave everyone the strength to carry on and take every moment in life as a true blessing. At just 7 months old my baby had taught me to be able, to 'just be'.
Georgia was christened on 21st July 2008 at Rainbows Children's Hospice and even after being given hours to live continued to fight on for another month.
Georgia had the most amazing, stunning, beaming smile that put everyone else's to shame – it was a virtually hypnotic smile that carried our whole family through very dark times. Georgia was a complete inspiration to everyone.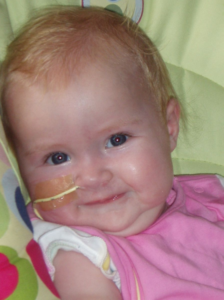 I could see Georgia getting tired now and words were few and thoughts were very deep. Such happy times we had with Georgia and I could see her just wasting in front of me and there was nothing I could do about it. All I could do was love her and hold her tight – I knew that then…and I'm so pleased I changed from being a nurse to Georgie and to just be her mummy.
As my beautiful amazing baby lay dying in my arms, I made her a promise to fight for awareness of the crippling condition of SMA. I promise again to you Georgie – I will. No words can express how much I love and miss you. In my heart you will always stay.
I am completely proud and grateful to have been Georgie's mummy. I want to say to Georgia, "I'm so sorry and I didn't know". To have been part of Georgia's life has been a total privilege and a pleasure. Nothing could ever take away what Georgie has given me.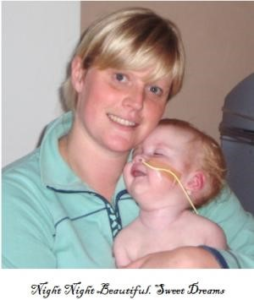 The people that didn't know Georgia very well have missed out on knowing such a beautiful, amazing baby that I know they will never have the privilege of ever knowing again in their lives.
Life for me now will never be the same. In Gods care, you rest above Georgia. In our hearts, you rest with eternal love.
"A mother holds her child's hand a while, but their heart forever"
Now, rest my beautiful baby. No more struggling. You are now at peace. Sleep tight babycakes.
---
Simon's Tribute to Georgia
A tribute to Georgia from her daddy Simon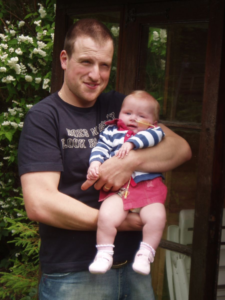 They say memories are golden,
Well maybe that is true,
But I never wanted memories,
I only wanted you.
A million times I've thought of you,
A million times I've cried,
If love alone could have saved you,
You never would have died.
In life I loved you dearly,
In death I love you still,
In my heart you hold a special place,
That no one could ever fill.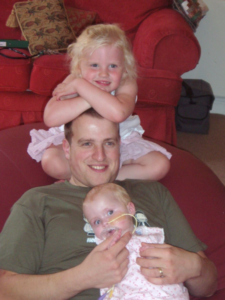 If tears could build a staircase,
And heartache build a lane,
I'd walk the path to heaven,
And bring you back again.
My family chain is broken,
And nothing seems the same,
But as God calls us one by one,
The chain will link again
Paul And Sharon's Tribute:

To our little fighter so brave, so strong,
Harvey Turner born 25th July 2007 – 19th October 2008 aged 15 months.
Out of the darkness, into the light
Came a beautiful boy with eyes so bright.
You look at us with a certain knowing,
a look of glee that says I am glad to be here with you.
We know you inside out, what makes you coo or cry.
It is a precious thing to be needed so much by such an innocent little boy.
You were sent to us by God to fill our hearts with happiness and touch our lives with love, now you're gone and you won't be back, we wish you bon voyage until we meet again.
With all our love Mummy and Daddy xxx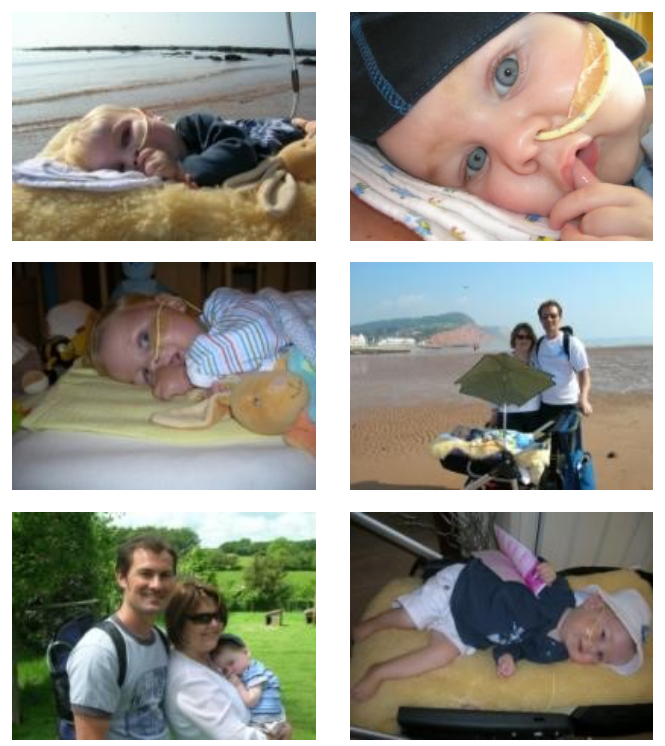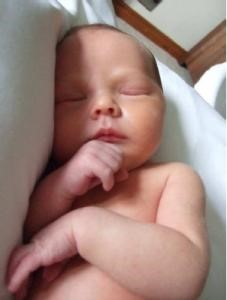 Lucas was born 4th August 2008. He was our second baby (we already have a little boy called James who was 2 ½ at the time).
We had 8 amazing weeks. Lucas was such a sweet natured baby. Very different to James but then "they're all different". We put our ease down to experience and that we were already used to broken sleep and routines!
I had noticed that Lucas couldn't support his head like James could. But he was still so little and had been born a week early by elective caesarean. Lucas had passed all his health checks and I wasn't concerned at all.
It wasn't until we went for Lucas' eight week check, that the GP expressed some concerns; he was puzzled. Lucas was thriving but he was very weak ­- he called it Hypotonia ­- and also noticed that his Moro (or startle reflex) was absent. I knew the reflex was present when we left hospital; I watched them check it and I remembered it from when James was a baby. The GP wasn't overly worried but he wanted us to see a paediatrician as he had never seen this before.
I left feeling slightly concerned but when I got home and started to look on the Internet at possible causes for the symptoms, I could see they were only a result of very serious conditions.
That is when it first hit me that Lucas was very ill. We paid to see a consultant privately. Still hopeful, we went armed with photos of Lucas lifting his arms and kicking his legs in the bath. He wasn't this weak when he was born ­- surely physiotherapy would help him grow stronger.
The consultant was lovely. But there was still no good news. He wanted us to see a neuromuscular specialist as soon as possible. He worked with a doctor at the Leeds General Infirmary (LGI) and he offered to speak with her immediately to arrange an appointment. His parting words to us were, that Lucas was very ill, it was almost certainly genetic and there was nothing we had done to cause it. We were absolutely devastated and yet we didn't know then how bad things were going to get.
We saw the private consultant on the Friday evening and we were at LGI for tests the following Wednesday. We left LGI still hopeful ­- at that point nobody had said the words Spinal Muscular Atrophy (SMA) or even suggested that Lucas' condition could be fatal. All they would tell us was that a DNA test would determine if it was the condition they suspected. They would not tell us anything further until the results were back; this could take up to 6 weeks but they would push for the lab to do it in 2.
We went on the Internet again when we got home to see what we could find out, as the hospital were so adamant that they would not tell us what they were testing for. This is when we first learnt about SMA. I'd previously dismissed anything genetic ­- Steve and I were fine -­ how could we be carriers of such a serious genetic disorder?
It took three different websites about SMA for it to really sink in. As I read through the parent stories on The Jennifer Trust website, they described our baby Lucas over and over again. "The beautiful, bright smiles and expressive faces", "short breast feeds", "severe hypotonia", "exaggerated breathing". Lucas had it all.
I remember it was a beautiful bright sunny day in October. My mum-in-law was with us, looking after James. Lucas was fast asleep in his baby chair, worn out from all the hospital tests. All I could say was "My baby is going to die". I can see it so vividly as if it was yesterday.
I fell apart for a bit after that. I was functioning but I couldn't eat or sleep or think. I knew what I had to do and what was going to happen. I'd read it over and over on The Jennifer Trust website. It just hurt so much to try and even begin to cope. It was a point of limbo – we knew what it was and yet the NHS would give us no support until it had been confirmed. All of a sudden Lucas was really starting to deteriorate, he was really struggling to feed and there was nothing I could do.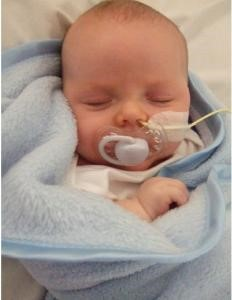 It took me a week to contact The Jennifer Trust. I was going out of my mind and it was then that I spoke to Claire – who later became my outreach worker. She was so calm and understanding – so empathetic. There was nothing they could do officially until we got the results but I think we both knew what they would be. She explained what they could do to support us in the event that it was SMA, and put my mind at rest about James and that it was impossible for him to have the condition as he was now too old.
In the end it took just over week for the results to come back and on 17th October 2008 we were officially told that Lucas had Spinal Muscular Atrophy Type 1 and he probably only had 2 months to live.
That same day we went to our local hospital, Airedale General (where only 10 weeks earlier Lucas had been born). This is when we met Dr Britland and our medical support got so much better.
Lucas was fitted with a Nasal Gastric (NG) feeding tube and Steve and I spent the next few days learning how to feed Lucas with an electric feeding pump. That very first night we left Lucas at the hospital. The staff thought we should go home and get some sleep as it had been such an exhausting few weeks. Leaving Lucas that night was as hard as any of the ordeal so far. Never again would he leave our side, and from that moment either Steve or I were always with him.
As soon as Lucas had his NG tube fitted he started getting better. I certainly started feeling better too. All of a sudden we were caring for our baby and actually doing something that made a difference. It was staggering the amount of equipment that was available to us and also the sheer volume of milk and feeding equipment that was required. I dread to the think of the cost to the NHS.
The first week we returned home from hospital we were flooded with visitors. We felt like local celebrities – everyone seemed to have heard of Lucas Hannigan but for what felt like all the wrong reasons. Physiotherapists, palliative nurses, the community nursing team etc. It was so overwhelming. They talked of morphine and suction machines, the threat of a cold and the need for a care plan. I rang Claire at The Jennifer Trust and she helped answer the questions that all these visitors had left us with.
The week after, we asked to be left alone; from that point on we only wanted to deal with Dr Britland and The Jennifer Trust. Dr Britland walked us through the care plan (the document that outlines to the emergency services and any other doctor that Lucas may come in to contact with, how we wish for Lucas to be cared for and what to do in the event of a change in his condition – such as the need for resuscitation) . It seemed so surreal that we were asking doctors to not resuscitate our baby. But it was so important to Steve and I that Lucas retained his dignity throughout his short live and that he should be able to enjoy his time (however short that may be) without intrusive medical intervention or the prolonging of his suffering. We knew there was no cure
for SMA and I think that gave us the courage to make these decisions for him – however heartbreaking.
Lucas was well for the next 6 weeks. We felt safe in the 3 hourly feeding routine. The NG tube showed the world that he was special and we even dared to plan trips away to London and Scarborough – trips that we unfortunately didn't get to take. We wanted to fit as much in to Lucas' short life as possible. The Jennifer Trust lent us the most incredible sensory toys for us to play with, with Lucas. He loved light and colours, and would lie for ages watching the spinning patterns that the projectors would make on the walls. Hence the television was also popular -­ much to James' delight too!
As important as our need to care for Lucas was, our thoughts were also constantly with James and how SMA would affect him. Again Claire at The Jennifer Trust was able to help. She put me in touch with the parent of a baby who had also suffered with SMA Type 1. She had had a child of James' age when her second baby was born with SMA. It was such a comfort to me to hear how their family had coped and were still coping almost 10 years later after the death of their baby.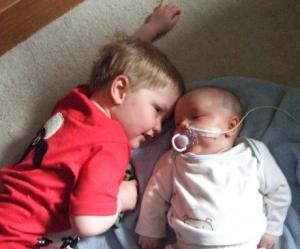 I think I should quickly return to James at this point in this story as he played such a big part in being the most amazing brother. He never questioned why we had to spend so much time looking after Lucas and he was never jealous of the attention that Lucas got. He helped us to set up Lucas' feeds, and at the times when my heart was breaking and I simply couldn't smile, he entertained Lucas and I with a dance or a story. We often took James and Lucas to church, and we had them Christened together­ – a very beautiful day. This helped us explain that when Lucas died, he would go to heaven, and also helped James to understand about Lucas' funeral.
All of a sudden at the end of November, Lucas fell ill. After a week in hospital, suffering with a bad cold, Airedale Hospital arranged for an ambulance to take us to Martin House, our local Children's Hospice. Lucas was on oxygen at the hospital and had received physiotherapy for his chest congestion. We had even learnt to use the suction machine. We had planned a visit to Martin House that week anyway, but hadn't expected Lucas to be hit so hard by a cold. He had managed to cope really well with bugs up to that point. But this time it had really weakened him.
Airedale Hospital were so amazing at looking after Lucas, but Martin House was able to give us the space to enjoy being a family, whilst also caring for Lucas. Our last two weeks with Lucas (and the week we spent there after he died) were filled with the most amazing colour and light, and I don't think we can ever properly thank the people there, for making the most difficult days of our life so perfect.
When we arrived we were told Lucas had only days to live. His dazzling smiles were gone and he looked pale and tired. Lucas was given morphine to ease his breathing and to everyone's surprise steadily started to improve, he even came of the oxygen and his smiles returned. We celebrated James' third birthday, and with the run up to Christmas there were many trees to decorate and kids for James to play with ­- he had a ball. After 2 weeks we started to talk about going home and planning again for a Christmas at home. Then Lucas died.
Throughout his journey, Lucas had made so many decisions for us at times when we didn't know which way to turn. Lucas brought us to Martin House. He chose to keep us there and he chose his time to die. For that we couldn't be more grateful.
It was the middle of the night, 8th December and Lucas had been griping at us for an hour. The night staff offered to look after him and let us get some sleep. He had a dose of morphine and then minutes later, the night staff knocked on the door to say that Lucas was having a blue episode. This wasn't the first time it had happened and I wasn't worried until I got to him. He was so pale and breathing so gently. We held him and talked to him and minutes later he had gone.
We sat with the night staff holding Lucas for the rest of the night, and then at 6am we bathed him and dressed him and wrapped him up in his moses basket in "The Little Room" – a special bedroom that is kept very cold and where Lucas was able to stay until his funeral a week later.
James kept us all together throughout the funeral. He held a balloon for Lucas that he let go at the woodland burial site. I will never forget James standing there, so small on the icy grass shouting "Catch it Lucas" with such excitement, as the silver star floated up to the heavens. Nor will I forget how he turned round and waved "Bye Bye Lucas" as we left the graveside. James is still keeping us together now.
It felt like we started grieving for Lucas in October, when he was diagnosed with SMA, way before we really lost him. Soon after his diagnosis, a good friend told me that we must look for the positives. My heart was so empty at this point that I thought it was impossible to find any good in it. Today I can look back and understand what she meant. Although Lucas' body was weak his spirit was so strong. He was such a happy soul who just loved to watch the world go by. We learnt to treasure every minute with him and never take anything for granted. Most importantly, we were given the time to say everything we wanted to say and to make sure we can look back on the 4 short months he was with us without any regrets.
We're now 1 year on and we're still learning from the experience. Lucas taught so many people so much and for that I wouldn't change a minute (except for the obvious). I miss you baby.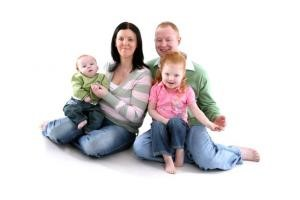 Waiting for Nathan's arrival,
Counting down the days.
At last you arrived 10 day's late.
Your eye's can tell a story,
So big and bright and blue.
They sparkle like glittering stars, ask anyone its true.
Your face is a little picture,
So soft with a smile so cute.
Little hands and tiny feet, with a personality shining through.
Remembering you in your sensory room, the joy and love we shared,
For this is when we hear your voice and laughter fills the air.
Being a T.V addict watching your greatest CBeebies shows.
We can picture your handsome face and a lump will fill our throats.
Not forgetting to mention how you loved to stretch and play,
When you heard your sisters voice and your eyes would twinkle away.
The memories we share together, will last a life time long.
As no one could have been prouder, you are the perfect son.
The love you brought in such a short time, we can honestly say,
it makes our hearts want to miss a beat, as if we were walking on air.
Keep shining bright above us, you're always in our hearts.
You will never be forgotten.
For that is way more hard.
Such a brave little boy who we are more than proud to call our son and little brother.
All our love Mammy, Daddy and Big Sister Sophie. x x x
---
Nathan James Morrison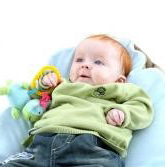 On the 24th July 2007, Our Little "Angel" Nathan James Morrison was born. He was gorgeous with big blue eyes and a sparkling smile. He stole the hearts of many people.
A few months went by when we started to notice Nathan wasn't reaching his milestones. We had taken him on a number of occasions to the GP's and hospital, everything was fine they told us, Nathan just has a cold, carry on giving him calpol.
I remember once saying to Nathan's Daddy, I don't know what I would do if anything was to happen to our baby Nathan. He was our Angel, our little boy who we loved so much. But we just had something inside telling us something just wasn't right.
One day Nathan was really poorly, he wasn't taking his feeds was vomiting what he had back up. We noticed Nathan was really floppy too, he had no head control and he couldn't move his leg's but could move his forearm's and wiggle his toes slightly.
On the 12th of December 2007 we took Nathan to the walk in centre and they said to take him straight to the hospital. They had called the children's ward to let them know we were on our way.
Nathan stayed in hospital a couple of days, he was diagnosed with having Bronchiolitis. We were told Nathan would be feeling unwell for several weeks. They gave us some antibiotics to take home to finish off the course he was getting in hospital. We were then discharged with no follow up appointment. A few days went by, we just couldn't settle, something just wasn't right; Nathan didn't seem to be getting any better. Most of our day's we spent in the house. We had taken Nathan back to the GP's and told them he had been diagnosed with bronchiolitis. They were happy with Nathan because he was so bright and alert it gave them no worries for concern so we were sent home.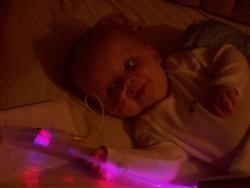 On the 24th December 2007 we took Nathan to casualty as we were now out of our heads with worry, This can't be right, we just kept on saying. We were seen by a doctor who sent us straight up to the children's ward. We told them Nathan had a fever was vomiting after feeds and that he was recently discharged from hospital with Bronchiolitis two weeks ago. Nathan had a cough and was really chesty and he was really struggling with his breathing. We were discharged with 24 hour open access.
On the 27th of December 2007 we returned to casualty, Nathan was very poorly by this point. We were sent to the children's ward again and he was diagnosed with having a right upper zone of pneumonia. He was treated with a 7 day course of IV Augmentin, then changed to oral cephalexin. A chest e-ray was taken, it showed upper lobe pneumonia. Nathan was having Gaviscon Sachet's and Ranitidine to treat for gastro – oesophageal reflux and Lactulose for constipation. He also was getting fed by an NG Tube and was having oxygen via nasal canula to help him with his breathing. Nathan was receiving physio everyday to help him move his secretions. While in hospital they noticed Nathan was really floppy, although we had mentioned this on a number of occasions. They decided to take some blood tests but we were told the test would take up to 2 weeks. Not aware of what they were testing for, we knew it wasn't good. We were discharged on the 4th January 2008, by this time Nathan was off the oxygen and he had been weaned back on to his bottles.
A week later the tests were back. That was the longest and terrifying week of our lives as all sorts of things were going through our heads. We got a telephone call from a Genetic Counsellor asking if she could come to the house to see us.
On the 15th of January 2008 our world had fallen apart. We were told Nathan had Spinal Muscular Atrophy (SMA), though unsure which type and that there was no cure. This just wasn't happening, it was like living a nightmare. The Genetic Counsellor left information about Nathan's condition, she explained they would be a lot of help and support. As soon as she left we checked out the internet and were horrified at what we found after a few clicks. We knew that he definitely had Type1 SMA and that he probably wouldn't make his first birthday.
On the 16th January 2008 we contacted The Jennifer Trust which was a great help and comfort to us. The lady told us to take our time, that we could call anytime, if only just to cry. She arranged for a support worker to visit us at home and she ordered us some sensory equipment, which Nathan loved. We covered his room in the lights and blacked out his windows so we could use them during the day. We have a lot of happy memories and photos.
Also The Jennifer Trust gave us a car seat for Nathan to suit his needs, which was donated from the Trust. This was to help us travel safely and it enabled Nathan to lay down as he couldn't sit up right as he had no head control.
This was then the start of what felt like a roller coaster. From no one helping or wanting to know, to everyday somewhere to go or someone to see.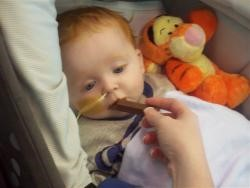 On the 20th January 2008 we took Nathan to the Children's Ward as we now had 24 hour access. Nathan was really struggling with his breathing and had nasal flaring. He was seen by an on call physio but was sent home with oral amoxicillin.
On the 28th January 2008 we once again rushed to the hospital. Nathan was having increased secretions, a chesty cough and he was off his feeds. That morning will live in our memory as one of the worst days of our lives. We were told that Nathan was nil by mouth and would not bottle feed again. However Nathan did enjoy having little tastes of his milk and he loved chocolate.
He was diagnosed with having a right upper zone pneumonia again he was treated with IV antibiotics.
On the 29th January 2008 we had our meeting with Professor Bushby in Newcastle. While there, Nathan had a turn and was struggling with secretions. Professor Bushby was very sympathetic and said not to worry and everything would be sorted on our return. When we got back to Darlington the staff at the hospital could not do enough for us, oxygen was ordered for home and all the equipment ( SATs Monitor, Suction Machine, Apnea Monitor). Nathan was given movicol for his constipation and hyoscine patches for his secretions.
They were really good but a bit of a nightmare to get a happy medium, although we wouldn't have been without them. Nathan was seen by a dietician, she put him on High Energy milk feed's through a pump over night, plus a couple of feeds throughout the day. Nathan was gaining weight nicely and stopped vomiting which was great. We had to do a DNAR form stating our Emergency Care Plan For Life Threatening Events. We were so frightened for Nathan we didn't want him to suffer in any way. By the Friday we were allowed home.
Nathan's Consultant asked for a secretion sample to be taken for a test to be done. This was to see if anything had grown and needed to be treated.
We were happy at home suctioning and the physio became second nature to us. Every morning we would have our two hour ritual of lying on the floor and tip tapping Nathan while he watched his beloved Cbeebies shows. We managed to get Nathan off the oxygen, and life was normal for a while. We visited the seaside, the sea life centre and went out a lot.
On the 14th March 2008 we received a phone call telling us the secretion samples showed he had sudomonus which was really hard to get rid of and if we started to treat him, it might make him uncomfortable. So we decided to take their advice.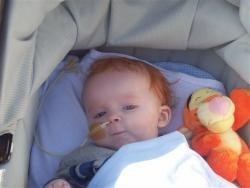 On the 16th March 2008 we decided to go away for the weekend to the seaside, but by the Sunday something was not right and we decided to rush home to Darlington driving through the night. We thought it had something to do with the sudomonus in his secretions. When we arrived at the hospital, Nathan was really poorly. They tried to give him IV antibiotics, but he was so ill that his veins had collapsed. He was put on a colistin nebuliser to be given twice a day and by the teatime he was looking noticeably better. This would also treat for sudomonus and he given Ciprofloxacin to be given twice a day as well.
The next few days were up and down, on the Thursday we decided to get things ready at home leaving Nathan with his Nanna May. We were only at home about a half hour when we got a phone call that Nathan had been resuscitated. We rushed back to hospital in total shock. All that night one of us stayed awake on watch over Nathan, but by 5am Nathan went down again needing resuscitating .
That morning the doctor came and told us that they were taking him off all medication and putting him on morphine as he probably would not see the weekend out. We were heart broken, our world was turned upside down. We told family and friends to come and say goodbye to Nathan and our local vicar came to bless him. We washed and bathed Nathan and had his prints done. Nathan was loving the attention and all weekend we waited for something to happen.
On Easter Sunday 2008 we decided to take Nathan home one last time to enjoy his sensory room and to be in familiar surroundings. He was so settled at home that we stayed and didn't return to the hospital.
Being at home we had time to reflect and thought that we had been pushed into the decisions of Good Friday. We made some calls and got the consultant to reinstate his medications. Also we requested to be shown how to resuscitate Nathan if he was to arrest again. We just wanted to know that we had done everything in our power to help him.
We also had the privilege of night care for Nathan, a nurse would come at night and care for him so we could have a bit of sleep. The consultant and outreach nurses were coming regularly and physio would call once a week. Also a nursery play nurse would call twice a week.
After a few weeks of struggling with his secretions, Nathan was put onto Glycopyrolate. This was better than the patches but he sometimes got really dry and that was a danger in itself.
We gained a further 9 weeks with Nathan. He was so adorable, we couldn't of wished for a better son. He was perfect. His big blue eyes would tell a story and his smile would melt your heart. He was amazing, "Our little angel sent from Heaven."
On the10th May 2008 Nathan's breathing had become really laboured, he had cold sweats and his secretions had dried up so he didn't require a lot of suctioning which was strange. He was on quite a lot of oxygen from 3 litres up to 15 litres. His colour was very pale, he looked so poorly. We called for the outreach nurse to come and see Nathan. She really wasn't happy with the way Nathan looked also. She told us to get in touch with a doctor to visit Nathan. The doctor arrived and listened to Nathan's chest, he said it was clear, now that was a big surprise.
Over the next 24 hours Nathan was looking worse, he required more morphine. Nathan became in a sort of trance with his eyes directed at the ceiling. His feet were freezing cold as he had no circulation. As his body started shutting down, we decided to call for the outreach nurse again
On the 11th May 2008 early that morning, the nurse told us Nathan was struggling and that he was just really tired. She said to carry on making him comfortable and they would call day or night if we needed. We just knew Nathan didn't have long left so we stayed awake all night, just watching him and holding on to his little hand.
On the morning of the 12th May 2008 the outreach nurse came, she thought Nathan was a lot worse and started to make phone calls to Nathan's consultant who said she would call at 11.30am. Also we informed Nathan's GP as she played a big part in Nathan's health. She called around straight away and also thought Nathan was struggling and looked really tired. She said she would call again later that day.
At 11.30am Nathan's consultant arrived and said Nathan didn't have long left although he was a little fighter. She thought this by the way his breathing looked. Nathan was taking a big breath in and a judder of breaths following. This was really hard to watch. The consultant asked me to give Nathan some more MST (morphine) to relax him.
At 12:50pm 12th May 2008 Nathan finally fell "asleep" after what was such a brave battle. We then with the help of the nurses washed and changed Nathan. Family came around to say their goodbyes. The local vicar came and prayed for Nathan, and Nathan's GP called to certify his death.
Nathan stayed at home for a couple of hours until the Funeral directors came to collect him. He looked so peaceful, it was like he had a smile on his face and you could even see his amazing blue eyes peeping through a little.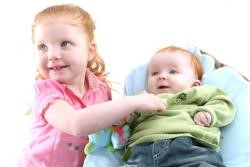 We also have a little girl called Sophie who adored her little brother and Nathan loved her too. Whenever Sophie entered the room he had this huge smile on his face and sparkling eyes. He loved her so much.
Sophie's world has been torn apart. Not only has she lost a brother but also a very special friend. Sophie continues to ask about Nathan and wants him back home. She kisses his photos and plays with his toys. We will carrying on talking about Nathan to Sophie, he was such a special baby boy. Like Sophie is our special little girl whom we love so much.
Nathan has made us all better people, brought us closer together. Nothing little seems as bad anymore. We live in memory of Nathan and will carry on to do so. He will never be forgotten and will be loved forever. What time we had together we will treasure forever. We are more than proud to call you our son and little brother. You're our shining star.
Can we just say, it is all very hard but so rewarding, if you asked us to do it again we would a million times over if that meant having our little boy back again.
All our love we send to you Nathan "our little natty lad"
Mammy, Daddy and big sister Sophie aged 3 x x x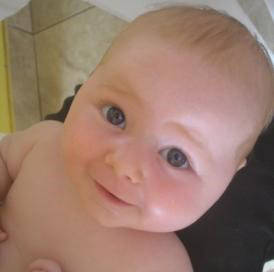 Oh Madi Sky
You shall fly
Oh Madi Sky
Love for you will never die
Through rustled trees and crashing waves
To the farthest most distant caves
I see you in all around me
In all the beauty that beholds me
Your in the mountains, sky and sea
And in all the wild animals that run free
You taught us much, in your short time
And not once did I hear you whine
I sit and think just how proud of you i am
Now you are on your cloud
Your smile, your face
Your outstanding grace
I believe you make the human race
Your smile, your face
You leave a trace on everyone you encounter
Thank you for being so pure
I only wish I could find a cure
Dedicated To Our Little Princess, Rhianna Marie Wright. Written by her Daddy, Michael David Wright, and loved ever so much by her Mummy, Rebecca Ann Wright.
May Rhianna rest in peace upon angel's arms and may they rock our little girl to sleep as we once did.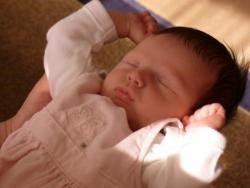 A special gift was bestowed upon us after many years of trying
We held her close and loved her more, even though she was crying
A love we never knew had washde over us, and filled us full of joy
She was so small and delicate we knew that she was not a boy
When clouds were dark and grey, and storms they approached
We could see the smile of our little girl which would make them seem remote
She would open her eyes, now and then to hold you in her gaze
Her little face would light up and her features would amaze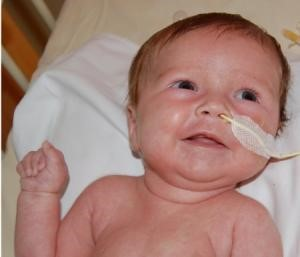 Her delicate fingers would encapsulate yours to let you know she was there
To let us know that she was not, wholly in despair
Her limbs were weak but we knew that she was alive
In all hope we had wished, that given time, she would thrive
We knew what little time we had left so we did play
And learnt to treasure every minute of every single day
I would read you your favourite books that mummy had bought
Then peaceful sleep that you had required would soon be sought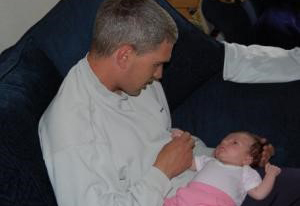 We snatched at chances of remembering you with hand prints; we thought would be a must
But there was no need as your smile and memories will always be with us
To others now your care and soul we must trust
If only I was given a chance to swap with my little girl, now that, I would find just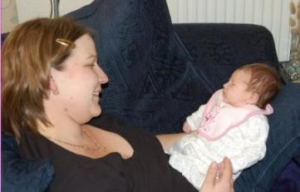 Her life was short and snatched away but we thank the Lord for every day
We were lost for words and did not know what to say, when our princess was taken away
Our little girl, born in March, on the 24th day she will always be in our hearts
We hope, beyond all hope, that this is where her journey starts
Written by her Daddy, Michael David Wright and loved ever so much by her Mummy, Rebecca Ann Wright.
May Rhianna rest in peace upon angel's arms and may they rock our little girl to sleep as we once did.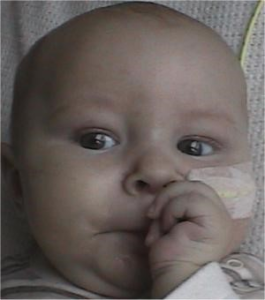 A beautiful boy, our little Jake
No more precious a gift, did our Lord make
He taught us the true meaning of joy
With the most perfect of things
Our darling little boy.
Our little angel sent from above
Gone back home, and sent with love
Happy and peaceful he will now be
From the pain, he is set free.
His smile did beam, brighter than a ray of light
Here to remind us, even on the darkest night,
Even though you're gone, you will always be here
To our hearts and our minds, you will always be near.
Our darling, our son, our little boy
So many hearts, you did fill with joy
Never forgotten, the first time kissed
Never forgotten, you will always be missed.
Jake Morley-Towner
20th March 2006 – 7th November 2006
I had a lot of problems during my pregnancy with Jake. I had a lot of back pain and SPD (Synphysis Pubis Dysfunction); most of my pregnancy I spent on crutches which wasn't easy running around after 3 other lively children and my husband working nights.
Other than that my pregnancy was normal, thinking back though Jake didn't seem to move around a lot although when he did, he liked to use my bladder as a trampoline. Jake was born 2 weeks late and I had to be induced – it was a 2-½ hour labour and he was born at 2.23pm.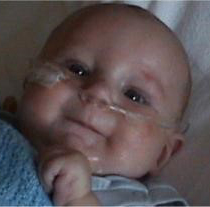 I was elated, I had thought I was having a boy and I did. For the first time out of all my pregnancies, I felt an overwhelming love for my little boy, he had a bit of a squiffy nose but he was the most beautiful thing I had ever seen (I'm biased though). I was surprised that he only weighed 7lb 1oz as my previous son had weighed 10lb 6oz. I remember vividly being on the ward after everyone had gone home, Jake lying on his chest and holding his head upright staring into my eyes, the midwife was shocked as she had never seen a baby, only hours old, do this.
All Jake's checks went well and everything was normal, I didn't even seem to get postnatal depression, I was just so happy. I tried to breast feed and managed sort of successfully for 3 weeks but it became very tiring as he wanted to be on all the time so I started him on bottles during the day and breast at night. This worked well until he was about 4 months old and didn't need to be fed at night anymore.
As we increased his bottles he started having problems feeding and wasn't gaining weight. My other 2 boys had put on a pound a week and he was gaining a matter of ounces. Some weeks his weight just maintained, I thought this was a bit unusual so I explained he kept pulling away from his bottle when he was feeding and screaming, he was hungry but couldn't feed. We came to the conclusion he had reflux and we changed his formula to SMA Staydown. Jake fed better and started to put on weight again, not much but it was better.
I had thought his physical development was a bit slow and at around 3 ½ months he hated being on his tummy and wasn't reaching out for things too well. I looked on the Internet and I was convinced it was failure to thrive due to his reflux so I asked the health visitor. She checked his weight and length, and told me there was nothing to worry about. He had started to roll over too but he still didn't like putting any weight on his legs and hold his head up.
I really started to worry when he was about 4 months old. A woman had come round to do a survey, and as I got up to answer the phone I left him lying on the sofa, the lady said, "I'll make sure he doesn't roll off", and I replied, "oh don't worry he won't, he can't roll yet". It dawned on me then that he wasn't yet rolling, he hadn't improved, in fact he had just got worse, he wasn't lifting his head as he had done when he was born, he wasn't bearing weight on his legs, if he was just behind, it wouldn't be a bit, it would be a lot. That night I lay next to him on the bed in tears. I thought maybe it was my imagination and my mind was working overtime so I again raised my hopes.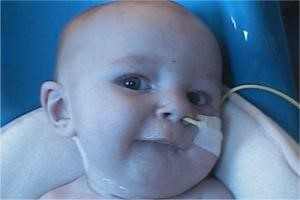 That evening I was on the phone to my mum and my mum expressed concern about his development, as did my dad; my dad wouldn't notice a bomb hitting the house so it was really unusual for him to notice and mention his concerns. I really did worry and sure enough took him to the doctor's the next day, 15th August 2006. She seemed to be really concerned about his lack of muscle tone, normally she would say it's nothing to worry about but we'll get it checked out, just to make sure. This time she was really concerned and said she would refer him to a community paediatrician to keep him out of hospital as much as possible. I was ok with that, it wasn't my imagination, she then phoned 3 times during the course of the day to let us know what she was doing, the 3rd phone call was to let us know we had an appointment the following week.
We took Jake for his appointment and the paediatrician was concerned that she couldn't seem to find his reflexes and got us to bring him in for blood tests the following day. She explained that his body could be withholding nutrients, or it could be any of the muscular dystrophies or muscular atrophies. We came in the following week and muscular dystrophy had been ruled out but spinal muscular atrophy and pompes disease hadn't yet. I came home and looked them up. I hadn't realised that it could be so serious, I read the prognosis for both was approx 2 years of age. I looked and saw they were genetic, and thought it couldn't possibly be either as we had no history, besides we had 2 healthy children together, surely we would have known by now. I tried to convince myself it was something else.
We got a phone call 2 days later, 31st August, they had the results and could we come and see them tomorrow.
We went in, saw the paediatrician and she told us he had Spinal Muscular Atrophy Type 1. It was a strange sensation of being relieved to know what was wrong with him and the shock of knowing that my baby was going to die. She explained a lot of the condition to us and told us she would arrange open access at the hospital. I told her he had a cough, she checked his chest and it sounded fine but explained he would be on low threshold antibiotics and put him on a course to start immediately. When we left I broke down, I don't think I cried so much in my life, my beautiful precious baby was going to die. Some time later, I started to think positively, he'll see Christmas and his first birthday, we can do things with him that we probably wouldn't have done, we'll make the most of the time we have with him.
I went home and read up more of the condition, I was going to be positive about this, but then only to read that 80% of babies die before their first birthday. I read through stories such as this and a lot of babies died at around 6 months, my world came crashing down again, I cried myself to what little sleep I had that night.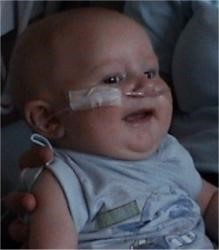 The following morning Jake's cough had got worse and he was struggling to breathe. As it was a Saturday I couldn't take him to the doctor, so I called NHS direct and explained about his condition but no-one knew about it. When I got off the phone Jake became suddenly worse, he started to go blue and floppy, so we called the ambulance. I told the paramedics about his condition and they put him on oxygen, at this point I still didn't fully understand the severity of this.
He was taken to hospital. My mum, dad, sister and eldest son were on holiday in Greece – I told them I wouldn't let them know anything until they got back and I didn't. They returned home to find Jake was in hospital. As Josh, my eldest, was starting a new school and I had to somehow tell him Jake was going to die, I thought I would leave it a couple of weeks to let him get settled in. That all backfired though when he visited Jake the day he came back and Jake was again struggling to breathe, he mentioned he was worried that Jake was going to die and I wasn't prepared to lie to him. You could hear the hurt he was feeling when he cried and this was probably the most difficult thing I had to do. The next day we got all the children together Josh (8), Anna (4) and Matthew (3) and explained to them all about Jake's condition. We told them Jake was an angel but he didn't have his wings yet, one day soon they will grow and he will have to go to heaven. I answered all their questions as honestly as possible.
I stayed every night at the hospital with Jake; the nursing staff were absolutely great. We found that we had friends that we never dreamed of and everyone rallied round to help us. I don't know how we would have coped without our friends and family, especially in the first few weeks.
Jake was in hospital for 3 weeks, during those weeks we learned physio, suctioning, oxygen control and how to read a sats monitor. Finally he was allowed to come home. Everything was fine until 3 days later, he was struggling to breathe again, the doctor just gave a courtesy call and suggested that we take him back into hospital, this time it was much worse, he was in an oxy box being pumped through 90% of oxygen plus what he was taking through his mask.
On 22nd September we were told he may not make it overnight so we got him baptised there and then, I spent most of that night staying up with him. He was very red but not hot, blue around his mouth and nose, we were convinced that his body was retaining carbon dioxide and this could be fatal but they didn't want to put him through a blood test. He survived the night, the next day he was happy and chatty so we still had his blessing on the Sunday. Paul, my husband, was convinced Jake would die on his birthday, which is 25th September – we were on tenterhooks that day but he was ok. On 24th September he had an NG tube put in to help maintain his weight and we learned how to feed him, he perked up quite well and he even came off the oxygen. We had decided to bring his Christmas forward and I really wanted for him to paddle in the sea. As we couldn't take him there, our friends brought it to us; they collected seawater and sand in a bowl. The hospital said they would allow him home again, but our other children had hand, foot and mouth disease, so I took him out for the day instead, this was really enjoyable. I took him shopping with me and tried to keep things as normal as possible.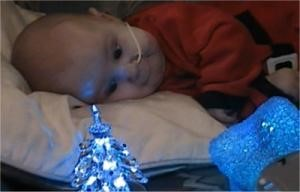 Eventually he came home on 14th October and we got him on a pump feed rather than boluses – this was so much easier. He was a pageboy at my brother's wedding and I took him out and about. We had planned to go on a holiday nearby during the half term week, but we all came down with bad colds and chest infections so we couldn't go.
Jake had his Christmas on 5th November, he had lots of light and sound toys and he got a swinging chair, he really enjoyed it.
On Monday 6th November he was really happy. He kept on smiling at me and his eyes were following me everywhere, he was in such a good mood all day. Paul put him to bed that night, as he had a cold we had to put him on just a tiny bit of oxygen to keep his sats up. I woke up at 2 am, I panicked because I couldn't hear anything and then remembered his alarm would go off if there was a problem, I checked his monitor and his sats were good, 98%. I calmed myself down and went back to sleep.
I woke up with the alarm going off at about 6.15. I leapt out of bed, Jake's sats were about 70% so I turned his oxygen up to 1.5 litres and picked him up, he was blue and clammy, I yelled for Paul who was still asleep and he got his suction unit. I suctioned and suctioned but nothing was clearing, there was constant mucus coming up. We phoned the ward to let them know we would be on our way up, and then we called an ambulance. We brought him downstairs and laid him on his side on the sofa. While I was out waiting for the ambulance, Paul yelled for me, Jake had fallen unconscious and his sats were only 4%, he was only just breathing. I picked him up and gave him mouth to mouth, he came round a bit and looked at me, we had signed a do not resuscitate form so I was going against that. His breathing was gradually slowing and as the ambulance turned up he took his last breath. Jake died in my arms. Paul, the paramedics and I decided we shouldn't do anything more as we would only have to go through it again and it wouldn't be fair on Jake. I was in a daze all day but it really hit me that night.
Jake was a really happy boy who somehow touched everyone who met him. I have always seen him as a blessing in my life and thankful I had those few short months with him. I am proud to have been his mum, and his dad feels likewise. He taught me so much in those few months and we will all miss him greatly.
Heather Tingey, Rosie's mother, writes one year after her daughter's departure.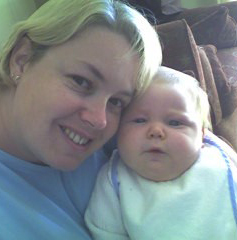 Above the moon, the stars, the sun,
There is a place thats full of fun.
Our little Rosie lives right up high,
In that magical place above the sky.
We can't wish her back to a body so weak,
She is safely now in the angels keep.
A land full of Rainbows and sparkly things,
The moonbeams dance as the angels sing.
Rosie plays while the butterflies fly,
And fairydust sprinkles from the sky.
The man in the moon smiles as she plays,
Seeing her cheeky smile everyday.
Floaty kisses we send her way,
And always will, every day.
So twinkle on our little star,
Precious Rosie always in our heart.
Garden In Heaven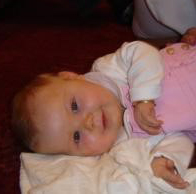 Heather wrote this poem in 2002. It was later read for Rosie's funeral in October 2005 and at the Christmas Angel Service in December 2005.
There is a garden in Heaven,
It's there you'll find angels at play,
They sing and they laugh together,
Each and every day.
They have families who love them in Heaven,
As families still love them on earth,
These angels with wings up in Heaven,
Were babies to us here at birth.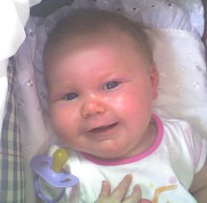 That baby will never leave you,
And will grow up in God's loving care,
She plays in the garden in Heaven,
With the other angels playing there.
If ever you hear a twinkle,
And the stars are shining so bright,
Think of that Garden in Heaven,
And the little angels playing there tonight
Evie's mother, Louise:
Sunshine Girl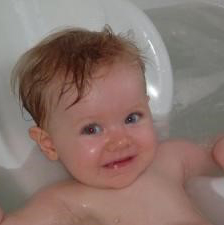 Memories of you, my sweet babe,
Fridays child, bursting into the world
On a warm May night
My sunshine girl
I see you banging your drum
Eyes wide with joy at the noise
Golden hair haloing
Your smiling face
I hear your sing-song voice
Sounding your words
Your throaty giggle
And your gentle cry in the night
I stroke your velvet skin
And kiss your warm neck
As you curl up beside me to sleep
Gentle girl
So loved
Held safe in my heart.
---
Evie's Aunt Maria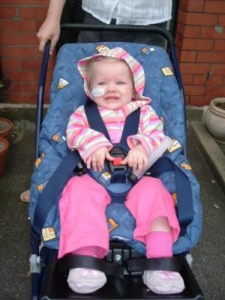 Evie
We'll all miss little Evie,
Who came to stay awhile,
We loved the very bones of her,
Those eyes, that skin, her smile
Evie Lived a cherished life,
With Mum and Dad and Tom,
They did their very best for her,
Of course we're hurt, she's gone.
Our little girl so wonderful
She lit up every day,
With so much joy and happiness
She made us want to play
Incy wincy spider climbed up the spout,
Down came the rain,
And washed poor Incy out
Round and round the garden, like a Teddy Bear
All the fun and laughter
We had the chance to share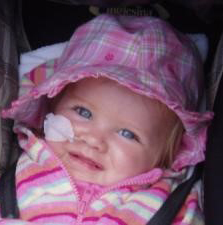 Our Evie was so beautiful
A lovely little flower
Who bloomed for such a short time
More precious by the hour
We're sending Evie all our love
And though we are all in pain,
Our sweet babe's safe, within our hearts
And there she will remain
A poem for Rishi, written by Priti Peshawaria, Rishi's mother, for the first anniversary of Rishi's passing.
A year ago today, I saw my baby's eyes.
They were filled with so much pain, and yet he did not cry.
Instead he looked at me and smiled,
As I sang to him and stroked his head and held him for a while.
A year ago today, as I held him in my arms,
I wanted to protect him, and keep him safe from harm.
Instead deep down I knew that the time for him had come,
And that in a moment what now is, would forever be gone.
A year ago today, my heart broke to never mend,
What was meant to be the beginning, had now become the end.
Instead of seeing the future, and of what your life would be,
I saw a future that hurt so much, that I couldn't bear to see.
A year ago today, I saw my baby's eyes.
It was the last time that I saw them, and then he said goodbye.
Rishi Viraj Peshawaria, 7th December 2003 – 10th May 2004
A dream come true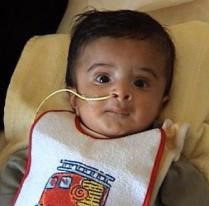 When a child is born the first thing that the parents check for is that their new arrival has all his or her fingers and toes. We were no different. Rishi was the result of our first attempt at IVF and having found out that I was pregnant shortly after Mother's day I was convinced it was a sign from God.
I had a fantastic pregnancy, no morning sickness, no aches and pains and I was eating for an army and all the scans showed a healthy developing baby.
Rishi arrived on 7th December 2003 one week before his due date weighing a healthy 7lb 8oz. The labour was comparatively short. Rishi was distressed throughout the labour but the nurses were confident that a natural birth could be achieved. After ten hours of labour Rishi's heart rate dropped and it was decided that an emergency caesarean would have to be done. Although I was extremely frightened the whole event seemed so surreal. I couldn't believe that we were finally going to hold the baby that we so wished for, after waiting so many years.
A week after Rishi was born the mid-wife visited for a routine check-up. That was when the snowball effect first began. She felt that Rishi's head looked much bigger than the rest of his body. We were rushed to our GP who, after careful examination, thought he looked fine. All babies have big heads! Two weeks later the same mid-wife told us that Rishi's breathing was too fast. We were sent to hospital and kept in overnight. Subsequently, Rishi under went a multitude of tests and we were given various diagnoses. For all the symptoms that Rishi had, the Internet showed up at least five or six possibilities for a diagnosis but SMA was not one of those.
We were sent to Great Ormond Street Hospital for an EMG and two weeks later, on April 1st we had an appointment at our local hospital. What a day a day to find out that your son has a disease which would kill him in less than a year.
Our Gift From God
Hindus believe that children up until the age of five are embodiments of God as they are sinless and their souls are pure. We truly believe that Rishi was a divine soul. His face was always filled with meaningful expressions and he was the easiest baby to look after. He was so gentle. At bedtime, he hated to be rocked or cuddled, instead preferring to be left alone in his moses basket with his musical lullaby.
When he woke up in the morning, if Raj or myself were not awake, he would lay there staring around the room until we got up. When we would go to pick him up, a huge grin would appear and he would get really excited. He loved new faces and loved babbling to new people, his eyes following anyone around a room. Even now people see his photograph and comment on his beautiful eyes.
Play and Activity
When I read other SMA Type 1 stories parents wrote about how they took their babies away for countryside weekends, I felt guilty because almost everyday for the first three months I was taking Rishi to Cranial Sacral Therapy and Chiropractic. After the diagnosis was made, we pretty much stayed at home as even a short trip in his pram increased Rishi's secretions so much that I had to rush home. At home we found that Rishi loved:
Watching Bollywood movies and music videos – These always have bright-saturated colours and colourful costumes.
His play gym – we bought a colourful play-gym in the shape of a big ladybird. He loved lying underneath it and watching the colourful toys hanging, but if the TV came on his eyes would bolt in that direction.
Dancing – Often I would turn up the music, cradle Rishi and dance around the room. He loved it…the spinning and turning, the rocking. He even enjoyed it when we lay him across our laps his head on our knees and his feet propped on our stomachs. Then we would hold his hands or feet and make them dance to the music.
His Christmas tree – As Rishi was born on 7th December we bought our first Christmas tree. In April the tree was bought down from the attic as it is a fibre optic tree and the lights change colour.
People – Rishi loved exploring new faces with his eyes. When visitors came he would stare at them intently, but after a while he wanted his mummy and that made me feel so special.
Moo Moo and Gee Gee – Rishi's favourite cuddly toys; a black and white cow and a yellow giraffe. He loved being kissed all over his face by them.
Helium balloons – Rishi loved to stare endlessly at the balloons.
Surprisingly Rishi hated bath times!
Don't feel guilty if you cannot take your baby away on holidays or to other memorable outings. As Marie, another SMA Type 1 mother told me, not all babies enjoy going out. They are more comfortable in their own surroundings.
Care
Suction & Secretions
Rishi's main problem was the care of his secretions. We found the catheter yankers much easier to use than the plastic paediatric ones, as they were easier to put in Rishi's mouth and less invasive.
We purchased lots of facial flannels for those secretions that drained naturally. They were a Godsend. The plastic "backing" bibs were also very useful to prevent Rishi's clothes from getting wet.
Raj would place Rishi over his knees, faced down to help him breath and drain his secretions. He always seemed so content in this position and as soon as Raj placed him back on his back Rishi would manage a big smile.
Placement
In Rishi's crib, we placed rolled up towels under his head and knees to provide elevation; we regularly changed Rishi's sleeping positions. I have a feather pillow that Rishi loved to lie on as it shaped to the contours of his body and provided him with relief after lying in one position for a long time. I found that he slept better; one reason may have been because it smelt of me and babies can recognise their mother's scent.
My mother-in-law made Rishi a small mattress and pillow which we took everywhere with us so that Rishi would be comfortable.
The Future
As devout Hindus we firmly believe in re-incarnation and feel that Rishi will be sent to us once again, but this time healthier and happier. We also believe that Rishi was a divine soul and that he was sent to us for a reason.
Having struggled so hard to become parents we are determined not to let Rishi's passing go in vain. With God's blessings we will become parents again and with the help of our friends and family we hope to raise funds to find a cure for SMA.
We would like to thank all our friends and family and JTSMA for their support.
Funeral Speeches
We hope that you find these beneficial or inspirational.
From Mummy and Daddy
We would just like to say that when you go home today do not think of us as a family who have lost their son, grand-son, nephew – brother…Think of us as a family who were given the unique opportunity to look after one of God's little angels. We feel so fortunate that God chose us and entrusted us with such a beautiful soul.
As a family we learnt so much from Rishi. We learnt to be grateful for every day that we have and not to take each other for granted we learnt that it's not about how long you live but the number of hearts you touch in that time, but most of all we learnt that even through pain we should smile, just as Rishi did. If someone so small can be so brave and so resilient, anyone can. Rishi may only have been a small baby, but his personality was larger than life. Every child is unique and special, Rishi, was no different.
Throughout Rishi's illness he always managed to smile, especially while watching Bollywood music videos. Even after vomiting he managed a big grin. At hospital appointments, yes he cried because of the various tests he had to undergo, but as soon as they were over, he would look at us and smile. We always felt like he understood everything and he always had a sense of peace around him.
Whenever Rishi saw his Dad, his face lit up as his sparkling eyes followed Raj around the room. Despite not being able to speak, his eyes said a 1000 words and when Rishi looked at me, there was always a look of unconditional love and understanding. I was the one he wanted for comfort.
When Rishi started gurgling, he was always the centre of attention. Everyone commented on his beautiful facial expressions and Rishi loved seeing new faces, he touched the hearts of so many people with his glowing smile and his magnetic charm. People of every religion said good wishes and prayers for Rishi globally.
Rishi… Mummy and Daddy would like to say please forgive us if in anyway we caused you any pain. We are going to miss you so immensely. In the short time that you graced us with your presence you changed our lives forever and we will be eternally grateful to you. Life will never be the same without you but we know you are no longer suffering. No child should have to endure this kind of pain. Rishi, rest assured that we will do all we can to help find a cure for this illness Your passing to heaven will not be in vain.
Your memory will live forever in our hearts.
For those who do not know Rishi he was diagnosed with Spinal Muscular Atrophy a month ago. This is a genetic disease and at present there is no cure. It receives no support from government funding or the national lottery so in order to find a cure we need your help. 'The Rishi Peshawaria Angel Fund' has been set up in order to find a cure for SMA. All proceeds raised today will go towards the research and hopefully one day a cure for SMA will be found. We weren't the first parents to lose a child to SMA; it would be wonderful if we could be the last.
Throughout the week before Rishi's passing his angel monitor kept going off. The monitor registers a baby's movement and if there is no movement after 20secs an alarm is activated. It has never malfunctioned but in the last week the alarm sounded 3 times, with Rishi alive and well inside his crib. Was this a sign from Rishi? We believe it was his way of warning us to stay alert…
On Sunday night his condition became much worse. I instinctively began to sing the gayatri mantra (A Hindu prayer) to Rishi. On previous occasions when Rishi had been in pain we had always pleaded with God to take Rishi. On Sunday I told Rishi to go. I told him to take God's hands and not to be afraid. I told him that mummy and daddy would always love him but that his work here was done and that now God would take care of him…. and – like the good little child he was …he listened and went. He actually waited for both of us to fall asleep before he did himself…forever.
The whole family would like to thank you all for coming today to say goodbye to our little angel.
Rishi wherever you are …God bless you.
Funeral speech by Rishi's uncle
If there were only one colour, let us say purple, and the entire world and everything in it was purple, then there would be no purple. There needs to be something that is not purple so that purple can be recognized otherwise it would not "stand out", it would not exist.
From the moment Rishi was born he stood out. In the short time he was with us he taught us some very important life lessons. He taught us:
Courage. Even though he had a tremendous disadvantage from day one, he never once complained and smiled through it all.
Persistence. He took it one day at a time. There was no past, no future, just the present.
Family bond. There is no bond or love stronger than that of a family.
Time. The only valuable thing we all have is time. Do not squander it; instead spend it with the people that are important to us, people we love.
It's OK to be different. Do not be frightened to be different.
A candle loses nothing by lighting another candle. Rishi not only lit all of our candles, but also set them ablaze!
As a grandparent, parent, uncle, aunt, cousin, and friend, we say thank you Rishi. We love you, God Bless.
Matthew John Chad
17th June 2004 – 22nd September 2004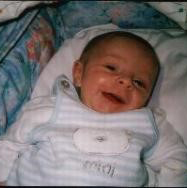 Matthew was a most wanted, precious, beautiful baby with lovely big blue eyes. In fact I'm sure he must have thought his name was 'gorgeous', the amount of times I called him that. He was born on his due date and the birth was normal. He was very tired for the first few days, the nurses said he was a lazy little boy. I tried to breast feed but to no avail, so we started on the bottle, he loved this and started to drink for England. While in hospital, Matthew had a couple of tests, one for the amount of glucose in his blood and one for jaundice, both of these results were normal so at long last we could go home with our healthy little chap.
Matthew was an absolute joy, he wasn't screaming 24 hours a day, took all his feed, he was so easy, well easier than I imagined a baby would be. We took him around so many people just to show him off, I can honestly say it was the happiest I have ever been. Matthew enjoyed himself too, he was so alert and loved seeing all these different people. Time went on and we were on cloud nine with our new arrival. He was such a clever little boy and even said hello at 7 weeks, he used to repeat it when you said it to him, and thank goodness we have it on tape, otherwise you would never believe it.
I started to have concerns when I thought that Matthew wasn't moving his legs as much as I thought he would be. He was about 5-6 weeks old when I asked a health visitor about this and she just said that in time he would do. The next problem we had was Matthew's right hand. My mother-in-law mentioned that it was contorted, I hadn't noticed and was surprised how I hadn't. At this time, I was absolutely passed myself with worry, thinking that maybe Matthew had cerebral palsy or something like that. Matthew would be nearly 8 weeks old now, so I decided to wait until his 8 week test at the doctors surgery. At the appointment, I was dreading what I was going to be told. Matthew was examined and he passed all the tests except for the tone of his muscles. The doctor thought that the problem would solve itself and that it was probably caused by Matthew being small at birth, he only weighed 5 lb and 14.5 ozs. The doctor said he would arrange an appointment with a paediatrician just to make sure everything was fine, but he was sure it was. I asked about Matthew's hand and the doctor didn't seem to be too bothered by that, he didn't think it was cerebral palsy because there weren't any other symptoms. I was crying at this point and so relieved that everything was going to be fine. Matthew's feeding at the time wasn't brilliant but the doctor said babies can be like that, so not to worry.
One week later I went back to the doctors surgery, a bump had appeared on the back of Matthew's head and seemed to be getting bigger daily. I wondered if this had anything to do with his feeding which was still not as good as it used to be. The doctor examined him again and said it was perfectly normal, that we all have them. I asked about whether physiotherapy would help Matthew's hand and the doctor said that it would but that he didn't think Matthew would need it because he would simply grow out of it and it would mend itself. The doctor said that Matthew in his opinion, would grow up to be a perfectly healthy little boy. When the doctor said this, I was overjoyed, I can't express the relief I felt, all my worries had gone, everything was perfect again. Days passed and I remember looking at Matthew's hand and noticing that it had started to straighten out, the doctor was right, he would mend it himself. Matthew was also getting more movement in his legs, each day we would put our fingers under his knees and let him kick, it was wonderful to see. The only place where there was still some worry however, was his head. Matthew could move it from left to right but he had trouble lifting it.
I visited the doctor's surgery again two weeks later to have Matthew weighed, I was shocked to hear he had not put on much weight.The health visitor there heard Matthew cry and said that Matthew had a weak cry, I never thought of Matthew's cry being weak, neither me nor any of the family. The health visitor went to fetch the doctor, it was It was the same doctor and he was not happy with Matthew's body tone and asked if an appointment had been arranged to see the paediatrician. I said no, so he said he would get in touch with them again so that we could have an urgent appointment. I left the surgery with that awful feeling of dread that I'd had two weeks before, but I just thought, well at last we would see someone who knew all about children and they would be able to sort out any problems Matthew had. Even if it meant travelling backwards and forwards to Newcastle for treatment, so what, at least we'd get Matthew sorted. The next day while I was at home, my husband John phoned me from work to say that the doctor had phoned him, and that we had an appointment at Darlington hospital for 12.30pm that day. I phoned my Mam and asked if she would go with me, I felt I needed support.
My Mam and Dad picked us up and took us to the hospital. Matthew was still as alert as ever, always looking around and smiling. When we got there Matthew was thoroughly examined and weighed, he had actually lost weight. I was asked questions about my age, whether in the last stages of pregnancy, did Matthew move any less (it was my first full time pregnancy so I had nothing to compare it with, all I remember was that he did move every day otherwise I would have got it checked out), about his birth, (which was normal) and whether there were any problems with muscles or bones in either of our families, (no previous history in either). I was a total bag of nerves, not knowing what they were going to say. We seemed to be there for hours. A consultant then came to look at Matthew, although his examination wasn't as thorough, he looked inside Matthew's mouth and mentioned something about Matthew's tongue to his colleagues. He said he would need to make a telephone call to other colleagues in Newcastle to confirm what he thought Matthew had. The consultant came back and said that Matthew was seriously ill but he would want to talk to both me and my husband at the same time. I couldn't believe what I was hearing, I telephoned John and told him to come straightaway, at this point he had already finished work and was at home.
When John appeared my Mam went home so that the doctor could speak to us. This was the point when our whole world fell apart. He said that Matthew was seriously ill, that he had Spinal Muscular Atrophy and there was no cure. John and I looked at each other in disbelief, we asked how long did Matthew have, and the doctor replied weeks or months. We hugged each other as we burst into tears, this wasn't happening, it was all a nightmare. At this point Matthew went very pale, and the next thing we knew they were putting an oxygen mask on him, I thought we were going to lose him then. We hadn't had him christened yet and I needed for him to be christened before anything happened to him. There was a chaplain in the church who said he would christen Matthew that night as the doctors had stabilized Matthew. I can't really explain how we felt, it was total shock that we were going to lose someone who had changed our lives so much, someone who we should have been allowed to raise and watch grow. Things didn't feel real, how could this happen to us, why, when we would have brought Matthew up to be a wonderful human being, our love for him was just so great and there was nothing we could do. We were totally powerless.
I telephoned my Mam and told her what the doctors had said and she just couldn't believe it. We only took Matthew there to get checked over, not to be told something as awful as this. My Mam telephoned all relatives to tell them of the christening that night. I held Matthew close to me, never wanting to leave him, he was just a baby and had no idea what was happening thankfully. Between that time and the christening a blood sample was taken, (this would confirm the consultants diagnosis, but as he said, if he hadn't been sure he wouldn't have told us, he had seen two cases of SMA before in his 20 years of experience), a needle was placed in Matthew's right hand in case a drip was needed in the future. I just didn't want anything hurting him but knew it had to be done.
The next few hours seemed to be a bit of a blur waiting for the christening, Matthew just seemed to enjoy all the attention. Everybody appeared and we went in the next room, Matthew was already connected to the oxygen and had had a nasal gastric tube fitted. I just remember looking around at all our nearest and dearest, tears in my eyes and theirs in total disbelief. Matthew was as good as gold. We took pictures, and I was pleased we'd managed to get him christened, although it wasn't at the church where I would have wanted it to be. We stayed for a total of 6 days in hospital with various people coming to introduce themselves. These would be our support once we got home, there were just so many, half I couldn't remember when they saw us the second time. Everybody was so helpful but there was too much to take in.
Matthew was held constantly, he was so brave, still smiling away. There was a period of time where he didn't need the oxygen, but this only lasted about three hours, after this it was a case that he needed it all the time. Although we were told that we would have the blood test results on the Tuesday which would have been day six, (my birthday), we ended up having the results just two days after our admittance, which was very quick. We knew what the results would be, but it still hurt so much to hear the confirmation, there was just no hope. We managed to learn how to feed Matthew ourselves through the tube and get into some sort of routine, we just wanted to be home. The needle was removed from Matthew's hand so that was better.
Day four in hospital gave us some hope, although very little. In the Sunday newspaper my brother read an article of a baby girl who had SMA Type 1, and they were trying to raise £20,000 for treatment that was available in America, the child had a good chance of living until a teenager, if they were able to take the drug. Of course when we heard this we thought that it would be the route to take, after all, we would do anything to save Matthew. The next day we showed the article to the doctors and they read it but mentioned to us what quality of life would Matthew have, were we going to change our minds about not resuscitating Matthew? (We were determined not to put Matthew through any unnecessary pain for the sake of living longer, for something he couldn't overcome). We were told by the doctors that if we put Matthew on a ventilator, they would never get him off it! All we could think of was that if this drug had a chance of saving him, then we should give it a shot (providing that Matthew would benefit from it). Also on this day we had a visit from our local vicar, he brought words of comfort and blessed Matthew. He was surprised on how alert Matthew was, if it wasn't for the tubes, Matthew looked as if there wasn't anything wrong with him.
Day six soon arrived and we were ready to go home, thankfully. The next day the hospital had arranged for us to go to Newcastle to see a professor about Matthew. We went by ambulance and the professor was one of the most sympathetic people I have seen. She explained all about the latest research in America but said that it would be no good for Matthew, as for a start it would be unlikely he would survive the flight, and even if he did, the drugs were just on trial and by no means a cure. She said it would be better to enjoy the valuable time we had left with Matthew. We were back to square one again – no hope.
All we could do now was try and do as many things as possible with Matthew, I wanted him to experience so much. We were told about the Butterwick Hospice and a visit was arranged. I can't recommend a hospice enough, they had a sensory room there which Matthew enjoyed and he even managed to go for a swim on his second visit.
We bought helium balloons for when we were at home, and fastened them to his pram as he loved watching them. We fastened some to his hands and he managed to move them, or we'd pull them down to him and let them go – his eyes followed them everywhere. At night at home, we would have our own sensory room – we'd turn off all the lights and then plug in the colourful tube where Matthew could see bubbles and fish. We'd also play with a Winnie the Pooh toy which had music and images that would show up on the ceiling. Matthew really seemed to enjoy this.
Each night whilst bathing him we'd give him some physiotherapy, so his joints wouldn't stiffen. Whenever we fed him, he watched as we filled up the syringe for the tube, he was taking it all in. We would always try though with the bottle first just so it wetted inside his mouth – we were told that sometimes the oxygen made them dry.
The day before he died he was so bright eyed and you could tell he was enjoying himself although he didn't smile. The last couple of days he had lost his smile which hurt so much, for he was always smiling beforehand. We went to a sensory room we had in our home town a couple of times. We managed to get to the seaside.
Matthew only lived for two weeks from the day he was diagnosed. He went so quickly which was very painful for us but not to him. We were fortunate not to have to use suction machines on him. We managed to get out and about with the oxygen tank, and that last week at home (as well as in hospital), Matthew saw so many faces. Family were so supportive, to which we'll be eternally grateful. You are given so many choices when you have a terminally ill baby, sometimes you wish the choices were made for you. When the time came for Matthew, we could have stayed at home, gone to hospital, or gone to the hospice. It was such a frightening time, at no time did I want him to suffer (as any parent).
Two days before he died we had a frightening experience, Matthew was very clammy and sleepy and seemed to be making strange noises. I was very worried so stayed up with Matthew in my arms, I didn't want him to be alone. It was in the early hours of the morning and we decided to go to hospital, if there was any chance of Matthew being in pain then I wanted them to give him something to ease it. When we got to the hospital he was checked over, he had stopped making the noises. They told us that he was in the later stages, that there was nothing they could do. They were sure that he wasn't in any pain, but did offer morphine if we wanted it. We knew morphine would probably cause his breathing to be more shallow, and we were reassured that he was not in any pain so decided against it.
Although it was very late when we got home we still decided to go to the hospice thankfully, for that was the day that he was very bright eyed and went swimming with John in the pool, and also went to the sensory room. It is one of the memories that will comfort me I'm sure in time. On the 22nd September 2004 we went to the hospice again, Matthew looked a little pale. When we got there we used a biox-oximeter to check on Matthew's oxygen saturation levels. They weren't as they should have been. I started to panic, the staff there said that they would put up the oxygen level and check Matthew again, half an hour later they checked again and it was still low, Matthew was very sleepy. They advised for us to go to hospital just to get him checked.
We went back to Darlington, it took about half an hour, I felt that something was going to happen, and when we got to the ward I took Matthew out of his pram and held him. The doctors checked him again and the readings were even lower, he seemed to take two breaths, and he was gone. A doctor who was most kind with his words checked his heart and Matthew had left us, he was just so peaceful, he looked like he was just asleep, there was no pain in his face. We told relatives and waited for them to arrive, it was now that we decided to go to the hospice, I didn't want to go home for some reason. All the family came with us, we changed Matthew into some clean clothes, and we arranged for our local vicar to come and bless Matthew. Then our relatives left. It got to midnight and something told me to go home, I wanted him to be surrounded by his balloons again. We decided to wait until morning. I held Matthew until about 1 am, then put him back in his pram, that was to be the last time I held him. We returned home and fastened all the balloons to the pram, it seemed so right to be there, the undertakers collected Matthew later that day.
Matthew was so loved by everyone, such a special baby. I want Matthew's story to be read, and something learnt from it by everyone. It's important to me that some good comes of his life, not just to people who were close to him, but to strangers as well. Although it has been so difficult to write this, and it has taken numerous attempts, I felt that it should be written to warn other parents on how quickly their child's life can go. I have read so many people's stories and their children have lived for quite a long time after diagnosis (in comparison). It is so important to cherish every day you have, and try to make the best of it for your child, they're oblivious to what is happening to them, so you must try, although it is very hard.
I'm so grateful for those last memories of Matthew for I know we did the best we could for him. All we can hope for now is more awareness of SMA, this in turn will lead to funds being raised, and this in turn will lead to a cure, so that other families don't have to go through such a devastating time.
God bless Matthew, who touched so many lives in such a short time.
—–
2006 is now here and I want Matthew's story to bring hope to people. Matthew now has a brother who we named Andrew, and he was born on 13.9.05 the day before my own birthday, and a lovely birthday present he made. It's been a very difficult time and I often wonder how we've got to where we are, and we've had to make decisions, decisions, which I would never have believed we would have to face, thankfully they were the right decisions. When we lost Matthew, he was not only our child but our family as well. It seemed so hard and unfair to think that we wouldn't be able to have a family due to SMA.
Three months after losing Matthew we decided to try for another baby. I was already 37 and time wasn't on my side. I was fortunate to fall pregnant straightaway. I was given the CVS test at 11 weeks. We had the results of the test within a few days. The wait was terrible, but when we had the results, the relief I felt was indescribable, I just crumbled in a heap. Andrew is now here and in time he will know and learn all about his brother and how much good he has done.
We've kept focused on trying to continue to do good work in Matthew's memory. We've raised thousands of pounds, done collections, planted a memorial tree and most recently had a plaque put on a bench in our local park. I've tried to get the press involved so that more awareness is made of SMA, I am determined to continue to do all I can, to help in the work of The Jennifer Trust. Matthew is so missed and always will be. I still shake my head in disbelief, and it would have been so easy to sink without trace, believe me, but then that would have been another negative, and it's so important to have positives, this I strive to do. We've had a lot of support, family, friends, The Jennifer Trust and the Butterwick Hospice, we still go there for counselling every 5-6 weeks. You need to grab and hold onto as much support as you can when you lose a child, for it is the worst thing that can happen to you. I hope Matthew's story has given hope.
God bless Matthew, who will continue to touch many lives.
—–
February 2011.
Our quest in giving Andrew a sibling has finally been realised in the form of Nathan Robert born 8th February 2011, my own father's birthday, itself a sign I'm sure. A sign of the miracle we have been blessed with. We wanted to share our joy to give hope, this hope is lost when losing a child to Spinal Muscular Atrophy. Who knows what the future holds, the future seems a scary place with no guarantees, but to try is the main thing, try, have trust and hope.
We continue to raise funds and awareness in Matthew's memory. In fact this year Matthew is fronting a campaign for the Butterwick House Children's hospice in Stockton in raising £25,000 in order to employ another specialist nurse. Matthew's legacy is to help others, whether it be families connected to The Jennifer Trust or the Butterwick House Children's hospice. We are so proud of Matthew and the good that he does.
God bless Matthew, who will always continue to touch many lives.
Tribute By Lilias, From Lilias, Max And Saskia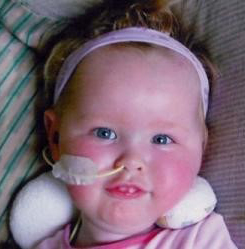 I listened to a tape recording of Helena the other night. She had made it herself having learnt to press record on her computer, then speak into a microphone, then doing click to play back. I listened out for her voice singing. Instead I heard take after take of Helena recording herself, deliberately gargling! It was achingly funny.
During our desperate sadness over the last few weeks, I have found myself laughing on many occasions, as our memories come back, and as people have brought back their own memories of Helena. Someone said that she made their stomach hurt from laughing. She had such a funny way, and lovely outlook on life.
Heli's take on disability was astonishing. She knew she was different, but in her view, I do not believe she saw herself as diasabled. "Its not working" or "its stuck" was how she described things, very matter of fact. Recently when telling us she wanted to go to school, Saskia told her that she wouldn't be able to as she couldn't walk. This led to an astonished "mama, I can't walk!". What do you say to that, except – well of course you can't – but lots of people can't. When reminded of others who were in wheelchairs, she was perfectly reassured. We all know of course there was more than not being able to walk.
Her disabilities didn't preclude her from enjoying life to the full. One of my most remarkable and uplifting memories was from some time last year. We were trying to take Heli on a trip to the seaside. It ended up being a long journey, and probably as a result of immobility in the car, Heli had one of her horrible choking "do's". It was extremely frightening for all of us. We could have lost her then. Eventually we managed to sort out the problem and she recovered. Although we were by now only a few miles from the beach, my nerves so shattered, I just wanted to get home. Max thought we should continue as we were so nearly there, so we did. Heli loved it there on the open sands. We flew a kite, which she held in her hand. She was helped to build sandcastles, and we bought a little windmill. At the end of the day, she told us how lovely the day was, and how she had enjoyed flying the kite. There was never any mention of the ghastly, nearly life-ending do, either then, or ever. That was the way she was. She enjoyed life, and savoured the good parts.
Neither did her disability stop her from loving the company of other children. She enjoyed to watch them at play, even though she must have known she could not participate in the same way. She would get most annoyed if she couldnt see Saskia and friends running around.. "In way!" she would bark, "want to watch".
Heli also had a strong sense of what she was able to do, and of achievement. One of her favourite childrens TV programmes she would watch on awakening was "Smarteenies". Four artists demonstrating very simple craft activities for toddlers. Heli would watch and sometimes some idea would catch her fancy. "I can do that" she'd say. If I maybe looked surprised, wondering how it would be possible for her to do it – she'd tell me "hand-in-sling", "mama help"! There would be the things she managed to do – it might be to lift a light toy a tiny distance – but she would then say triumphantly "I did it!". Achievement over-rode frustration.
Games would be played Heli style. "Hiding" games a few months ago consisted of Heli counting to 10, saying "ready or not", then closing her eyes… We would then have to find her, even though she was lying beside us!. Then there would be: "Heli where are you? .. are you inside? "no" …outside? "no" ….in the wardrobe?…..in the fishtank?… in a helicopter?….increasingly mad suggestions, eventually back to … are you sitting next to me in the car?.. "YES!" (Eyes open!) Again and again. Later she and Saskia would want to play hide and seek together. Both trying to do the hiding at the same time! Later, Saskia would drag Heli's great big chair round the downstairs part of our house, leaving poor Heli behind curtains, then come in to tell us "Heli's hiding". Heli never got the hang of hiding – always shouting out with delight, "I'm here" "I'm here" when we pretended not to be able to see the all too obvious chair bulging through the curtains!
She was very good at reading people, sussing out their skills. If there was a computer problem, she would ignore me if I was there and shout "AXE" knowing that Max was the computer expert in our house! She would play to the skills of her various nurses, as they know only too well! She would wind Saskia up – choosing exactly when to disagree with her for maximum effect. I will miss the daily disagreements between Helena and Saskia about TV and video viewing. She would always disagree with Saskia, make Saskia thoroughly cross, then finally give in to Saskia's choice, once she had achieved maximum desired effect!
She was a real girly girl. She loved to look pretty, and adored her pretty dresses. What a to-do getting her dressed in the morning as she dithered what to wear. I think she sensed she was the 'bees knees' at Karin and Ian's wedding when she was a flower girl. How proud she was that day. And so were we.
Despite her disease weakening her muscles, including those of her face, all those who knew Heli would know that her face had a thousand looks. She enjoyed pulling ridiculous faces "frowning", "blinking" as well as smiling. Sometimes all 3 together! Her eyebrows could move faster than anyone's in the universe! Then she learnt to do "boss eyes". She particularly turned these on to cause as much dramatic effect to her neurologist Chris. Every time he looked at her, on would go the "boss eyes"! But her eyes were the best, because they could radiate so much joy.
She loved music. Many of you saw her dancing her eyebrows, rocking her head to music, tapping out rhythms with one finger. She enjoyed singing at the piano. She was beginning to play music on the computer. On my birthday, the day before she got really ill, she sang me happy birthday, accompanied by random playing of notes in time, with "I did it" at the end. You will hear some of her favourite music today. She adored Hoya Hoya or "track 9" as she called it and played it repeatedly once she had discovered how to save it into the computer – something we never mastered how to do. One time she said "look at this mama" and she had track 9 playing on the computer with the swirly patterns of the multimedia. She had managed to catch hold of the side of the window on the screen, and was pulling the pretty pictures in and out in time to the music.
She loved too, to be danced to music. A recent very warm memory was of her grandmother holding Heli in her arms for a dance at Karin and Ian's wedding. Heli was relaxed and happy, and at the end said "I did it", I think truly believing that she was properly dancing.
She was very bright, and loved letters and numbers from an early age. She was probably Richard Whitely's youngest fan! She loved to shout out the letters with Carol Vorderman on Countdown!.
The computer liberated her huge intelligence, and her voracious appetite to learn. What she was able to do on the computer was quite astonishing. We would find her clicking on all sorts of icons and windows that we never had seen, finding her scrolling down the words of the help files, then rotating the words round at 90 degrees, with a "look at this mama". Often she would have several "windows" open at once, clicking between one and another. You would think she was doing one thing, but in the time of a blink, something completely different would be on the screen. She would get through new games "like a woman possessed"(to quote Sue Burkin), not stopping until she had tried all the different games. How proud she was at the end of hours of work to complete her brand new Bob the Builder Game – all in one day! She was so pleased to print out her achievement poster. Often when playing on the computer there would be a running self congratulatory commentary of "that's right Hays" .(the name she called herself). The computer allowed her to tease others – "does it go this way Askia?" to Saskia – knowing full well it was wrong!
I am sure that the computer allowed her to grow in confidence, as adults and children saw in interest and awe some of the things she could do. Thank goodness she never got onto the internet – I dread to think what she would have got up to!
She loved new experiences. Smelling new smells …the bizarre experience of buying fresh fish and chips on The Isle of Arran, I was unable to eat it quickly as, with every mouthful, Heli was saying "want to sniff it" then "mmm, thats really nice"…… Being out of doors, interesting walks, seeing animals at zoos, feeding her fish and animals in children's farms… so many things..
She was happy and loving. We were told on a number of occasions "I love ama, axe, askia and all my family". For all the little arguments, she had a very special relationship with Saskia. They would want to see each other at the beginning and the end of every day. Saskia treated her in a special way, different from the rough and tumble with other children. Very gentle. They loved each other very much.
Having looked through her little nursing and daily diaries that we kept over the last 3 years, a word keeps springing from the pages. "Happy".
As my cousin wrote: "she was so bright and so tough, it was abundantly apparent that had it not been as it was, hers would have been a life which it would have been fascinating to watch develop and unfold"
She has left us many legacies. One of the most profound is the pleasure she has brought to others. For us she leaves an enormous hole, which gives us great sadness, but also great joy in remembering what she brought.
---
A Tribute By John Barnard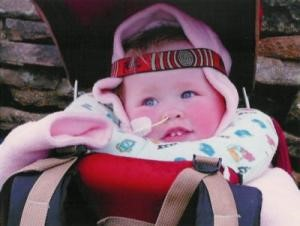 The outdoors, mountains and wild places have always been important to Max and Lilias, and during Helena's short life they passed this love of the open air on to her. One of Heli's favourite activities was going for what they called, "rucksack walks", and over the last three years or so I was lucky enough to be able to join them on some of these excursions, usually somewhere in the Peak District. Usually Max would carry Heli in a papoose rucksack on his back, I might carry Saskia, and Lilias would bring along all the various bits of medical paraphernalia needed for Heli.
In the first year or two of her life, Heli got to lots of interesting and enterprising places. She ticked two Munros – three-thousand-foot mountains in Scotland – and reached the tops of mountains in Wales and the Lake District. She even got to the tops of a couple of small peaks in the French Alps, and on one occasion descended a hundred metres of metal ladders in Max's rucksack to have a look at the Mer de Glace – the great glacier on Mont Blanc. This rather horrified the French guides who were watching, but Heli loved it. And everywhere she went, she was alert and fascinated by the sights, sounds and smells around her. She loved flowers, and on virtually all these walks she would be holding a little flower in her hand.
In September 2001, when the twins were about ten months old, Max and Lilias organized a sponsored walk to raise funds for The Jennifer Trust, in which long, medium and short routes all converged on the summit of Win Hill, near Bamford. Max and Lil carried Heli and Saski up in rucksacks to meet everyone else on the top, before a mass descent to a garden party at Thornhill.
Last summer, I remember them joining me and some other friends as we walked out to Froggatt Edge to do some rock-climbing. There were flowers to pick beside the path, and when we got to the crag, Heli watched as we geared up for the climb, before warning David, "don't fall off" as he started up the route.
As her illness progressed, it became increasingly difficult for Heli to sit upright in the rucksack, and for more recent walks she would lie on a rugged 3-wheeled pushchair buggy. This still didn't stop her from getting to rough places, nor Max and Lilias in their determination to take her. In the last few months, I remember helping them push and pull the buggy over the stones and rocks of the Foulstone Delf track up towards Back Tor on Derwent Edge, while Heli looked out for the sheep baa-ing on the moor, and even the glimpse of a hare running across the heather.
Of course, the buggy had the additional advantage of allowing Heli to indulge her passion for speed, leading to the spectacle of Max charging down steep hills trying to keep hold of the thing while Heli urged "Faster! Faster!"
On Easter weekend, I was camping with our friends the Heweses in Langdale, and the Huxhams drove up to join us for the day. We went for a walk round the head of the valley, looking at the spring flowers, and the new-born lambs in the fields, and when we crossed a footbridge aver Mickleden Beck, Max helped Heli to throw some stones into the pool underneath, to see the big splash they made. Back in the tent on the campsite, we were helping them pack up for the journey back to Sheffield, when Heli announced that the rest of the family could go home if they wanted to, but she'd enjoyed herself so much she wanted to stay where she was.
Just six weeks ago today we went for a walk round Dale Dike reservoir, at the top of the Bradfield valley. We had a certain amount of trouble getting the buggy past some locked gates and over stiles, but it was a perfect late Spring morning, and Heli watched some ducklings following their mother on the lake. There were masses of spring flowers out, and the meadow right at the head of the lake, where we stopped for a snack, was completely carpeted in bluebells. If you live locally, and don't know Dale Dike reservoir, I can thoroughly recommend a visit. Go in the last week of May, when the bluebells are at the peak of their brief glory; certainly it's a place that will always remind me of Heli.
That walk was actually Heli's last proper walk, though just a week before she died, she suddenly asked if she could go in the rucksack again, which she did, and Max carried her round their garden, looking at and smelling the flowers there.
Max and Lilias don't want today to be a sad occasion, but rather a celebration of the many happy times in Heli's life, and I'd like to finish with a verse from the Book of Isaiah, that most poetic of all the Prophets, which I hope sums up how we'd all like to remember Heli:
Ye shall go out with joy, and be led forth with peace:
the mountains and the hills shall break forth before you into singing,
and all the trees of the field shall clap their hands.
(Isaiah 55, xii)
---
We wanted to write this as a reflection of our experiences of knowing Heli through the Home Care Nursing Team. The team became involved with Heli and her family in November last year. However many of us had the pleasure of knowing Heli before this time through agency shifts.
These comments reflect personal memories shared by Alison, Annette, Helen and Myself. I'm sure many of you can relate to them.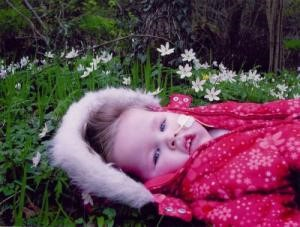 When each of us first met Heli it didn't take long for it to become apparent that Heli was a special child with a very special family. Heli was everyone's best friend. She could be a real flirt and could express herself brilliantly, especially with her eyebrows. Heli was a beautiful, bright, happy little girl, with the most gorgeous chubby hands that helped her whiz through computer games with expertise and precision.
Trips to the Botanical gardens and Endcliffe Park would involve singing all the way there and all the way back. Heli would shout "I did it" with such delight that you were as excited as she was to slide down the slide. She was hilarious with other children at the park, shouting "get off" when they tried to cross the wobbly bridge that she was lying on.
Heli could argue brilliantly, especially when she made us put a big toad in her hand, shouting "in hand" "in hand" and almost convinced us that it would be ok with Mummy and Daddy to take the toad home!
We would quickly pick pretty flowers, whilst the gardener's weren't watching to take home to show mummy. Whilst playing in the bear pit we would pretend to be "locked in" and would shout "open sesame" and the doors would roll back in front of Heli's excited sparkling eyes.
Heli loved throwing pennies into the fountain in the glasshouse and made us prick our finger on the cacti as we walked past, her eyebrows going up and down as she made that little laughing noise.
Lying on the floor we would read endless story books, Heli always made us pick through every video on the shelf before she chose the one she wanted!
No one could fail to succumb to Heli's charms and she very quickly learnt who she could wrap round her little finger, almost point blank refusing to do any activity unless it involved a computer screen.
Heli gave us all a lot of funny and scary moments. For example the time she enjoyed smelling fish food so much we were afraid we might have to explain to Lilias and Max how she had aspirated on it? And the time Saskia accidentally pulled Heli from the chair onto the floor head first, an experience Heli found very amusing, unfortunately the nurse wasn't quite so amused at the time!
Heli had an amazing zest for life helped we are sure by having an amazing family. We know Heli would want to thank her Mummy and Daddy for their dedication and care over the past three and a half years, through all the exhaustion and stress they have been through. Without their determination Heli would not have been the delightful little person she was for so long.
And lastly but certainly not least Saskia, for being the kindest and most fun sister Heli could have wished for.
Heli gave all of us who cared for her a lot of special memories and we will miss her greatly.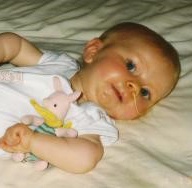 Our second daughter was born on 23rd October 1998, and we called her Joanna. It was her big sister Rhianna's second birthday the day after Joanna was born. We were thrilled to have two little girls and life was great. Joanna was a very happy baby, very content to sit in her rocking car seat and watch family life. Soon it was Christmas, and then New Year. Joanna was gaining weight nicely, but was a lot quieter and less active than her sister ever was, but babies are very different. Rhianna had crawled before six months, so I put Joanna's quietness down to her being a second baby, that I was more relaxed, and that she had entertainment to watch in the shape of Rhianna. Joanna was going to be our teenage rebel.
By now Joanna had had her six-week check and no problems were found. With two young children, life was hectic. I took Joanna to her fortnightly weight checks and all appeared well. She was breastfeeding and gaining weight well. Then suddenly in early February, our health visitor noticed Joanna's lack of movement and sent me to see our GP straight away. The doctor examined Joanna and said she would keep a close eye on her progress, but didn't seem too concerned. Over the next few weeks Joanna's lack of movement and lack of head control became more and more apparent.
Joanna was referred to a paediatrician. Not one of our health visitors or GPs could give us any idea what it could be. We saw the paediatrician on 31st March and he was very concerned about Joanna. He still couldn't, or wouldn't give us any indication of what it could be, but I didn't, for one minute, think it could be life threatening. However, I did ask and the consultant told us it wasn't at this stage, but he said he would like to refer Joanna to Bristol hospital. The following day, he joined us to say there was a new blood test available, and to bring Joanna down next week, when we were booked for physiotherapy.
We got to the paediatrician on 7th April. Joanna was now five and a half months. We were hopeful – at last it seemed that someone knew what might be wrong. People had been telling us not to worry; that there is so much that can be done these days for babies and children. Nothing could prepare us for what we were told next. The paediatrician suspected that Joanna had Spinal Muscular Atrophy (SMA) and if she did, she would not live to see her second birthday – realistically, she would not see her first birthday. When you are told something like this, your whole world falls apart. All your hopes and dreams for the future seem to be taken away, you can hope the doctors might be wrong, but you realise this is unlikely.
After being told what they thought was wrong with Joanna, she had to have a blood test to confirm whether she did have SMA. The result would take ten to fourteen days. In this time, we got a lot of information on SMA from the JTSMA web site. After reading this, we felt sure that this is what was wrong with Joanna. One sentence summed up Joanna: 'what they seem unable to do physically, the appear to compensate for with facial expressions, particularly their beautiful eyes and smiling faces.' Complete devastation is what you feel when you are told your baby will die and nothing short of a miracle will stop it. We got the final result on 22nd April 1999 – Joanna had Type I SMA. We had already started to tell friends and family about Joanna's condition. Family and friends alike were very shocked – nobody had heard of SMA. Even our health visitor and GPs had not heard of it, let alone seen it. By the time we saw the paediatrician, we knew that Joanna had a major problem, but not something, which was going to mean our baby daughter would die, most likely before she was a year old.
After being told all of this, we felt the only thing we could do was to take each day that we had with Joanna as it came along, and to make the most of the time that we had with her. Joanna was still very happy, very alert and had the most amazing blue eyes that would follow you everywhere. We took her for days out; we took her to the zoo, the Shire Horse Centre, to the shops. Joanna loved being outdoors and meeting people. Complete strangers who didn't know about Joanna's condition would comment on her beautiful and knowing eyes. We carried on with life as normally as we could. Joanna had a smile for everyone and was quite content.
The following text is a mixture of our experiences, good and bad, along with what we hope may be some good advice and ideas on how to help both yourselves and your special baby.
Toys Joanna enjoyed
Joanna has some Tomy pull-along ducks, which go 'quack-quack' when you pull the string. She was strong enough to do this, as the toy was very sensitive. She got a great deal of enjoyment from watching and hearing the ducks when she pulled the string. She also enjoyed small cuddly toys. She would watch her Winnie-the-Pooh video for hours; it was very bright and fast moving.
Joanna's best 'toy' was probably watching Rhianna, and when in the car they would squeal at one another. Jo would be facing backward in the front passenger seat and Rhianna facing forward behind the driver's seat.
Joanna loved to play with helium balloons, pulling them down by the string. She also enjoyed the Boots 'Octopull' toy, which was originally Rhianna's, because she could feel the different textures, and make it rattle if she hit it hard enough. We haven't had experience of other babies with SMA, but Joanna seemed to move her arms around quite a lot. Joanna always slept in our bed and she had a very good aim in the middle of the night! She loved to explore with her hands and feel the different textures, and she also had a habit of holding her ear. We bought some bells from the Early Learning Centre, which were on a strap and designed to go on a baby's wrist. Joanna also had a mobile, which hung from our living room ceiling, and a wedge, which she lay on.
Joanna also loved watching our cat, Tigger, and touching him. Sadly, Tigger died in a road accident, eleven days before Joanna died; so now they are together again. The best thing that Joanna liked was going out in her pram, and as we live in a village, lots of people would stop and say hello to her, and she always had a smile for them. While Joanna was well, she enjoyed coming with us when we visited Rhianna's friends. Now people say to me that they remember Joanna for her big blue eyes and lovely big smile.
How To Cope
Try to be positive and don't give up on your baby, just because others might. If he or she is well, take them out as much as you can. We felt it was important to give Joanna as many different experiences as possible in the time that she had. Talk to people about your baby, and what SMA is. Raising people's awareness can only be a positive force.
Keep a diary; it will remind you of things that you can easily forget. Take lots of photographs, and if you have access to a video camera, this will capture their sounds, as well as their movements. This is useful in noting any changes in your baby, as well as providing memories later on.
There are organisations such as Homestart, which can help ease the stress in some small ways. Also, ask about your local children's hospice – as this may not be offered by health professionals, but staying there will really ease the pressure during this time. Lastly, make every day as special and happy as you can for you and your special baby.
Doctors and Health Professionals
Our health visitor was fantastic, although initially, I thought that she was worrying me for no reason. She visited us at least twice a week and told us to call her at any time, day or night if we needed to.
Early on, we were told by one of our GPs, while waiting for a referral to a paediatrician, that if it became more serious than they thought it was, they would hurry the referral along. In the end, we phoned the paediatrician's secretary, who got us an appointment within the week. Our regular GP was good, and in Joanna's last couple of weeks, he visited us almost daily to make sure we were all right; but having never seen SMA before, he didn't really know what to expect.
The consultant paediatrician was very good, but our problem was that our hospital was twenty miles away – a long way if an emergency arises, so we chose to care for Joanna at home, with the back up of our health visitor and GP, which they were happy to provide.
Joanna was in hospital for just two days for a chest infection, and although they were caring, when you are on a ward and people ask you what is wrong with your baby, it is not easy. We had an experience when Joanna was sent for a chest x-ray, and the man had a baby of the same age. He didn't know what was wrong with Joanna, and he said, "I wish my daughter would lie still like that", well what can you say! I chose to say nothing. Perhaps I should have said something, but I had more important things on my mind.
The main problem is a lack of knowledge of SMA by health professionals – even for those who have come across it. We stayed at our local children's hospice, Little Bridge House near Barnstaple, and met some wonderful people who helped us care for Joanna, and who cared for other babies with SMA. They were honest with us about what to expect. This is where Joanna chose to be when she died, thirty minutes after arriving for our third routine visit.
Feeding
Joanna breastfed well from birth, and kept well to her weight chart line right up until eighteen weeks old. Then at the same time as we first became concerned, her weight line slowly started to dip. Joanna fed well, but we never knew how much she was taking. She had started to take solids and was doing so well at one point in May, that she would eat five jars of food in a day. Then at the end of May, her feeding deteriorated and she seemed unable to take her solids. She was in hospital in early June for two days with a suspected chest infection, and her taking of solid foods was never the same again.
I continued to breast feed her and tried to encourage her to eat some solids, then on 12th June, while we were at the hospice, Joanna took a turn for the worst, and it was at this point that she had the feeding tube fitted. This gave both Joanna and us great relief. Looking back on it, we couldn't tell how much fluid Joanna was taking, and she was getting dehydrated. We think, now knowing what we do, that having a tube in earlier would have helped us all. Joanna took very well to tube feeding. She was very content and had a full tummy, it was the happiest she had been for a long time.
I continued to breast feed her for comfort and to get her to sleep at night, but she was not now as dependent on me for feeding her. Joanna had a pump for her feed at night, which we soon learnt to use. Joanna loved to watch us setting it up, and would lie there smiling at it, as she seemed to know that it was good for her. Her tube feeds were done by syringes during the day, something that sounds very daunting, but we quickly learnt to do it. Joanna liked to try to pull at her tube, but luckily, she never pulled it out. Tube feeding sounds very daunting, but when you see how happy it can make your special baby, it is worth it.
When Joanna became less good at taking solids, we added Maxijul powder to her solids – from about May time, and then when she could not take them at all, it was added to her formula milk. Later on, she was prescribed Infatrini, which is a high-energy infant milk feed. This went via the tube, which she tolerated well, and had five 60ml feeds during the day. Then she was fed by pump at night, from 9pm to 7am, with a continuous feed of 400ml in total. We were offered the option of putting her on the pump continuously, day and night, but we decided that this would make going out more difficult. As it was July by now, and very hot, we were worried about the milk keeping all day. We also received quite a bit of conflicting advice on whether this would be the best for Jo, but we felt that it left her with nowhere else to go, if and when she got worse. Joanna finished her final tube feed fifteen minutes before she died.
Physiotherapy and Hydrotherapy
Joanna had physio, which I was taught how to do. She also enjoyed being massaged. She had a wedge that she could lie on for this, which was sloped so that she could drain her secretions. Joanna's head used to turn to the left and her secretions used to dribble out quite naturally. We had a suction machine, but we didn't need to use it much, especially after Jo went on to tube feeding. I used to do leg and arm movement for Joanna, and she loved going for hydrotherapy. I found this quite stressful because of the travel to the hospital and changing Joanna into her costume, but it was worth it to see her smiling. She also greatly enjoyed the jacuzzi while staying at the children's hospice.
Joanna used to enjoy her chest physio, and would sometimes go to sleep while we were doing it. We had some splints made for her hands, which she was supposed to wear at night, but these were not successful. Joanna always slept well, better than her sister ever did at her age.
Joanna would dribble lots and lots, and we got through loads of bibs. I used to use flannels for bibs as well. It was summer when Joanna was at her weakest, and her little head would sweat lots due to the lack of movement. We found that moving her to different positions helped. We started to use Rhianna's vest tops on Jo, because they were very thin and were easy to put on. They looked like little dresses on Jo. Lots of Jo's clothes were Rhianna's old ones, but if we bought any, we made sure that buttons were on the front, as our special babies with SMA cannot be comfortable on their tummies, even when dressing them. Remember, you are the expert in caring for your baby, and you know what's best for him or her.
Oxygen
We didn't have much experience of this, until Joanna's last week. For about a month, we had it around the home, just in case, but rarely needed it. However, during Jo's last week, she needed it a bit more, but was never totally dependent on it. Rhianna liked to help us with this when Jo needed it.
An Older Child
Having an older child around while caring for your SMA baby really helps. Rhianna was very good with her sister. She loved to help with her; she never showed any jealousy towards Joanna and loved to show her off. Rhianna helped to entertain Joanna and make her smile, and feed her chocolate at Easter, when Jo was taking solids. She would squeal and laugh at Jo, and Joanna would smile. Rhianna would also sit beside her and hold her hand and kiss her.
We were worried when Jo had her tube put in, worried that Rhianna might try and pull it out, but she never did. She is now convinced that she had a tube in her nose like Jo, when she was a baby. Rhianna would always wake up first in the morning and then wake up Joanna. Joanna always gave her a lovely smile.
Rhianna held her sister after she died; we felt it was important for Rhianna that she saw everything and we hid nothing from her. Others might not agree, but its how we wanted it to be. Rhianna talks about her sister a lot. She was two years and eight months old when Joanna died. She remembers lots of things that she did with Joanna, and she now squeals at photos of Jo, and shows them to anyone who visits our house. She picks lots of flowers from our garden to take for Jo when we visit the cemetery.
Seating and Transport
Joanna had a bouncy chair, which she always seemed to be comfortable in and could see lots from. She had a wedge for lying on. Her pram was padded out with towels and pillows, so that she could see out of it. Until she was six months old, she seemed to be quite comfortable in a sling, and she liked being carried just in my arms. She had a special aid for bathing that she lay on, which was quite successful. In the car, she had a normal car seat – a Britax Rock-a-Tot, which she seemed quite comfortable in.
Antibiotics
Joanna's first antibiotics were very hard to give by mouth, but later they were given down her tube, which was much easier. We had antibiotics on standby at home, ready to be made up in case the doctor thought that she needed them. Joanna had Calpol, and did not really have any other medication or drugs – even at the end, she literally 'just went to sleep'.
A word about Homestart
Homestart is a voluntary organisation where families with young children under five years can receive help from volunteers when a family is under stress. A health visitor should be able to refer you to the scheme. We found that having a volunteer visiting our home very useful, as the volunteer will play with the other children, which allows you some special time with your SMA baby. The volunteer will probably visit once a week for a few hours, and will be there to talk, as well as play – or help out in other ways.
Situation now
After Joanna died in July 1999, life felt quite empty. I felt the need to have another baby, and I didn't if at all possible want a big age gap between Rhianna and our next baby. Luckily, I suspected that I might be pregnant on what would have been Joanna's first birthday, in October 1999 – a test a few days later confirmed this and then there was a long wait into the new millennium, before having a CVS test on 4 January 2000. On 10 January we got the wonderful news that the baby was free of SMA. Edward Joe was born by caesarean section on 23 June 2000 and, at the time of writing, is now nearly four years old.
Then in 2002 we decided to try and have another baby – some might wonder why not be happy with two! Something in me wanted another baby and in December 2002 I found out I was pregnant. We then spent another Christmas hoping that the baby would be OK. I had the CVS test on 27 January 2003 and we got the result back that the baby was free of SMA on 30 January, and that it was a baby girl. Jessica Emma Rose was born by caesarean section on 1 August 2003.
It's coming up for five years now, on 7 April to be exact, that we first heard those words, 'Spinal Muscular Atrophy' and worse still what it meant for our beloved daughter, who was sat on my lap smiling away at the time. There's not a day that goes by that I don't think about Joanna – what she would be like, what she would look like, now. Joanna is never far from our thoughts, and if we go on holiday we always take a photograph of Joanna, so she comes with us.
CVS testing
The consultants I had (a different one for each pregnancy) liked you to be 12 weeks pregnant before doing the tests. The test itself was painless, although the second one was a little uncomfortable. Both were very straightforward with no problems. The worst bit is the waiting for the results; it is very hard to put into words how the waiting feels. We were lucky that both times the results were good news, and I understand that this is not the case for everyone and I do feel very lucky that we now have three SMA-free children. I hope that, like Joanna gave inspiration to us, our three children can give inspiration to others who do want to try for another baby after losing one to SMA.
I know it's not what everyone chooses and know it's far from easy, and none of my children can ever replace Joanna, but they do help life to go on and they are loved just as much. Eddie, who never met Joanna, talks to Jessica about Joanna, as if he has met and knew her, even though he was born just under a year after she died. Rhianna, who is now seven, and was two and a half when Joanna died, still remembers Joanna, and things we did and places we went with her. Jessica is now seven months, and we will tell her all about Joanna.
Christine (age 13)
The sister I knew,
For a short while,
'Til she had to go.
Cute and aware,
I adored her.
The happiness lasted,
For a short while.
I remember,
Her smell, her hair,
The twinkle in her eye,
As I played with her.
Her world collapsed,
She had to leave.
I have memories,
Saddened but not lost.
My sister is gone,
Her smile, her life.
But when she went,
She took a piece of happiness with her.
With love from your parents Stevie and Sharon Finlay and your siblings; Christine, Mike, Steffi, Stephen and Danny.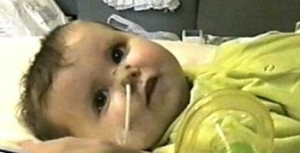 March 9th – October 1st 2001
In memory of Alisha by her grandmother Sue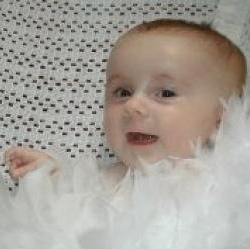 She came in springtime
And the wild primroses thronged to meet,
A child who most resembled them –
Small, beautiful and sweet.
She grew in love and laughter,
Loved happy faces, trees,
Noisy pubs and nappy changes,
And smiles, and more smiles, please.
Colin, her caterpillar,
Her pleasures, they were rife
Crammed all experiences into
Her six short months of life.
Last hours of life, tubed, on her side.
Were pleasures all too few?
Alisha smiled and "A-a"d,
And laughed at Peek-a-Boo.
She even softened Death, who said,
"She'll not meet hurt or harm."
He took her pain-and-fearlessly,
At home, in loving arms.
The children say she's in the clouds,
Or the most shining star of night.
In heaven or where anything
Is beautiful and bright?
Our child of spring and summer's gone,
And we must Winter on a while,
But through our loss we'll treasure still,
Alisha's radiant smile.
Written by Helen Hearnshaw as a tribute to her children on the 10 year anniversary since her twin girls died.
We take for granted care-free life, we close our eyes and hope,
That if a tragedy should strike, we're strong enough to cope.
When pain and sorrow swamped my life, I made this thought my friend,
'Follow your heart and don't give up, you'll get there in the end.'
When Daniel was born, I felt the warmth of something good,
A very special kind of love, born out of motherhood.
And eight months filled with joy passed, in the blinking of an eye,
But SMA brought promise that our son was soon to die.
Our Baby's life was snatched away, before it had begun,
And all our hopes and dreams for him, were shattered one by one.
Yet in the midst of sorrow, crept a light to ease the pain,
With no hint of a warning, we were told, 'Go try again'.
In six weeks I was pregnant, three months later, 'it' was twins,
I started to believe I could, forgive God for his sins,
I let myself look forward, thought my crying days were done,
But little did I know, that they had barely just begun.
At birth the girls seemed healthy, we believed that we'd been blessed,
And once again the house, exuded joy and happiness,
But then I had a dream, I truly hoped it was a bluff,
A voice inside my head said,"You're not looking hard enough".
My joy had blinded me, but from that very day I knew,
That both our girls had SMA and they were dying too.
We filled their days with laughter, pushing all sad thoughts aside,
And lavished them with so much love…until the day they died.
I sank into oblivion, in depths of dark despair,
And what the future held for me, I really didn't care.
If I'd had proof that when I died, my babies I would see,
My life would end, for where they were, was where I had to be.
My saviour came, it took the guise of JTSMA,
Anita helped me chase all thoughts of suicide away.
She gave me hope to carry on and 'Get there in the end'
And from the very start, I knew I'd found a special friend.
My need to be a mother, kept me going once I'd faced,
The truth that all I'd lost, could never be replaced.
And with Anita's help, the new research for us came through.
Pre-natal tests were quick to prove, a healthy boy was due.
We named him Oliver, so sure that he was here to stay,
But fate dealt us another blow, that swept all hopes away.
He came into the world too soon, we never heard him cry,
Before we'd even said hello, we had to say goodbye.
The midwife took a picture, of our son wrapped in a shawl,
The only proof we have, that he was ever here at all,
And so returned the heartache, such a soul destroying fiend,
It wasn't easy to believe, 'we'd get there in the end'.
Another pregnancy, another tough pre-natal test,
Another week of sleepless nights, anxiety and stress.
I told myself, 'statistics proved three out of four would live',
But once again my world collapsed, the test was positive.
It was the strangest feeling, that will haunt me evermore,
Agreeing the destruction of the child, I so longed for.
On Christmas Eve a tiny heart stopped beating and I knew,
That as the world sang Silent Night, a part of me died too.
And still my heart said 'Don't give up', we had to try again,
Although our family and friends thought, that we must be insane,
But like a punch drunk fighter, bruised and battered on the floor,
I took the blows that knocked me down and still came back for more.
I learned to focus all my thoughts, on good times that we'd had,
Remembering my babies' smiles, it hadn't all been bad.
Those messy baths, the country walks on summer afternoons,
A Christmas stroll through fairy lights and helium balloons.
When people asked me why we felt the need to try again,
I'd tell them, "Giving up would mean we'd suffered all in vain",
I missed the joy of Mother Love, no substitutes suffice,
For this alone I'd walk through Hell, and gladly pay the price.
It seemed an eternity since SMA first wreaked its fear,
Now four years on our baby girl, was given the all clear,
But still we daren't believe, what all the doctors had assured,
Complacency was luxury, that we could ill-afford.
An uneventful pregnancy, I scarcely could contain,
My hopes that soon the day might come, when we would live again.
At last she came into the world, I've never felt so glad,
To hear my baby cry, the way none of her siblings had.
Our joy was overwhelming, at her we could only stare,
This noisy, lively, bundle, with her tufts of curly hair,
But when I saw her big bright eyes, the tears began to flow,
Reminded of the family, that she would never know.
The time had come to start again, the battle had been won,
But leaving all the heartache, was much easier said than done.
With Lady Luck's benevolence, we risked just one more feat,
And now another girl, has made our family complete.
To Oliver and Stefanie, to Daniel and Danielle,
We had to put the past behind, and say a sad farewell.
Now Alyss and Melyssa, make each day a joy to live,
Enriched by unconditional love, that only children give.
I'll always have my memories, that never will erase,
And in my heart forever, there's a sad and empty space,
Now one hug from my daughters, helps to melt away the pain,
They're living proof, that we were right, to try and try again.
P.S.
I'd like to thank Anita, and the JTSMA
Without whom things would be so very different today.
So caring and supportive, good advice through any plight,
A shoulder there to cry on, any time of day or night.
Encouraging and patient, in my quest for motherhood,
For helping me find happiness, I thought was gone for good.
And so I dedicate this verse, to thank you my own way,
For all that you have done, to free our lives of SMA.
Our precious baby, Jessica Louise Coutts, was born on 23rd May 1997, but sadly, after bringing so much joy and happiness to us, and everyone who knew her she died ten and a half months later, on 12th April 1998. We knew we could never replace her, but after much soul-searching, and thanks to the availability of pre-natal testing, we were determined to try for another baby. I fell pregnant during September 1998, and eleven weeks later had the pre-natal test. We were told that hopefully, the results would be known in a week. That week seemed like an eternity, but fortunately when the Consultant telephoned us, we received great news. Luckily the test was satisfactory and six months later, on 17th June 1999, our lovely son, Ryan James was born.
The Weeks Before The Diagnosis
At Jessica's six-week check up, we were told that she had a mild hypotonia, but not to worry about it, as it would be re-checked at twelve weeks. However, when we viewed the videotapes that we had done since her birth, we noticed that she did not move as freely as she used to. We consulted our GP and he referred us to a paediatrician. In the weeks leading up to the appointment, Jessica seemed to be constantly at the doctor's surgery with suspected colds, viruses and breathing problems.
Jessica was twelve weeks old when she saw the paediatrician for the first time. We asked him why she was floppy, and moved less than in the early weeks of her life. He said that there could be various reasons, and that it would be a bit like eliminating all the branches of a tree, and that Jessica would need to undergo tests to try to determine the cause. He arranged for Jessica to have a head x-ray and a blood test. He then arranged to see us again in four weeks, and said that he would arrange for Jessica to have some physiotherapy. At our next appointment when Jessica was sixteen weeks old, she still had not had any physiotherapy. We were told that the tests to date had not revealed anything, so he would be arranging for Jessica to have a head and abdomen scan, an electro-myogram and a further blood test, and he would see Jessica again in November, when she was six months old.
In the weeks leading up to the next appointment, Jessica had the blood test, the head and abdomen scan and eventually, on 31st October, her first physiotherapy appointment. The physiotherapist checked her all over and told us, "My aim is to get her to walk, but I cannot guarantee it!" She asked us if Jessica had had the electro-myogram yet, and gave us a leaflet to apply for disability living allowance for her. We were shocked and in stunned disbelief.
The next day, Malcolm rang the hospital enquiring about the electro-myogram test, and was told that she was on a waiting list, and the earliest that she would be seen would be at Christmas. As we were due to see the paediatrician in November, he asked if we could pay to have the test earlier. They asked if we had an insurance policy for her, to cover the cost. Malcolm replied that when you are told that your five-month old baby daughter may never walk, we would pay whatever it cost ourselves. Fortunately, a few days later there was a cancellation and Jessica was fitted in. We then had to wait for our next appointment with the paediatrician. Jessica was now getting physiotherapy twice a week.
When we saw the paediatrician, we told him that Jessica was still having breathing difficulties, especially during the night, and that we had spoken to our doctor about it on several occasions. He asked us if she had ever gone blue during one of these episodes, and we said that we did not know, as it was always dark, and that we had sorted it out by patting her on her back, with her head facing downwards. He said that he would arrange for Jessica to be kept in hospital overnight for observation, and that although the test to date had not been conclusive, he wanted us to take her to Bristol Children's Hospital the following week for a muscle biopsy, as he suspected that she had Spinal Muscular Atrophy Type I. We asked what, if it was that, could be done about it, and he said that unfortunately, nothing could be done.
At this stage we did not know what the implications were, and were hoping that he was wrong. I stayed with Jessica overnight while she was monitored, but neither of us got much sleep because of the noise of the machines, so it was arranged for us to be loaned a machine to monitor Jessica at home with the support of a community paediatric nurse. The machine and test results were taken away on the Friday and we were due to go to the Children's Hospital on Monday 24th November for the biopsy, but on Sunday evening (23rd) Jessica was admitted to the high dependency unit of the children's ward of our local hospital with a severe respiratory virus. Jessica was placed in an oxygen head box and attached to monitoring leads of several pieces of equipment. The doctors and nursing staff were very concerned about the rapid deterioration of her condition, and on retrieving medical notes, turned to us with a worried look. They told us, "You do know that we will do everything we can." It was arranged for us to have a parent's bedroom so that we could stay at the hospital with her twenty-four hours a day.
The Diagnosis
Due to the seriousness of Jessica's condition, we were asked to give permission for a muscle biopsy to be taken on the ward, because she was too ill to be transferred to Bristol, and it was important to know exactly what medical condition she had in order to determine her treatment. We asked how they would know, bearing in mind we were to have gone to Bristol for the biopsy, and the paediatrician told us that if it were SMA, it would be very obvious from the biopsy. We agreed for the biopsy to be done on the ward, but later it was decided to take her to theatre in case any intervention was needed. The biopsy was taken on 27th November 1997, and later that evening we were told the worst news possible, Jessica's muscle biopsy had revealed SMA Type I, for which there was no cure.
Unfortunately, the consultant paediatrician, whom we had come to greatly respect, was away on business when we had asked if the results were known, and as a result the task of telling us fell to the senior registrar. He tried to break the news to us as compassionately as possible, and said that we would be able to look back on the precious six months that we had just spent with Jessica, but he was totally unaware of the circumstances that we had endured during this period. We will, however, always admire the caring way in which he broke the news. Malcolm and I were silent for a very long time before we could speak, and then we had the unenviable task of relaying this sad news to both sets of grandparents, aunts and uncles.
Jessica was a fighter, and eventually got over the respiratory virus, and on 22nd December, we went home to spend Christmas together as a family. We then travelled up to my parents in Ashton-in-Makerfield (near Wigan) for the new year period, as we knew this would probably be the last time they would see her. Although Jessica had left the hospital, we now had to do suction, as required, using a portable suction machine. This proved to be almost once a day, and we also had to give her tube feeds, in order to top up the amount of mild that she was able to take orally. We found that Jessica was no longer able to travel very far in the car without being sick, so we had to make several stops on the 280-mile journey. On 17th January 1998, Jessica was again taken seriously ill and was readmitted to the high dependency unit of the children's ward, where she was courageously survived numerous life threatening episodes, before finally passing away on Easter Sunday, 12th April 1998. Throughout her life she was an inspiration to everyone who came into contact with her, and is remembered by everyone with lasting fond memories of her happy smiling face and talking eyes.
Toys and Play Activities
Jessica liked to watch everything around her with great interest, and up to the time of diagnosis, play activities would focus around interaction with toys that were manipulated by us, and others. When she started seeing a physiotherapist, we were loaned equipment to help her to sit, and for us to carry out physiotherapy type exercises, which Jessica seemed to think was play and enjoyed greatly. During her time in hospital, we used to play her music videos (mainly 'Dance with the Teletubbies') and roll her around to the music in her hospital bed. I also used to dance around and sing along, which amused her. She would be lying on her back and I would take her left arm and left leg, and roll her around the bed. We had bought her a large green vanilla scented plastic ball, which she would roll up and down on her chest. We also bought her a helium balloon, which she loved pulling around by the string. She also liked the baby's play gym, peek-a-boo games, crinkly lightweight toys, and people blowing bubbles for her, as she would pop the bubbles with her hand. She had a special mobile in hospital, that had glass mirrors, bells and a ball to pull, which she enjoyed. She had a doll's comb and mirror that she liked to hold and play with. Friends used to make her laugh by playing with the musical toys and dancing for her. We also found that large empty crisp bags were very good for her to play with.
Weight and Movement
Jessica was always a very good weight, but from time to time, after she was first admitted to hospital, we had to add Duocal (a powder, which would thicken the milk, containing vitamins and minerals) to her milk in order to keep her weight up. It was only in the last two weeks that her weight slowly dropped. She had a lovely chubby little face and could lift her forearms, but not her legs. She liked to touch dangly earrings and necklaces, and squeeze your nose. She delighted in waving around anything small that she could get hold of, like the doll's comb and mirror, and small syringes. She had little or no head movement, but compensated by talking with her very expressive eye movements. She gave the impression of a wise old lady and you could almost read her thoughts by the way she looked at people.
Physiotherapy
Before diagnosis, the physiotherapist recommended a number of exercises for Jessica, which included leg and arm exercises with Jessica lying on a cushioned wedge, sitting her up straight in a special chair and getting her to play with beads and toys on a table, which was attached to the chair. After the diagnosis we asked whether the physiotherapy would be any good, or if it would achieve anything, and were told that it would help to prevent Jessica's joints from stiffening up. The physiotherapists at the hospital taught us how to do chest physio and suction. They called it 'tip and tap', which was – tip up the baby, pat their back to loosen mucus, then suction to get rid of it.
Suction Machines
The physiotherapists at the hospital taught us how to operate the suction machine. We wore thin surgical gloves and used KY Jelly to try to protect the inside of her nostrils. We used a separate suction catheter for her nose and mouth to help prevent infection. When out of the hospital we used a portable suction machine. When possible Malcolm did the suction, even in hospital, as Jessica had become used to the way he did it. The duty physiotherapists seemed to be more used to dealing with older patients, which proved challenging for both Jessica and themselves.
Oxygen Machines
From Jessica's readmission to hospital in January 1998, aged eight months, she became dependent on oxygen, and although it could be regulated down to the least amount, 28%, she could not manage without it. However, when the hospital was given a humidified oxygen machine to try, they used it for Jessica, and this warmed oxygen proved to be a wonderful stimulant for her. We noticed a remarkable difference, as she began smiling again, and apart from the fact that she always had to have an oxygen mask, her quality of life was on a par with how she was before she needed oxygen. On occasion, she also had spells in an oxygen head box and at other times small oxygen tubes were taped to her face with the oxygen directed up her nose. The big difference was that the non-humidified, or cold oxygen, used to cause mucus lumps in her lungs, which if not cleared by physio and suction, would lead to her saturated oxygen levels dropping. Also while in hospital, she was given ventolin via diffuser to help keep her airways clear and assist her breathing.
Feeding Time: Tubes, Pumps (Weaning, etc.)
Jessica ate limited amounts of baby foods quite well up until the last six weeks, after which time she could only take milk and Duocal via an NG tube. The hospital dietician gave us a target amount of milk per day to give Jessica, into which we had to put Duocal. Before a feed, we would test that the NG tube was in her stomach, by doing the litmus paper test.
When we were due to be going home at Christmas, we were shown how to use a special machine that would give and overnight drip to slowly drip feed her the baby milk, but we never had to use this. Whilst in hospital, we also used to give Jessica flavoured lollipops and pieces of chocolate to suck. She also used to like to suck on a small sponge swab on a stick, which we used to soak in bottled water.
Antibiotics and Other Drugs Used
Jessica was only given antibiotics and other drugs from the age of six months when she was in hospital, which were for her chest infections and pneumonia. When she became really ill, she also had to have an IV drip fitted to receive drugs and a glucose solution, as she was unable to swallow anything orally. Her mouth used to get very dry and we used to give her the small sponge swab of water to suck. In the latter stages, Jessica was also given steroids, and during the last week of her life, she received small amounts of diamorphine. At this time, she had very bad diarrhoea, and also contracted the deadly hospital bug – MRSA.
Hospices and Homecare
We recommend that if you get the chance to go to a Hospice, you must go. We have lovely memories of Little Bridge House in North Devon, where we spent three days with Jessica between hospital stays, during early January 1998. The staff were wonderful and it was like five star luxury. They have lots to do for adults and children alike. We took Jessica in the jacuzzi, which she really loved, as she could move around more. We also played with her in the ball pit and on the special outdoor swings. She loved the music and lights room, and enjoyed pram pushes around the grounds. Malcolm and I played snooker, used the computer and went on bike rides where possible. Jessica spent the last three months of her life in hospital. Malcolm and I had a side room off the ward. Jessica was frequently sick; therefore her clothes and bedclothes were constantly being changed. She had a daily bed bath, which could be quite tricky with all her wires and drips. In a way, we preferred being in hospital to being at home, as all the professionals were at hand and we could both grab sleep at times, knowing that she was in safe hands. It was still very stressful nevertheless, as we were often called out of bed in the night to be by her side when her oxygen saturations were dropping. However, on one occasion when she was a little better, we were able to push her around the hospital in a pram complete with oxygen cylinder and oxygen saturation machine.
Other Information
At the time of Jessica's diagnosis, both Malcolm and myself were with her twenty-four hours a day. This was because her Paediatrician had advised us that, due to the viral infection that she had caught, her condition was life threatening. He also very kindly wrote to both our employers, outlining the seriousness of Jessica's condition and requested that they give us consideration and grant us compassionate leave. This was very helpful, as his intervention helped explain the situation and the consequences of Jessica's illness, which up to this point, we had been unable to get them to understand.
It has been nearly eighteen months now since Jessica died. It has not been easy, but we have really tried to move forward. We have found that constantly talking about her to family and friends has helped, and although we didn't believe it at the time, it is true that the passage of time does take away some of the pain. We will always remember Jessica, and we are so glad that we filmed her on videotape and took so many photographs that we can now look back on. We truly feel blessed for having had her as our daughter and for being able to spend those precious short months with her. She was a real giver and taught us so much. Thankfully, we now have a healthy baby son, Ryan, who, although will never replace her, is like her in many ways, and at times when we are sad thinking about Jessica, his big smile wipes away the tears.
Callum was born on the 7th March 1999 by emergency C-section. He was a beautiful little boy ­ tiny, only 5lb 3oz, but a real fighter! Callum was put in Buscot Ward (the special baby unit), in the high dependency room and that's where he was until the day we got the bad news.
Callum had to undergo test after test and, as any parent who has had a poorly child knows, the feeling of helplessness seems to take over – a little person lying there, and there was nothing that even his mummy or daddy could do to help him.
Twelve days passed, and the doctors asked us, and a few of our close relatives into a room, to discuss Callum's illness. No matter what happens, you always keep in the back of your head "he's going to be fine, they can help him", but this time there was nothing that they could do. Callum wasn't going to be coming home. At all.
We arranged for Callum to be christened by the vicar in the hospital, and the following day we arranged for everyone who needed to see Callum, to come and see him. The doctors had explained that Callum would never get better, and in fact he would get worse, but couldn't give us a time limit.
They left us to decide whether to turn off the machines that were keeping him alive. This is what we decided. It was one of the hardest things we have ever had to decide, but now we know we did the right thing…by Callum.
Callum wouldn't close his eyes at all that night. It was almost as if he knew that something was going on. We so desperately wanted him to sleep, before we left. Later that evening, Callum's two Granddads were with him, and it was our choice that they would be the ones who would be with Callum when they turned his machines off. Everyone is different, and that is the one thing that we as Callum's Mum and Dad couldn't do.
Callum died on the 19th March. His funeral was a few days later. He had hundreds of flowers, and apparently there were a lot of people there but I can honestly say, I can't remember a lot about it. The main thing that I can remember was his little white coffin and a numb feeling, and the tears that just kept coming; I didn't think I would ever stop crying.
After Callum died, things were very strange. We couldn't go back home – all his things were there, his cot, clothes, and toys. Something we had been so looking forward to was taking our little boy home, and it never happened. Callum's Nan, and some other family members helped tidy all the bits away before we went home, but it was never the same. Far too much should have happened in that house, and we couldn't handle it.
While we were still living there, I fell pregnant again. We were told about Chorionic Villus Sampling (CVS) by The Jennifer Trust. (This is a procedure to take a sample of tissue from the placenta by needle at about 11 weeks to test for genetic conditions such as SMA). We told our doctor, and we were put forward for the test. We waited for what seemed like ages, but it was bad news. The baby had SMA Type I, the same as Callum had. We decided we couldn't go through with the pregnancy, and had a termination.
We were so desperate to have a baby after losing Callum and then having the termination, so we tried one more time. I had an incomplete miscarriage. We found out when we went for the first scan that there was no heart beat. Everything was going wrong, and so we decided to leave it at that. Maybe we weren't meant to have children.
I went back to work and we were dealing with the loss of Callum and the other two pregnancies in our own way. We had good days and bad days…sometimes very bad days. While I was at work, I kept being ill but didn't really think much of it. There had been a few people off with stomach bugs, and I just thought I was unlucky to catch it too. But no, I was pregnant again. The sickness was so bad – morning, afternoon, night, all the time.
I contacted the consultant I was under at the hospital and we were booked in for an early scan to give the exact age of the baby. We never expected what happened when we were there ­ twins! Double the worry. What if one baby had Type I SMA and the other didn't? All these things we had to think about. How could we decide? We couldn't.
The CVS results came back for twin 1…all was okay. She was a carrier of the SMA Type 1 gene (like us). However the tests were taking longer for twin 2. We all thought straight away that this was going to be bad news. A few days later…the tests were back and the consultant phoned to give us the good news. Both babies were healthy. The relief was amazing. My partner came home from work, and we were over the moon.
Our two beautiful little girls Tori and Tyler were born on 29th March 2001. They are now 5 years old and at school, both doing very well. Not a day goes by when we don't think about Callum, and our other two pregnancies. They will always be in our hearts and minds. Forever.
We didn't think that we were ever going to be able to have children, but it shows that with courage, it can happen, so to all of you who are like we were, desperate to have children, it can happen. We have been given two for a reason.
Our daughter, Abigail, was diagnosed with SMA Type I in November 1997, a few days before she was 4 months old. We already had a son, James, who was 2 years old at that time. Sadly, Abigail died in January 1998. We have since had another child, Alice, who arrived in November 1998. We had pre-natal testing, which proved to be clear.
Three Weeks Before Diagnosis
Abigail appeared to be a healthy contented baby up to the age of six weeks, when there was a dramatic and unexplained weight loss. I had been breast-feeding and though Abigail fed little and often (unlike my son), I felt sure that she would settle into her own routine when she was ready. Up until the weight loss occurred, she had progressed normally and started smiling at five weeks.
My health visitor advised me to start mixed feeding (breast and bottle), and Abigail's weight was recorded every two days. Although no further weight loss occurred, the gain was extremely slow. It was at this stage (the six-week period) that I noticed Abigail's non-existent head control and it was possible that she didn't seem to be moving her legs quite as much.
Although I had arranged a doctor's appointment for the eight-week check, I decided to see the doctor at seven weeks, when I really started to feel uneasy with Abigail's general lack of strength. The GP confirmed my fears that all was not right and made an appointment with a paediatrician the following week.
After the paediatrician examined Abigail she ordered urgent tests to be conducted that day.
These consisted of:
Brain scan
Blood tests
Nerve conduction tests (the following day)
We waited a further two weeks to see a paediatric neurologist, during which, Abigail had to be admitted into hospital twice with upper respiratory tract infections and because of her poor feeding. Following hospital clearance, Abigail was openly admitted to the ward, which didn't require us to see a GP beforehand. We just went directly to the ward with her. This made us realise that something could be seriously wrong with Abigail's health. Up until this time, we really believed that Abigail was just a slow starter, and would suddenly pick up in leaps and bounds.
The Diagnosis
This, of course, proved wrong. On 27th November, 1997, following further blood test results, we were told that Abigail had Spinal Muscular Atrophy Type I and would be unlikely to survive beyond her second birthday – more realistically, beyond her first year. Our world came crashing down, but we knew we had to be strong and ensure that our precious time together was not wasted on self-pity. Of course, we were in a terrible state for a couple of weeks, and it took all of our strength to face this dilemma. Our consolation at this time was our son James, who proved tot be a pillar of strength.
Games and Toys
Abigail enjoyed all things musical, especially if the toy had lights. We stripped the play gym of all the usual hanging toys (these proved to be too heavy for Abigail to manipulate) and replaced them with silk scarves, tinsel and hanging luminous lights that Dave obtained from work – anything with different textures that would encourage Abigail to touch them. Without doubt though, her biggest joy was people, especially her big brother James! We would play games such as 'round and round the garden' 'pat-a-cake' and 'this little piggy', which would get squeals of delight and give us great pleasure. Another very useful improvised toy was the cot mobile, which we hung from the living room ceiling with a cup hook and string. Placing Abigail in a reclining supported position on the sofa, we would wind up the mobile, which she could watch for ages because the string would wind up too and keep the mobile going for ages.
Physiotherapy
This played a major role in caring for Abigail. After diagnosis, we would conduct physio at least twice daily, or whenever she needed it. This involved laying Abigail across our thighs on a firm pillow, with her head slightly lower and alternating from sides and back. We found patting on her sides, just under her arms most beneficial and it seemed to clear her airways more successfully, although not always and enjoyable experience every time for Abigail. We would sing songs and play nursery rhyme tapes, or simply talk to her. I felt that when Abigail was a little distressed about secretions building up, simply hearing a reassuring and familiar voice would soothe her somewhat.
Oral Suctioning
This was our last resort if physio failed to remove the secretions. Oral suctioning was all that was necessary at first, but gradually we needed to introduce nasal suctioning. Not a pleasant experience for any of us, but the sheer look of relief on Abigail's face was immediately evident as her airways cleared and the subsequent comfort she felt was worth the initial unpleasantness. Suctioning started at four months.
Oxygen Machines
When Abigail became five months old, we needed a supply of oxygen at home. We had a small portable cylinder for the suction machine when we went on our travels, and a large cylinder for home use.
Feeding Times, Tubes and Pumps
Abigail's feeding began to deteriorate rapidly when she was two months old, although she was not a regular feeder at the best of times. We assumed that she was just being picky, when feeding little and often. After diagnosis, Abigail was given a milk thickener to assist with the consumption of her feeds. Abigail really began to struggle with normal fluids, because her swallowing reflexes had deteriorated and she could only swallow if the milk had a thicker consistency. Again, not great amounts – sometimes she could manage around three ounces, but more often only two ounces at a time. This small amount was very time consuming – at least one hour on good feeds. You cannot rush an SMA child's feeding, it has to be very slow and deliberate. If the child were to start choking, it could not instinctively cough, because there is no reflex.
As time progressed, this type of feeding ceased and we opted for a nasal tube to be fitted, which saved Abigail a great deal of stress at feeding times, and she could be given the correct amount of feed to satiate her hunger. With hindsight, we could have possibly started this type of feeding earlier and saved everyone the worry and stress at feeding times. This type of feeding proved very beneficial to us all, as we didn't stay up all night feeding and suctioning. We were able to feed Abigail at the correct times and therefore, didn't even have to disturb her sleep.
Antibiotics and Other Drugs Used
Immediately after diagnosis the Consultant advised on a broad-spectrum antibiotic, which would be beneficial for Abigail help fight off all the usual winter ailments. During hospital admissions when Abigail was particularly poorly, she would have intravenous antibiotics.
Hospitals
Our experience with hospitals was very positive. The care and support that we were shown was truly admirable. What we would say though, is that it is very important to you, as parents, to inform the doctors and nurses of any decisions that you have made for feeding and resuscitation. On a more daily basis, it is very important that you yourselves educate the staff who may care for your child on SMA. Chances are that they have never even heard of the condition, let alone its complications. For example, Sue and I operated a twelve-hour watch system with our daughter, which meant that one of us was always in attendance next to her bed – twenty-four hours a day; except on one occasion, when we had to leave the hospital together for two hours. On our return, we found Abigail was quite distressed, and even though we had informed the staff that we were going to be absent for a short while, they didn't physically look at Abigail, because she was not crying and they had assumed that everything was fine. In reality, Abigail's voice/cry was so weak that it was hardly audible unless you were aware of her condition. We never let that happen again.
Involving Other Children Within The Family
Our experience with having an older child, although a baby himself, was honesty about Abigail being 'very poorly', and to involve him as much as possible. James would always switch on the suction machine and fill up our container with new suction catheters. He would help with the physio sessions, either by dancing and singing for entertainment purposes, or by trying to copy our physio exercises himself.
Noticable Deficiencies At Around Three Months:
Lack of movement – more noticeable with the head and in lower limbs, which appear to be quite 'stiff'.
Lack of rigidity in the body and neck when picking up the child – coupled with lack of 'startle reflex', begins to raise doubts.
Feeding is very intermittent and stressful for the child – lots of faint coughing, to try and clear the airways.
Situation Now
We have two surviving children, neither of which have SMA. Obviously parents are nervously aware of any shortcomings with their surviving children, should there be a possibility of being Type I – II, or II – III. However, it is deemed to be very remote indeed.
Tips To Improve Quality Of Life
Remove all standard toys from the play gym and replace them with extremely light materials. Use bright and beautiful things, such as fabric, balloons and Christmas tinsel.
Keep a pillow permanently downstairs for supporting the child whilst sitting or reclining on the sofa. To add to things, we placed a cup hook in the ceiling above her laying position. Attach a piece of line from the hook to a mobile (such as the one you have made from your gym) – wind up, and Hey Presto! – You have a mobile that naturally spins for a very long time, thereby giving yourself time to spare to make a cup of coffee.
Light and Sound toys of all types to stimulate your child's imagination.
Try to get out and about for nice walks, especially where the child can see and hear lots of different shapes and sounds – feeding ducks, children's play-parks, etc.
Home
As with all new-borns, lots and lots of love and care are essential to the child's comfort and happiness. We found that as the illness progresses, you find that it actually causes the child some discomfort when held in the upright position. Therefore, a lot of the cuddles and love were given in a 'cradling fashion'.
Using a pillow as support we would rotate the child's position from one side to the other at regular intervals to ease any static discomfort. We would also 'build' a base of cushions on the sofa and place the pillow on top. We found that this gave a very comfortable, yet safe base to recline the child so she could play and watch her mobile, which she thoroughly enjoyed.
Lying next to the child on the bed, giving loving strokes and maximum eye contact proved effective at relieving any stress that may occur.
A baby bouncer type seat wasn't suitable because of the lack of support it gave. So to get around the problem of cooking meals (especially when other young children are around), we used to clear a counter and place Abigail with her cushion on the kitchen sideboard, where she could watch everything going on. She really enjoyed this!!
Cars
We would ensure that Abigail was reclined as much as possible, by not locking down the carrying handle, therefore not restricting the seat's reclining ability. She loved journeys in the car and really seemed to be settled whenever we went anywhere. Sue would sit in the back if the journey was particularly long, otherwise James would keep her company for short trips. A ready supply of different children's tapes was available for us to sing along to at all times. The children really enjoyed this!
We would use some folded muslin to stop Abigail's head from moving side to side on such journeys. She found this comfortable because the material is soft and it kept her head upright, not lolled to one side for the journey.
Walks – pram, buggy or carrier?
Our experience was that Abigail was not comfortable in the buggy because she never got strong enough or big enough to use it, so we initially carried Abigail in a chest baby carrier, which she loved because of the contact and constant chatter that she heard. As time progressed it became evident that this was becoming uncomfortable because she was unable to maintain an upright posture, so we obtained a standard pram where she could lie on her back, and again with an improvised head support of muslin, she could see the world passing by. She really enjoyed any trips out and was really content throughout, which was lovely for us all, and James could visit his favourite parks and feed the ducks, etc…
Educating The Health Service – Staff and Doctors
It is crucial that you inform the doctors exactly what your decisions are with regard to your child. This can be the day-to-day care, or feeding and resuscitation. Also, very few people/staff will have ever come across SMA in their careers, and will be completely ignorant of how to the more basic tasks. It is important for you to be there to show them such things as:
How to correctly pick up your child (otherwise they are totally unprepared to pick up a child that cannot support itself, and the child's head will just roll back)
Make them aware that your child needs to be alternately turned onto back, front and sides at regular intervals when awake, as the inability for the child to adjust its own position can be really upsetting and stressful.
If bottle-feeding, the child has to have a specially modified thickened feed (in our case at least), and that the teats on the bottles are not the standard hospital ones. Also, clearly label any pre-prepared feeds with your child's name, so that they do not get confused with anyone else's.
Try to obtain special light toys from the hospital's physiotherapy department, and get a hospital pram for times when you can get to walk around the hospital.
If leaving your child for any length of time ensure that you always inform the nurse who is caring for your child. Be aware of shift changes, so that you are available to educate that member of staff too. The staff are always first-rate, but they too are very busy and do not always get the time to give a thorough handover brief to staff taking over the shift.
There are always a thousand and one tips, but hopefully this has given some pointers and help. We are all unique, as are our precious children. As long as we are there for them to give them soothing words and attention, and most of all – love, it will be of some comfort to you later on.
Our little girl, Phoebe, was born on 13th March 1997, and sadly died at the age of eleven months, on 22nd February 1998 – just three weeks before her first birthday.
The Weeks Before Diagnosis
We first became concerned that Phoebe seemed a bit lethargic and lacked movement in her legs at the age of three and a half months. I first noticed her lack of strength, when at three months I lay her on her tummy and she couldn't lift her face off the floor. When we voiced our concerns to our health visitor, we were told things like 'she's not an energetic baby, she's so happy that she doesn't feel the need to thrash about much', etc. I think that because she was mentally bright and alert, and she did have some movement, it was hard to believe that there was anything wrong. It was when I met up with some mums who had had their babies in the same week that I'd had Phoebe that I became really worried. All five babies were lying on the floor, and I can clearly remember that two of them were rolling over, and the others who, although couldn't manage to roll over, were having a really good go. Phoebe lay quite still on the floor, smiling up at me, and it was then that I realised that she was nowhere near doing this. We became quite pushy at the GP's and basically demanded to see a specialist. We were referred to a Consultant at our local hospital, who immediately referred us to neurologist at a nearby hospital the following week. It was here that the neurologist decided that she would like to do some tests – a muscle biopsy, and gave us a date for next week.
The Diagnosis
I think I can safely say that the week of the diagnosis was the worst week of our lives. The week started with tests, and more tests. During one of the tests, we had seen the words Spinal Muscular Atrophy, followed by a question mark, on one of Phoebe's records. As soon as we got home, we looked up Spinal Muscular Atrophy and found that it said – no cure, wheelchair bound. The next few days were very difficult, not knowing what would happen. One minute fearing the worst, the next minute, hoping for the best. The week ended on the day of the diagnosis, when we were told that our beautiful baby had SMA Type I, and our world fell apart. But not for long, because we still had Phoebe, a five and a half month old little girl, who carried on just the same as before the diagnosis – as if she already knew that she had SMA. Looking back, the one positive thing that we did get from the diagnosis, was a starting point, even though we had been told the worst ever news. At least we could now plan things – special photos, holidays, etc. We could plan again, and although there were things that we now had to be careful of, we had a base to start from, now that the diagnosis was over.
Toys
We found The Jennifer Trust Toy Library great. Apart from this, we just learned to adapt toys, or to make new ones. A few of Phoebe's favourites were empty crisp packets, balloons – helium or normal, lullaby light show toys, and bits of differently coloured ribbons. Phoebe loved her bath time, as she could move her legs a lot more – the deluxe bath support from Mothercare is a good buy.
Physiotherapy
We started to do chest physio from the age of seven months, because Phoebe needed help in getting secretions off her chest. We would lie her on her back, on a slope, with her head slightly lower, the way the hospital had shown us, and patted her on the chest (front and both sides). We always sang 'Old McDonald's Farm', as this used to make the physio session a kind of fun time, and took her mind off what we were doing. We also found that it was a good idea to have a suction machine at hand, just in case she struggled with the secretions that she brought up. Sometimes when Phoebe was 'full of secretions'. We lay her on her side and patted and rubbed her for ten to fifteen minutes. This way, we found that secretions would drain from her nostrils – sometimes we didn't even have to use suction.
Suction Machines
When Phoebe reached about nine months old, she required suction quite regularly. At first, we were petrified, and didn't really know what we were doing, but quickly learnt how to use suction. Phoebe responded to suction better on her side. We always started with a large tube, and then used a smaller one, making sure we had an oxygen bottle nearby. Phoebe didn't like suction, but always gave us a big smile straight afterwards, so we knew it was worth it.
Oxygen Machines
Once Phoebe needed oxygen, we always made sure we had a bottle nearby. She never liked using masks, so we just held the tube in front of her, or attached it to her clothes with a peg. She slept in a head box filled with oxygen, fed from a machine that was plugged in, and when we went out, we had a portable set under her pram.
Feeding Time, Tubes, Pumps etc.
We were so frightened when the nurse told us that Phoebe needed a tube fitted for feeding, but within twenty-four hours it had made a massive difference to her. She had much more energy and was a lot happier. The tube didn't bother her at all. When we tube fed her, we would give her a taste by using a syringe without a needle, squiring little amounts into her mouth. When Phoebe was about ten months old, she began to be drip fed at night. The drip had a pump and it was yet another machine to get used to, but this also gave Phoebe a better quality of life. It gave her more energy to enjoy herself during the day, and less pressure on the quantity of milk she had to have.
Hospitals
At first, when Phoebe was in hospital, we relied on the doctors and nurses a lot, but as time went on, we found out that we had become the Phoebe experts, and found it was important to educate the staff on the children's ward about Phoebe. For example, we told them to make sure her bottles were thoroughly sterilised, and to be careful of cross infection, because stomach bugs and small infections would take a lot out of Phoebe, as she was so weak to begin with. Most doctors and nurses that we came across were very professional, but we did find one or two who didn't care enough about the little things. We found that it was important to say to the hospital staff, all of the things that we weren't happy about. For example, when our consultant came to see Phoebe, we found it difficult to cope with the entourage of students, etc., especially in the final stages of Phoebe's life, where we found so many people an invasion of privacy. We found it much better to see the consultant on her own, and once we had made it clear to the staff, that is what happened. We also found it very important to tell the nurses that Phoebe could not cry out loudly if she wanted something, as she had such a weak cry.
Hospices and Homecare
When Phoebe became quite poorly, we had a look around our local children's hospice, and found very friendly staff, hydrotherapy pool, light rooms, lots of toys, and also good accommodation for mum and dad. We would recommend the hospice to anyone. After we looked around, we decided that we would rather keep Phoebe at home. This was our decision, and the hospice told us that they would send an outreach nurse out to us, when required. This worked well, because it was nice to talk to someone who knew about oxygen, tube feeding, etc., and also about the difficult decisions that we had to make in the future.
Drugs Used
Phoebe had chloral and morphine. We always feared that we wouldn't know when the time was right to use chloral, but we did. The only thing that we weren't ready for, was that chloral made Phoebe very drowsy, so that she didn't know what was going on around her.
Three Weeks Before Diagnosis
Our little girl, Alice Elizabeth, was born in February 1997. For the first two months everything seemed perfect. She was very healthy and happy, breast-feeding well and keeping to her 'line' on the weight chart. My only concern was that she didn't seem to be moving as much as she should have been – certainly not as my friends' babies, but as she was feeding better and smiling more than them, I just thought she would catch up. She also had an extremely quiet cry. My mother was the only one who voiced any concern, but I'm afraid I never took any notice of her, and labelled her a neurotic grandmother! Trevor's mother also thought that there was something wrong, but she didn't tell us until after the diagnosis.
Looking back, I can hardly believe that we didn't suspect sooner, especially as I'm a nurse, and I used to be a midwife. I suppose that I just wanted so much to believe that everything was all right. I did mention to our doctors and health visitors that I was a bit concerned about her lack of movement, but they just reassured me that she was fine. I'm glad that they did miss Alice's condition, because we did so many things which we could never have dared to do had we known – such as going swimming and going to see three sets of very dear friends in Malawi.
At two months Alice's weight gain suddenly slowed right down. I remember getting quite irate with one of the poor health visitors at our local practice. I was absolutely convinced that the charts were all wrong because of the prevalence of bottle-feeding. I kept telling myself that her weight would pick up when she started solids, but by the time we came back from our trip to Malawi, at four and a half months, her weight was still poor. We saw one of the GPs in the practice who had not met Alice before. He happened to have a baby at home of roughly the same age, so the difference between Alice and his baby was really marked. As he was talking, it was suddenly as if I was looking at Alice for the first time, as a nurse rather than as her mother. I could see how small and sunken her little chest looked, how shallow her breathing, and how floppy her neck was, and I realised that there was something seriously wrong. We were then referred to our local hospital, Mayday in Croydon.
The Diagnosis
Trevor's mother, Joyce, went with me to Mayday to see the consultant paediatrician. She told me all of the problems, which might be the root cause of Alice's 'failure to thrive', and lack of movement, ending with the worst possible reason – a dysfunction of the spinal nerves. I remember Joyce feeling quite cheerful afterwards, thinking that maybe a straightforward reason with a straightforward cure would be found; whereas I kept thinking about those spinal nerves.
Shortly afterwards Alice was admitted to Mayday for two weeks of observations and tests. Although the Consultant really wanted us to stay in the whole time, it was agreed that I could come in from nine to five with Alice. I felt much better at home in the evenings. My head wasn't spinning quite so much with thoughts about ramps into the house, wheelchairs and special schools. At this stage, I just imagined that Alice might at worst have a disability. It had still not entered my head that she might actually die.
The two weeks came to an end, and still every test was coming back negative. A very kind paediatric registrar finally confirmed that they suspected SMA Type I and told me that if the diagnosis were correct, then Alice would probably die within the year. Being a nurse, I was well aware that no doctor would say such a thing unless they were pretty certain, and I absolutely dissolved. I had been crying a bit every day, very quietly since that visit to the GP, but this was a real deluge. Trevor came to get us and we cried about it together.
The following day, we took Alice to the Atkinson Moreley Neurological Hospital to have an EMV, which made her cry louder than I had ever heard her. This practically confirmed the diagnosis, so the doctor then asked me if she could take blood from Trevor, Alice and myself to absolutely confirm SMA and to have a pattern to refer to, should we want any future babies tested for SMA during pregnancy. Both Trevor and I said that if we couldn't have Alice, then we didn't want any other babies. However, the doctor persuaded us to agree, and we all had blood taken. She had a lot of trouble taking blood from Alice, and we both felt so cruel to let Alice suffer so that we could have another baby after she died. It came as no surprise that the test results confirmed SMA Type I.
Toys and Play Activities
Like most Type I babies that I have heard of and met, Alice was always extremely entertainable. She really stared and smiled at people from an early age, and more or less manipulated them into playing with her. Once the diagnosis of SMA was made, we saw an occupational therapist, who had some wonderful ideas and we also made good use of the toys sent to us by the Jennifer Trust. The most successful of these was the lullaby light show, which Alice absolutely adored. On one magical occasion, she even sang aloud to it – at the age of seven months! She also enjoyed helium balloons, and used to pull the string suddenly, so that the balloon would bob up and down. She used to love watching peoples' faces while she did this – never the balloon itself. A mountaineering space blanket was another success, being so light. I often gave her a deep bath or filled a paddling pool with warm water. She could move so much easier. Mostly though, Alice just enjoyed people. We were very fortunate to have a fairly constant stream of visitors – once Alice became too unstable to go out, and she really seemed to be in her element, as if she was holding court.
Weight and Movement
After keeping to her line for the first two months, Alice's weight gain was always poor, dropping from the 75th to the 1st centile by four months. I think that she did have some strength in her neck during the first few weeks, but as she got older she was really very floppy, just a small amount of movement in her arms and almost none in her legs. She only looked really active in deep bath water and in her paddling pool, both of which she loved.
Physiotherapy
I had previously worked in special care baby units and intensive care units, so it didn't take long to get used to doing chest percussion's and suction on Alice. It was such a relief to get a suction machine. Once Alice began tube feeding, her secretions increased so much that she seemed to be permanently flooded with them. Before doing suction, I did very vigorous physiotherapy, patting Alice's back with my cupped hand, with her lying across my knees; her head lower than her body. I can remember friends, relatives and even nurses being aghast at how strongly I hit her, but she seemed to enjoy it, and it certainly cleared her airways really well each time.
Suction Machines
It was such a relief to get a machine! As soon as Alice started being tube fed, her secretions increased so much that she seemed to be permanently flooded; and I was trying to keep them at bay by doing physiotherapy and by using a tiny mouth operated mucus extractor. We were lent one machine, which ran off the mains and another, which ran off a battery pack, in case we went out. We did try an adapter, but we had a bad experience with this while on Alice's last trip to Dorset in our camper van.
On Alice's bad days, I seemed to be an extension of the suction machine, sucking her out as many as sixty times a day. People asked me how I could bear to do it to her, but I found it easy, as I was rewarded by a huge beaming smile as soon as she could breathe properly again.
Feeding Time
Alice breast-fed very well indeed, and for her first two months her weight was normal. When she started solids at four months everything went well at first, although her weight gain had already tailed off by this time. I persisted with solids until after the diagnosis, by which time she was beginning to choke on her food. I carried on breast-feeding; though at this stage I was given some conflicting advice by the health professionals involved in Alice's care. The paediatricians at the hospital were keen to introduce tube feeding, while community level staff thought that I should do whatever made Alice feel comfortable, which I took to mean that I should just continue to breast-feed her. I held out against tube feeding for quite a while, thinking that it would be an unnecessary extra irritation for Alice, given that she was going to die anyway.
However, by the time she was five and a half months old, I agreed to her being tube fed – after all, she seemed hungry. Once the tube was in Alice seemed to be warmer and happier right away, and I was sorry that I hadn't had it inserted earlier. I found all aspects of tube feeding easy, having fed so many babies in the past. The only negative aspect of the tube was that Alice's secretions increased markedly as she became better hydrated.
At six months of age, we took Alice on a two-week camping holiday with our youth club to Rottingdean – suction machine, tube feeds and all. We had managed to get a mains supply to our camper, so it wasn't quite as basic as it sounds. Although it was one of Alice's worst periods physically, she thoroughly enjoyed being made a fuss of by the children. They actually formed a queue every day, to push Alice around the field in her pushchair. It was a bit stressful preparing her feeds and sucking Alice out in less than perfect conditions, but it was certainly worth it from her point of view. I would advise anyone to do just as much with their baby as they can, while they have the chance. Shortly after this holiday, Alice needed too much suction to be able to go out of the house and I pretty much stayed in with her for the next two months, until she died.
Antibiotics
Alice only had one chest infection at around seven months, which cleared after a course of antibiotics that we put down her tube at home. The main drug we relied on was Salbumatol, which she inhaled via a nebuliser that was lent to us. This opened up the airways, prior to chest percussion and suction. It really made a big difference to Alice – the whole procedure of clearing her chest was so much more efficient after using Salbumatol.
We did try a drug called Glycopyrolate for a short while, which was supposed to dry up Alice's secretions, but the effect wore off after a week or so, and we gave up.
Hospitals
Both Trevor and I feel that the care and attention that Alice received from our local hospital could not have been better. All of the staff that we came into contact with were also very kind and considerate towards Trevor and myself.
We were very fortunate that Alice only had to spend one night in hospital during her entire life, which followed a very nasty choking incident. This was partly because I am a nurse so I was able to look after her very well, but it was also due to the excellent support of the hospital staff, who organised the loan of all the equipment we needed without delay.
Hospices and Homecare
We were put in touch with a local group who assist families with terminally ill children, but it was difficult for them to really help us. The people who came were very kind but had no medical training, so I felt unable even to lie down in the next room while they looked after Alice. They were not supposed to do any housework or shopping, so we ended up having cups of tea while I carried on as usual. I should imagine that they would have been a godsend to a family with other children to entertain, though.
We were sent a very nice health care assistant to give us respite care. She was supposed to have Alice for one or two hours while I went out, but she never really felt confident that she was able to do chest percussion or suck Alice out properly. However, she was very nice with Alice and played really well with her, so she carried on coming to see us right up to the end.
Our local hospital has a 'children's hospital at home' service, which meant that paediatric nurses would visit us on most days, to keep us supplied with suction catheters and nasal-gastric tubes, etc. All of the nurses grew to know Alice and her needs really well, and they would let me go out for a while whenever they had a gap in their busy day.
Apart from paediatric nurses, who gave some respite care, our greatest help came from Trevor's sister, Teresa. She came every day unasked and did the shopping, cleaning, washing and also played with Alice. It seemed that there was nothing like the 'old' home help service for people in our situation.
Alice's last two weeks were a bit strange. We had been expecting her to have the standard chest infection and go rapidly downhill, but in fact, one morning she seemed to be suddenly exhausted and in some discomfort. Our GP came to see her and said that there was no evidence of an infection, but that she was possibly having heart failure. After some discussion with the paediatric nurses, she started receiving morphine through her nasal-gastric tube.
During these last two weeks, Alice went down quite quickly. After a few days, she was unable to tolerate tube feeds any more without vomiting, so we stopped feeding her, which was very hard. A couple of days before she died, she was no longer able to tolerate the small volume of morphine going into her tube, so she had to have morphine pumped into her leg.
Alice experienced constipation and urine retention as a side effect of the morphine. She had to have suppositories and intermittent catheterisation during her last days. Even throughout all of this, we had many little reminders of her 'Great Spirit.' One of the biggest and best smiles was just after I had inserted her first catheter, less than two days before she died.
At the age of eight and a half months, Alice finally died at home in bed with us.
Amar was born on November 26th 1995, a healthy boy with a full head of hair! Despite a few minor problems (they were minor compared with SMA) – a skin tag on his tongue and a couple of days in special care, we were overjoyed at his arrival, since he was our first, and as yet, only child, and we had waited for so long to have him. When we finally brought Amar home, the whole place was filled with happiness, joy, cards and Amar! The whole family had waited for him for so long – grandparents, uncles, aunts and cousins … I could go on…
Christmas and New Year were the best ever! Although Amar was only a month old, we felt that his presence made the whole festive season worthwhile – as if it was made for him. Even at this stage, we had no idea of what was going to happen, although we did notice that he seemed quite lethargic in his movements. It was in January 1996 that we decided to see our GP regarding Amar's movements – or to be precise, lack of it. As soon as our GP saw him, I could see his expression turn to an extremely serious look.
Our GP, Dr Smart, is a very caring and understanding doctor, and for him to have such an expression made us anxious. We went to Wexham Park Hospital immediately, and after some investigations we were told to take Amar to Hammersmith for further tests. We have to admit that our experience of Hammersmith was not a good one. Perhaps it was the way we were, or maybe it was the way that Amar was treated. Anyway, having spent hours on end there, we were finally advised that a muscle biopsy would have to be made on Amar. He had just had injections in his arms, and now it was his leg! The following week, the nurses had no choice but to give him his next set of jabs in the other leg! Bravery? He was a saint!
The second worst day of 1996 was March 1st, just two days before my birthday. We had waited six weeks for Amar's biopsy results and I was praying for the best birthday ever. It turned out to be the worst. The medical staff confirmed that Amar had SMA. I now recall why Hammersmith was an experience to forget. The consultant who had to break the news to us, mixed up Type I and III, we were led to believe that Amar had the mildest form of SMA. Only after questioning his reasoning did it his us that Amar was bracketed between Types I and II. How do you think we felt? Having spoken to other parents, who have confirmed the same type of experience, you can imagine the anger, hurt and sadness we were going through.
Amar never cried for the sake of crying. We felt even worse when we looked at him, his smiling face asking us to pick him up. Did he know? Did he hurt? We will never know, but will have to live with it. We were determined that Amar would have the best time we could imagine. However, along every avenue we explored, there appeared to be more hurdles. No one would give us travel insurance and therefore, we couldn't take Amar to Disneyland. No one around us understood the problem. There appeared to be a 'blind optimism' that he would get better. We were the guiltiest of them all, but as parents, what else could we do? He was a fighter … with courage; at least we should emulate that. Despite all of this, Amar gave us a lot of happiness. We took him on a farmhouse cottage holiday and he loved it! We loved it! Both my wife and I were determined to give him the best, and to make sure he was happy. He even reached his first birthday, which even though he was ill, was a milestone, … a tribute to his courage and bravery.
We never complained about the sleepless nights, possibly three hours of sleep a night on average. My wife stayed at home with Amar all day, every day, until I came home from work in the evening. He stayed with me, so I could give Kirit (my wife) a break. We were committed and got used to it, and enjoyed it, even though it was hard. We never complained. We coughed every cough for him; we wanted him to stay as well as possible.
Amar passed away on December 17th in the evening. He was with us at home and died in our arms. This was the worst day of 1996. We tried to revive him, but all in vain. He had done his time, touched everyone's heart, made grown people and children alike laugh and now cry. The whole family was devastated. If March 1st was like an exploding bomb in our faces then December 17th was the end of the world. We had never left him with anyone in his 387 days with us. We were always there, and now December 17th was the first night he was away from us, and we could do nothing about it. Why?? Why? Amar had never hurt anyone, never cried, always smiled, and never had a chance to complain. So why? Why do we yearn to hold him again? Why do I feel like wrapping him up, holding him, and running forever, never looking back? We miss him so much.
We had no problems looking after him. All we want is him. We can't and never will. All that's left are tears, photos, films and good memories. The period from March to December was filled with some anxiety; the not knowing what's going to happen next syndrome was with us every day. When would I see his last smile? – His last glance? – Gurgle? When would be the last time he plays with us? But most of all, when would be the last time I hold him? To live with these thoughts every day – anxiety! All that is left are memories and an empty house.
Finally, I would like to say one last thing. Amar was special to us, and the family, and he always will be. I'm sure there are lots of others out there who may relate to this. If not, then this is another experience for everyone to understand, and if anyone does relate to this, please don't feel alone. There are people, others, who have gone through what you may be going through. Both Kirit and I are in tears writing this.
Most of all, understanding the situation and talking to each other will help you to become stronger. Don't let anyone ruin your lives, the 'little people' are special, the 'little SMA people' are precious. Look after them and they will make sure you have a wonderful time.
Comfort
There were many useful things we discovered and used to make sure Amar remained comfortable. We have listed most of them below.
When Amar had a cold, to help him breathe easily at night whilst he was asleep, we used to put a few drops of eucalyptus oil on a flannel and leave it near Amar's pillow. You can buy this oil from Body Shop, but make sure it is diluted down, so that the vapour is not too strong for a small child.
Amar breathed better when held upright. I used to hold him upright and walked around with him, whether it be when shopping or around the house, etc. The upright position allowed Amar's chest, throat, etc. to remain as straight as possible, thus allowing better breathing. It also allowed gravity to play its part on relieving secretions from his nose.
We used to rub Amar's face every now and then. We realised he couldn't do it for himself, and noticed that able-bodied people unknowingly rub their own faces, eyes, mouth, etc. for comfort. We felt this must have given Amar a pleasant sensation.
Kirit made a beanbag for Amar to sit and lie on. We bought foam and small polystyrene balls and Kirit sewed the bag with the balls inside. This was the most comfortable place for him to sit. We found that all other seats were too upright, which made him slouch, and as a result did not allow him to breathe very easily. We took the bag with us on holiday and it proved to be extremely useful.
We had three very thin pillows to support Amar while he slept. We discovered five different positions for him to lay, and found that he was comfortable when he was moved from one position to another. The pillows were arranged so that one was under his head, and two placed either side of him in a semi-vertical position. His sleeping positions were: on his back, on his right side and left side, half way between flat and right, and half way between flat and left.
We also found that a small thin pillow in Amar's pushchair helped him to stay comfortable. He was generally upright and it helped him to see all the things around him. We felt this stimulated him and made him more excited as he saw different and new things. As he got more poorly, we found that he couldn't sit in his pushchair. At this stage, we used a pram to take him everywhere that we went.
As Amar was unable to sit, we found the upright feeding chairs were not suitable for when we were feeding him. We then found a feeding chair that reclined into different positions and had a feeding tray attached. This made it a lot easier to feed him, as it left both hands free, which was not the case before – as we had to hold him.
Feeding
There were quite a few innovative ideas that we found were suitable for Amar. As SMA Type I children find it difficult to swallow solids, we found the following of great benefit.
Watered down fromage frais, yoghurt, or any other thick foods made it easier for Amar to swallow.
Kirit maintained her commitment to puree fresh fruit for Amar. She would boil apples, pears, etc. until the fruit became 'just soft'. After this, she put the fruit and juice through a sieve to make the puree. You can mix the puree with plain yoghurt or custard, or have it on its own. The consistency can be adjusted to suit, by just adding boiled water.
When travelling, we found that sterilised water in small bottles, obtainable from the hospital, were useful. The size allowed better space management, and the water was sterilised, thus reducing the chances of impurities in Amar's diet.
When Amar got quite poorly and had to be fed through a nasal-gastric tube, Kirit's father made a clamp to hold the feeding tube. This was very useful, as it allowed his drink to pass through the tube, and kept our hands free to allow us to play with him while he was being fed.
Playtime
There were many occasions, in fact nearly all our time with Amar, when we played with him to keep him and ourselves as happy as we could. We used the everyday activities of his bath time, his exercises, physio, etc. as a fun time.
We both used to exercise his legs and arms by making stretching movements. We used to sing nursery rhymes and used sports commentary whilst exercising him.
We bought many helium filled foil balloons for Amar. We tied them to his wrist, and he used to look at the balloon and found it fascinating when he discovered that his slight movement could move it. We felt that this was a stimulant for him.
We tied different coloured ordinary balloons to a tree in our garden. Whenever we were in the kitchen, we used to face Amar in that direction. As the wind blew, the balloons moved and he used to find it fascinating.
We found that lightweight toys were obviously better for him to play with. Also, the toys had to be small enough to be held by smaller hands. We bought Amar plastic sandcastle moulds – different colours and shapes. We have kept his favourite one, a green seahorse mould that he always played with.
We used coloured ribbons, tinsel, Christmas fairy lights, baubles, etc., which we stuck to walls. We used the Christmas tree and fans, etc. to keep his stimulation going.
Amar also enjoyed music. We bought him 'wind-up' television toys that played different tunes as the pictures rolled on the 'screen'. Both sound and vision, with lots of colour thrown in, proved to be a stimulant.
Kirit used to hold Amar and dance with him to all types of music. Once again, the different movements, music, sounds, etc. were great stimulants and fun.
We also found that blowing bubbles was very good for stimulation.
Practical
There are a lot of useful tips that we found – some accidentally, and others through knowing what Amar liked.
As Amar became dependent on nasal-gastric tube feeding, we found that having spare sets at the homes of most frequently visited friends and relatives was useful. We also kept a spare set in the car – just in case.
Make sure that there are spare nasal-gastric tubes at your own home too. These items are not generally kept at hospitals and have to be ordered since they are not used as often as other items. A spare set ensures some peace of mind – we were unfortunate to have a few bad experiences.
Learn first aid. It teaches you not to panic in situations that are normally extremely stressful. It also acts as a useful skill for general use.
Keep a small, hand-sized oxygen cylinder at home, as well as in your car. These are very useful, due to their portability. Be warned that you have to ask for these, as hospitals are very reluctant to part company with them.
Perform physiotherapy during the day, and if needed, during the night to aid better sleep. Although it is difficult getting up in the middle of the night, the benefits of having two or three hours solid sleep will be appreciated in the long term.
As parents, make sure that you both look after each other. If one were to fall ill, this would put greater stress and strain on the whole situation. Be patient and remain strong for each other.
Tissue paper rolled up to the size of a pencil allowed us to 'attach' secretions from Amar's nostrils. The action of turning the tissue ensured more and more secretion to be deposited onto it.
If you decide to go on holiday, ask your consultant to write you a letter explaining your situation. It gives you peace of mind, just in case you have to go to a local hospital. Since SMA is very rare, a simple explanation to medical staff could save time and repetitive questions being asked.
If you do go on holiday, make sure that you check where the local hospital and doctor are. Make sure you know the route or a local mini-cab number, just in case.
If you are planning to go on holiday abroad, please note that there are no insurance companies that will insure you if your child is diagnosed as having SMA Type I. Many, in fact nearly all, airlines require disclosure and, in the long run, will not cater for your needs, such as having ventilators on board. We were extremely disheartened by this when we decided to take Amar to Disneyland and found that no one could help us. Nevertheless, there are many nice places in the UK that can equally allow you to have a break – we went to Devon for a week.
We managed to get referred to the Royal Homeopathic Hospital in London to see if there were any remedies that they could provide. We felt that the medication they gave to keep Amar's chest clear of infection was a great help. He was not 'drugged-up' with increasing levels of antibiotics and was rather more comfortable taking a couple of drops of natural ingredients, rather than spoonfuls of amoxycillin.
At bath times, Kirit used to sit in with Amar to give him support. Amar loved being in the water, as it helped him to move a little more easily. With Kirit in with him, it allowed us to fill the bath with more water than usual, and therefore, allow him to feel new experiences of his body under water.
Amar always had a massage with almond oil mixed with a couple or drops of lavender oil. This helped him to relax. We also used to put some eucalyptus drops into the bath, as it helped Amar to breathe more easily when he had a cold.
We found out that you can get a full size bath, which is shallower than normal, but fits onto the bath. This made bathing a lot easier, as there is less strain placed on your back.
Diagnosis
Nicole was always special. She attracted so many people with her deep blue eyes, and a smile that was so magical that it could set the world alight. She was always alert, and from a week old would smile at the sight of a camera. In fact, Nicole was a model baby – perfect in every manner.
We had waited for so long for Nicole, yet before long we had forgotten what life was like without her. She gave us so much to live for. All our hopes and aspirations revolved around her. We wanted the best future for her, just like any other parents.
Well, most of those dreams were soon shattered. Only five and a half months after her birth, Nicole was diagnosed as having SMA Type I – the most severe form, which apparently claims the lives of 80% of babies before their first birthday. Our pain was unbearable. Nicole was terminally ill, yet she looked so healthy. We had no idea that there was a problem, yet the prognosis couldn't have been worse. No cure, no treatment – how helpless we were. For the next few weeks we continued to think of ourselves – wrapped up in our own emotions and full of self-pity. Nicole was still Nicole, as perfect as the day she was born. How dare we consider giving up on her? She was still our child and needed us to make every day a special one? We couldn't alter the past, but we could certainly make the most of our future, regardless of the time span. From that moment on, we faced one day at a time, turning negative attitudes positive. We became stronger as a family.
After the Diagnosis
We researched into SMA as much as possible determined we would find a cure. Nicole was unique and despite the odds against us nothing was going to stop us. Our little girl was so full of life – and 'where there's life there's hope!'
We joined JTSMA, and soon after we were introduced to Dr Richard Appleton and his team. They all believed in our little girl and treated her as someone so special, so important, and yet so many people had forgotten to do that. We can still recall the words of Betty Calvey, "We can do a lot for this little girl!" Those words will stay with us forever. Nicole was too young to talk, but her eyes spoke a thousand words. We think she understood everything that people said. Her expressions were wonderful.
Nicole's qualities were unbelievable. Her inabilities were simply challenges that were unique to her. She was such a determined little girl. Her achievements overwhelmed us but in different circumstances would we have appreciated her so much?
Nicole gave us the best times of our lives in her short life. We had constant reminders of what the future held for her but we never believed it would happen. She passed away at the age of nine months and three weeks and the devastation is still unbearable. Nicole was born with SMA and died through SMA. We never considered taking it away from her; we just hoped they'd find a cure for her, and many of her friends. They are all too perfect to change.
Nicole will remain a remarkable child; she has touched so many lives. We were given the 'greatest gift of all'; she enriched our lives so much and taught us to 'never give up.'
Physical
When we bought new clothes for Nicole, we always considered the texture and fabric to avoid buying clothes that restricted her movements further. We adapted toys to meet her needs. We made lightweight toys for gym's – i.e. bells on ribbons, etc. Children with SMA have a unique social ability, which requires constant stimulation. Nicole really enjoyed being massaged, which enabled us to develop a closer bond with her.
Try using an inflatable baby pool with towels stacked as pillows for support. This can provide your child with freedom and independence.
Consider passive physiotherapy and moving your child's position whilst sleeping, to avoid stiffness and muscle seizure.
Support
The local children's respite centre can provide facilities with medical support at hand. They also probably have experience of caring for a child with SMA.
Stay positive, time is precious and unfortunately we are not given time to adjust with SMA Type I. SMA is an unusual condition to manage. Get as much advice from people who have, or are experiencing the challenges that you are.
Try to get access to the Internet. There is lots of information and support from people who may be at the same stage – at the same time as you.
Stay open-minded regarding diets and therapies developed in other countries. There is a lot of research taking place in America into diets, etc.
Do not let doctors dictate all decisions. Gut reactions from parents are sometimes the most beneficial for your child. Many doctors know less about SMA than they care to admit to.
Investigate any medical test that is suggested for your child. Tests vary in many regions.
Skye Inez Taylor
First published: 16th January 2020
(24 June 2019 – 21 December 2019)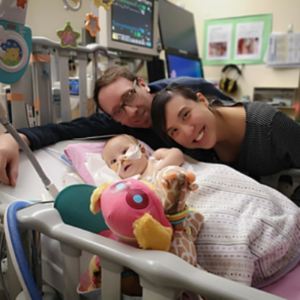 On Monday, 24 June 2019 at 6:03 am, we welcomed our firstborn: Skye Inez Taylor. Skye is our miracle baby and completed our family.
The pregnancy was smooth – no morning sickness and only the excitement of a growing baby belly. The labour and delivery lasted 10 hours; and Skye and mom were healthy and discharged from the hospital the following morning. When we took Skye home, she fed well, cried loudly and passed her next two paediatrician check-ups. We took her everywhere: hiking, shopping, road trips, to work.
By the time of her two months check-up, her breathing sounded like she always had congestion. The paediatrician did not feel that was an issue when listening to Skye's chest. By three months, we were concerned of her lack of neck control and limb movements and practiced more exercises with her and saw minor improvements. By the time of her four-month check-up, she developed a cough, slight curve in her spine, and was very hypotonic. The paediatrician was concerned about her motor delays and referred us to see specialists.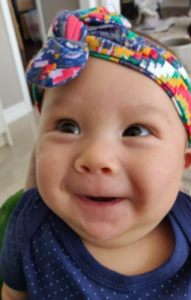 The following week, the referred neurologist arranged for us to see her professor to have an electromyogram (EMG) nerve test performed on Skye. Upon reviewing the nerve test results, the professor clinically diagnosed Skye with SMA Type I and stated that Skye was not expected to live past two years of age. He offered the ray of hope through the drug Spinraza which will halt progression of the disease but informed that she will not be able to crawl or walk. Our world shattered as our sweet girl smiled and babbled to everyone in the room. However, we held on to hope and believed that Skye would respond well to Spinraza.
Due to Skye's coughing, the neurologist directed us the next morning to report to Toronto's Hospital for Sick Children to have that monitored. Apart from her cough, Skye looked well and passed her overnight sleep and respiratory assessment. Within five days, Skye experienced fevers and a harder work of breathing and was transferred to the Critical Care Unit for BiPap support. Two days later, she went into cardiac arrest and was resuscitated. The compressions resulted in pneumothorax and pneumonia and she had to be subsequently intubation. Witnessing her cardiac arrest and unconsciousness from the sedation was traumatic. A week later she was smiling and alert; and her 5 months birthday was approaching. Since she was in the hospital, we asked family and friends to submit birthday video greetings for Skye. Skye enjoys seeing herself in selfies and watching videos.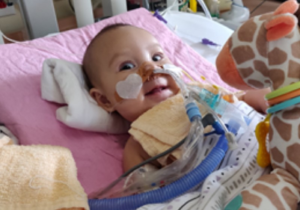 After her pneumonia passed and three attempts at extubating, Skye was on hi-span BiPap with secretion management every four hours. In parallel, she tested positive for Respiratory Syncytial Virus (RSV) and became weak to the point that slight movement could result in rapid oxygen desaturation. During her last days, she had respiratory failure and passed comfortably in mommy and daddy's arms.
We will forever love and grieve for our baby Skye. Skye has deeply touched our lives and those around her and made us better people. She is always in our thoughts and we continue to do things to remember and honour her.
**************
Christmas Poem 2019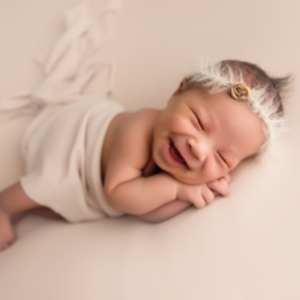 Christmas time and every time you are always in our hearts
Christmas time and every time you are always part of us
Even though you are not here,
We sense you everywhere
Oh Christmas time and every time please hear me sing to you
Oh Christmas time and every time please know that we are near
We will never let you go
Your spirit will live on
It lives in everything I do
I will always fight for you
I will always care for you
I will always dream of you
I got to see who you were to become
And I am blessed and proud of you
I am blessed and proud of you
I hope you see and hear me now
And know that I love you
– Winnie Luk-Taylor, in memory of:
Baby Skye, June 24, 2019 – December 21, 2019
***********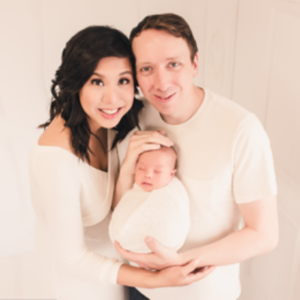 ---
Rabail
First published: 9th October 2019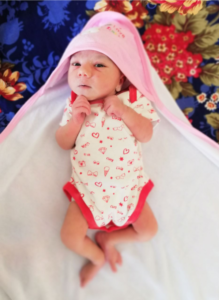 Despite of the fact that Rabail was born with pretty's face, pinkish cheeks and bright eyes, there was something strange in her.
She sometimes looks to be an angel, an angel restless and panic in this world. She keeps on crying sometimes and later, she feels like most peaceful fairy. On her birth, I was told by doctors that she possessed a deadly genetic disorder. Spinal Muscular Atrophy was what she got by birth, as a hollow gift in my womb. I feel empty when I hear, she would soon go back from where she has been gifted to us. She was restless and eager to go back where there would be no pain, misery and unrest. I always feel why angels were sent into this world? Why such kids are born who brought with them very few moments to live and very long memory of love in hearts of their parents.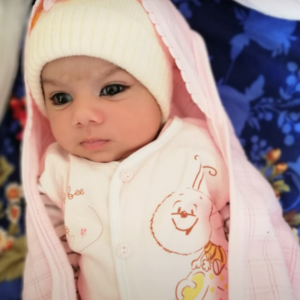 She was getting weaker day by day. I always prayed to Allah for giving her life, health and most of all body movements. Yes, the only thing she missed was movement. She was not able even to move her neck. She keeps on rolling her eyes everywhere so that can get as much light as she can. I loved to keep her in my arms, she used to look at me for a long, long, time, she never became fed up with the tiring activity. She feels comfort in my arms. I looked at her face with love and she smiles. Her smile was the most beautiful and adorable sight I have ever had in my life. It is very tough, very horrible to pray for peace of an Angel child. Usually it could not be wished by a mother but, I did it.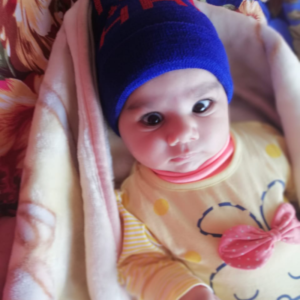 One Friday morning, she was so restless, I just bowed before God and prayed, "Oh Lord of all heavens, give my angel rest… eternal rest. just take her out from the misery of SMA!" There were lots of tears in my eyes as I knew it. God had listened and understood what I had requested. After few hours, my Angel, while taking honey and zam zam water, took a very short breath, look at me, smiled and went back! I just closed her eyes, good buy my angel Fairy! You were the most precious gift I have received by God. An Angel came in my home, though only for 6 months, left her memory in my heart forever!
---
Xhedrick and Xymhone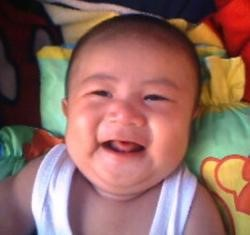 I wrote this poem for my two little angels who have earned their wings because of Spinal Muscular Atrophy Type 1. John Xhedrick who passed away March 17th 2008, 1:15am at the age of 5 months and 23 days, and Xymhone John Roger who died April 7th 2009, 2:26pm at the age of 4 months and 5 days.
They came into my life unexpectedly
My angels whose faces are magnificent
They are my life, my joy and happiness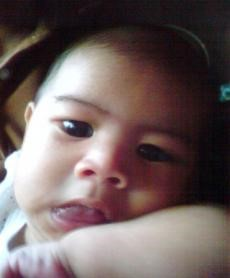 How wonderful the times when I'm with them
When I wake up, I stare at them immediately
At bedtime I still do the same
My day is not complete without them
My world is dull if I don't have them
Knowing I can't keep them that long,
Is like facing my own death.
How can I possibly let them go?
If these angels are the reason why I'm here.
Time came, my life and my angels went in a battle
A battle that they might lose in the end
But my little brave angels are fighting
They are indeed brave soldiers for me.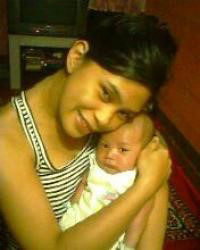 A true definition of courage
My angels did fight until the end
But death came quickly and took their lives away
Now, they are gone forever and happily beside him..
Sleep tight and goodbye, my little brave angels.
My angels Xhedrick and Xymhone, you will always be remembered and you will always remain in the hearts of the people who love you so much, especially mommy. Thank you for bringing happiness in our lives.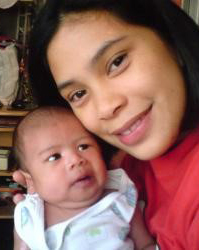 Thank you for making mommy's life complete. Babies you've won the battle because of your braveness. You have received the best and the greatest price, that is being with our Almighty God already.
We will all miss you.We love you so much.
Goodbye for now Xhedrick and Xymhone. Goodbye for now my little brave angels.