Jack – Flexible Working and a Master's Degree
Jack – Flexible Working and a Master's Degree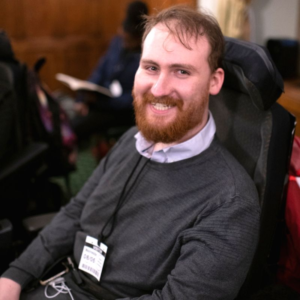 I made the decision in the Summer of 2019 before the pandemic to make quite a big change in my life.
I had previously moved away from home in Manchester to Milton Keynes (MK) for my first job after university, working for a bank in their head office. However, I quickly decided that MK was not really the place for me (apologies to anyone from there!). I stuck it out in MK for a few years, but I knew I would be happier to move back up north. I had really enjoyed my undergraduate degree studying modern languages and always wanted to do more studying.
I thought that there would be no better time than now to do a master's degree and applying to Manchester University would also be a great excuse to move up north. I started my master's in September 2019 in Manchester in translation and interpreting. I study part-time on a 2-year course (just the dissertation to go now and I'll be done) and work 2.5 days a week in the same job I had before, but completely remotely. Following a good discussion with my boss, we agreed that I would be able to do my job successfully from Manchester and not have to physically go into the office. We agreed that I would go to MK one day a month to see my team which was a good compromise but with Covid-19, I'm not sure when that will be happening again.
I'm really glad I made the decision I did to move back to Manchester. As I know that I want to settle here, I have managed to find a property that meets my needs and get on the property ladder (now paying off a mortgage alongside my student debt!). I've found a ground-floor flat which is great for my needs, and it was much easier for me to get suitable adaptations compared to the rented flat I had in MK. One benefit of the pandemic has been that companies can see that home / flexible working does work. Now is a great time to have honest conversations with employers.
My master's is due to finish in September, and I will hopefully be moving back to full time employment, either at my current job or looking for something new. I'm sure I'll never go back to being in an office 5 days a week. Making the big change in 2019 means that I can be really flexible in doing my job. I have built up a really good work-life balance and look forward to my next chapter after I graduate.
---
First published: 6th July 2021